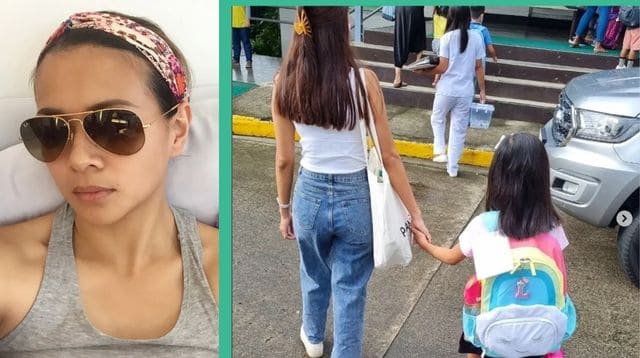 Since it's back-to-school for the kids, it's back to hatid-sundo for the parents — and we know the struggle is real, moms! Especially if you have to bathe, dress, and fix the baon of your kids while you're wondering how to look decent — let alone good — in the morning rush before school.

Moms, we are with you when you wish we could just take our kids to school in the pajamas you woke up in — and believe us, we have done that, too, so no judgment! But with traffic and gas prices, sometimes you can't avoid taking a side trip to the grocery or drug store on the way home — and you might regret not changing out of your favorite butas-na-T-shirt when you're there.

So, we looked at these celebrity moms who — while we have proven they don't wake up like this! — have a thing or two in their everyday style that we can use as inspiration for our own hatid-sundo fashion.

5 Everyday Fashion Tips Inspired By Celeb Mom OOTDs

1. You can't go wrong with a white shirt.

We love the mom-and-daughter tandem of Chesca Kramer and her teenager Kendra. On Kendra's first day of school after years of homeschooling, they are twinning in a simple and clean ensemble.

RELATED: 13 Going On Stylish! 7 Looks Your Teenager Can Steal From Kendra

Yasmien Kurdi serves up a similar OOTD with the crisp white button-down. It's a great closet staple for everything from hatid-sundo to taking a Zoom call in the parking lot.

ADVERTISEMENT - CONTINUE READING BELOW

Where to buy?

Nursing? Mamahood has a zipper on the side that allows you to breastfeed in their signature statement tees.

RELATED: Real Moms Talk About Breastfeeding, 'No Matter How Long Or Short, Breastfeeding Taught Me A Lot'

You know what we love more than a crisp white shirt? A crisp white shirt in classic patterns like stripes, such as this one from Style + Bound.

2. Go incognito.

Do you feel like all eyes are on you when you get out of the car to walk your child to the school gate? We feel you, mama. Sometimes you can't help but feel like your own celebrity -- so dress like one that's just sick and tired of the paparazzi!

RELATED: To Shave Or Not To Shave? Moms Share The Products They Use To Trim Their Pubic Hair

Wear aviator sunglasses like LJ Reyes. The iconic frames are not only functional, they are stylish, too. The cute bandana isn't a terrible idea either.

We absolutely celebrate the style of Sunshine Cruz because she's the perfect example to dress in whatever makes you feel good, no matter your age. While she can hide her face behind a pair of shades, her inner glow can't be dimmed by the confidence of a mama that just loves herself.

RELATED: Sunshine Cruz Responds With Kindness After Basher Called Out Her 'Pang Teenager' Attire

Where to buy?

You can find various frames at Sunnies Studios to suit your face shape. The best part is that their sunglasses are quite affordable so no need to worry if your toddler plays with them and accidentally breaks it!

3. Denim never goes out of style.

Hollywood celebrity Cameron Diaz once said, "I'm like every other woman: a closet full of clothes, but nothing to wear. So I wear jeans." This is why a reliable pair of jeans is a must in any woman's wardrobe, including that of toddler mom Elisse Joson.

RELATED: Elisse Joson Celebrates Felize's Baby Milestones: 'It's Amazing To Witness Your Growth'

We love this look by super momma Bianca Gonzalez: she has the aviators, the white top, and a denim romper.

Bianca also wore denim to the first day back to school of daughter Lucia, who is now in grade 1!

RELATED: Bianca Gonzalez Admits, 'I Used To Be Praning On Screen Time' Rules

4. Wear your go-to sneaks and kicks.

Whether you're in a dress, shorts, or an office chic attire, you can dress your outfit up or down with a pair of sneakers or rubber shoes. Plus, it's comfortable!

Even boss woman and momma Karen Davila knows this fashion tip, and carries the look so well in her camera-ready cowl-neck top.

RELATED: Karen Davila Proudly Shares How Son With Autism Voted For The First Time

Celebrity mom Camille Prats-Yambao has taken her commitment to fitness and the practicality of motherhood — whle looking good — to another level. She recently launched the first collection of her own athleisure brand, moov.

Where to buy?

We have to thank Cosmo.ph for this tip: here are the Run Star Hike Platform shoes that Heart Evangelista made Internet-famous from her Paris trips this year.

ADVERTISEMENT - CONTINUE READING BELOW

5. The daster has made a comeback. (Thank God!)

We know that it's hard to get out of pambahay clothes, especially if you just woke up or if you're working from home… or pregnant, nursing, and the list goes on! Thankfully, the daster is back in style and it is steadily joining the ranks of maxi dresses and kaftans beyond maternity wear and a losyang reputation.

Just look at Dimples Romana in the classic wrap-around dress. Doesn't this look like something you can wear at home and wear outside?

You can even twin like Anne Curtis-Smith and her little girl Dahlia.

RELATED: 7 Birthday Party Themes From Anne Curtis, Max Collins, Elisse Joson, Coleen Garcia, And More Celebrity Moms

Where to buy?

Good Luck Humans is really taking pambahay fashion to a whole new level, and we're here for it.

RELATED: How Do You Flaunt A Baby Bump In An Evening Gown? These 3 Pregnant Celebrity Moms Will Show You 

Of course, there's Dusters of Manila, which was started by two sisters who embraced their inner Tita and made it look good enough to wear for brunch.

If we are going to buy a dress for moms, it might as well be a dress designed by moms — like Tricia Gosingtian — in brands by moms — like Solenn Heussaff, who owns Elin PH!

Trending in Summit Network