Here's Why Women, Even Heart Evangelista, Are Obsessed With These Locally-Made Bags

Plus, here's a list of our local bag recos.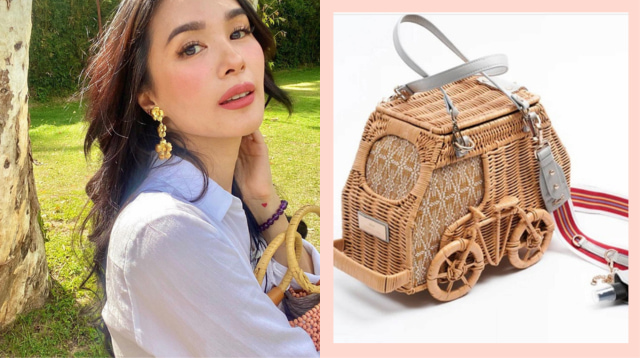 We usually see women investing in luxury bags from abroad. There is no doubt about the quality of its material and authenticity.

On the other hand, while many women love luxury brands made in foreign countries, locally-made products are making their way to showcase Filipino culture here and abroad.

The workmanship of our Filipino artisans and designers is still underrated among Filipinos themselves. Sometimes, we view local products as "cheap," but these brands made their way to other countries.

Even style icon Heart Evangelista, a designer bag collector, showcases her obsession with locally-made native bags, and even had her own line of abaca bags made in Sorsogon.

Why we should support locally-made bags

Aside from loving our own, here are some of the reasons why we should support locally-made bags:

1. There is a unique story behind its craftsmanship

Mommy Iam Decano-Serrano of @iamdelightfulhimig, a digital creator, a mom influencer and a preschool teacher, is one of the many moms fond of collecting locally-made bags. She owns bags from Zarah Juan and C&C bags. 

PHOTO BY

INSTAGRAM /IAMDELIGHTFULHIMIG

ADVERTISEMENT - CONTINUE READING BELOW

"What I really like about them is the story behind each piece. I like to purchase pieces that remind me about the things I love," she told Smart Parenting.

Mommy Iam shared that she owns bags that resonate with her family's stories.

"It also caters to the talents of the Filipino artisans, which makes me even prouder to carry them." Iam Serrano-Decano

For example, she got the transistor and boombox bags from Zarah Juan because they reminded her of her children's names: Himig and Harana. Meanwhile, she got the padyak bag because she and her husband used to ride tricycle before since it is one of her town's primary means of transport. 

"Aside from them being unique, I love the craftsmanship of each product. They are all really works of art. It also caters to the talents of the Filipino artisans, which makes me even prouder to carry them," Mommy Iam added.

2. The intricate process of making these handicrafts are unique and culturally embedded

In a 2020 article by PEP.ph, Heart Evangelista once said that she "will never stop being awe-struck" whenever she visits local artisans, especially in Sorsogon, where her husband Chiz Escudero is from.

"They make all these beautiful handicrafts like it's simple when really, it's such an intricate process that requires a lot of skill. Will forever appreciate the work that goes into creating these," she said. 

3. Locally-made bags create a sense of exclusivity

Marie Tzarina Go-Gaoiran, the mompreneur behind @bunnydanilittleshop, who sells exclusive Filipino-made tote bags, finds value in doing her craft. She makes huge tote bags because, as a mom, she knows the struggles of bringing many things when you have a baby. 

"I think with most local brands, the attention to detail is there. In my case, I make sure the quality of the bags I create is better than 90% of tote bags you'll see." Marie Tzarina Go-Gaoiran

When asked why these bags are not "cheap," she said: "I think with most local brands, the attention to detail is there. In my case, I make sure the quality of the bags I create is better than 90% of tote bags you'll see. On top of that, there's a sense of exclusivity, almost like a dress that you won't see anywhere else. I only produce around 10 bags for one design and that's it. I like to think that the stuff I make reflects how distinct and special a person is."

PHOTO BY

COURTESY OF MARIE TZARINA GO-GAOIRAN

Aside from the value of our local products, more and more Filipino brands are opening their doors to showcasing our culture in the world:

3 Filipino bag brands that have gone global

1. Aranaz

It is a fashion label that celebrates living life in leisure. Their brand hints at the exotic and artisanship in everyday life. Every collection echoes the history of blended artisanal and Filipino heritage. It is founded by the mother-daughter trio Becky, Amina, and Rosanna Aranaz. 

ADVERTISEMENT - CONTINUE READING BELOW

Aranaz is even featured in Vogue Paris! The brand has three branches worldwide!

2. House of Musa

Ms. Joy Soo, a certified public accountant, is now an owner of a World Champion brand, House of Musa. The brand started during the pandemic and made its way to the Fashion Capital of the World - New York City. Musa is a fabric made of banana fiber and weaved by the prisoners of jail institutions in the region. The advocacy strives explicitly to support the indigenous people's livelihood in the Davao del Norte province.

Because of its grounded advocacy, Musa paved its way to different parts of the world. It is now available in the United States of America, Canada, Australia, New Zealand, Switzerland, Japan, Thailand, and Singapore.

3. Zarah Juan

Its founder started its brand with a desire to save the environment. The bag they make captures every mom's heart because it resonates with their experiences. 

The Padyak bag represents our economical human-powered mode of transportation, our pedicabs. They also launched Busina Mini, which captures jeepneys as a Filipino symbol, while the Aklat Bag reminds us of the vast literature that our country has.

Every Zarah Juan product has a story to tell. 

Where to buy locally made bags

Here are other local brands where you can buy hand-crafted bags that are affordable and proudly Filipino. 

1. Bayongciaga Handy Luxe Bayong Hand Bag (Php 314)

ADVERTISEMENT - CONTINUE READING BELOW

The brand takes pride in its Filipino-ness, and it advocates: "No matter how diverse our traditions and cultures across regions in the Philippines, we are all intertwined as one Bayongciaga community."

Bayongciaga is handmade by artisan bag makers from Laguna. It's not just an ordinary bayong; it's weaved and crafted for the modern woman.

Buy it on Shopee here or on Lazada here. 

2. C&C Mini Mutya Wicker Bag (Php 530)

Monica & Monica, the mompreneurs behind the brand, explained that they "share a name and a love for pieces that are beautiful and timeless but also practical and functional, and a passion for the advocacies we support."

They also shared that C&C stands for Creativity and Commitment. They are creative "in terms of elevating everyday living through handmade pieces that weave beauty and creativity with purpose." Monica also shared that their commitment is to empowering community-based artisans.

When asked why their products are not "cheap", they explained that it's value for money. They don't mass produce as they are after uniqueness and greatness of quality.

Buy it on Lazada here. 

 3. Eula Bamboo CP Slingbag by RCJ Marikina Bag Factory (Php 370)

PHOTO BY

SHOPEE /RCJ MARIKINA BAG FACTORY

Eula CP Slingbag is the perfect accessory for those who prefer to travel fashionably light. This 2-way beauty can be worn as a cute handbag or as a crossbody bag. It's definitely a must-have and it can fit whatever outfit you wear!

The shop takes pride in it being proudly Marikina-made.

Buy it on Shopee here.

 4. Solihiya Doctor's Bag with Sling (Php 2190)

PHOTO BY

SHOPEE /SOLIHIYA

ADVERTISEMENT - CONTINUE READING BELOW

Solihiya is one of the most popular types of rattan weaves. This bag originated from Davao del Sur, Mindanao. With this classic doctor's bag, it is spacious enough for moms who bring a lot of things. 

Buy it on Shopee here.

One of my professors said that Japanese culture is so rich in Japan and abroad because the Japanese patronize them first. Filipinos can do that too!

By proudly wearing locally-made products, we promote cultural appreciation and arts preservation. Suppose more and more Filipinos desire to own one locally-made artisan bag. In that case, we can ensure that future generations will continue to value and celebrate our rich and diverse cultural traditions.

The Philippines has many islands with stories to tell and products that tell stories. It captures the arts of a country, multiculturally embedding its way into the world.

Check out 8 versatile bags for the multitasking moms with toddlers here.

 I love the craftsmanship of each product. They are all really works of art. 

Trending in Summit Network