Matchy, Matchy! Where To Buy Affordable, Fun Family OOTDs For The Holidays

Buy your Christmas-themed jammies and ternos ahead for as low as Php 115!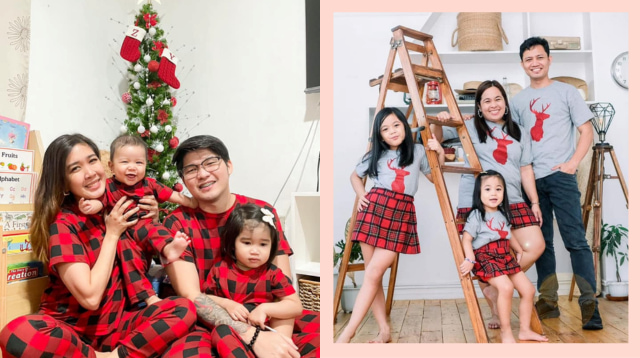 Products recommended on our websites are independently selected by editors. If you buy something through our links, Summit may earn an affiliate commission at no extra cost to you. 

Christmas is just around the corner! Are you getting ready to go out with your families and celebrate with them?

The Christmas spirit remains the same, but the traditions keep evolving. Some families these days want to preserve memories by doing yearly photoshoots or wearing the same outfits that create a sense of togetherness!

Filipino families continue to add a touch of festive magic this Christmas season by wearing themed family outfits. When we asked parents at the Smart Parenting Village, some decide on a family theme or color and bought their outfits from different stores. However, most moms from the Smart Parenting Village prefer to be smart and practical; they shop affordable, ready-to-wear clothes from their trusted online stores!

Here's where you can buy your family's Christmas outfits or OOTDs this year!

Where to buy matching family outfits for the holidays

1. Customized reindeer shirts from Splash Your Shirt (starts at Php 260)

PHOTO BY

COURTESY OF ROMA AVENIDO

Mommy Roma Avenido loves mixing and matching OOTDs. They got their matching skirts from online shop Celestine Amabelle and their customized shirts from Splash Your Shirt.

ADVERTISEMENT - CONTINUE READING BELOW

2. Christmas-themed ternos from PP Apparel Kids (Php 561/piece)

PHOTO BY

COURTESY OF SARAH MAY TANHUANCO

PP Apparel Kids is a locally-made brand known for its high-quality fabric. They are renowned for their kids and family sets. When you buy a pair of clothes from them, you will receive a canvas pouch for free, or a Rudolph headband. You can choose from 6 designs, including Rainbow Old Navy, Red Snowflakes, Gray Polar Bear, Evergreen Tree, Snowy Red Tree, and Christmas Bulbs.

Smart Parenting Mom Squad member Sarah May Tanhuanco is an avid fan of this shop, and recommends their products.

3. Red checkered sets at It Takes A Village PH (starts at Php 330/piece)

PHOTO BY

COURTESY OF MARJORIE MAYO

Mommy Marjorie Mayo's family has been accustomed to wearing matching family OOTDs and having family photoshoots as well. It's a great way to preserve memories while our kids are still young. They got their sets from It Takes a Village PH.

ADVERTISEMENT - CONTINUE READING BELOW

Browse the sets on Shopee here

4. Discounted pajama sets at Family Twinning PH (starts at Php 115/piece)

PHOTO BY

COURTESY OF ELLA LIBATON

Mommy Ella Libaton, also a member of the Smart Parenting Mom Squad, started wearing matching family OOTDs last year when their second baby was born. She said they will continue doing it this year! She recommends buying discounted sets from Family Twinning PH. The shop sells clothes individually for as low as Php 115 per piece!

ADVERTISEMENT - CONTINUE READING BELOW

5. Trending pajamas for the whole fam from Tala Twinks (starts at Php 495)

PHOTO BY

SHOPEE /TALA TWINKS

Tala Twinks is a baby and children's clothing store that offers comfy, cozy, and trendy clothes for kids, owned by mompreneur Sweden Velado Ramirez. For this year's Christmas season, they launched 23 prints of Christmas jammies!

ADVERTISEMENT - CONTINUE READING BELOW

Check out their collections on Shopee here and here 

6. Blessed Statement Tees from Aniya Clothing (starts at Php 250 per shirt)

PHOTO BY

SHOPEE /ANIYA CLOTHING

Simple, minimalist shirts always stay in style! You can wear these Blessed family shirts even after the holiday season! These statement shirts will remind us that we can choose to be grateful as we remain blessed in all seasons of the year.

ADVERTISEMENT - CONTINUE READING BELOW

7. Christmas jammies from Trendy Finds PH (starts at Php 94 per piece)

ILLUSTRATOR

SHOPEE /TRENDY FINDS PH

If you want something to wear on Christmas Eve, try these pajamas from Trendy Finds PH. Indulge in the holiday spirit with adorable and comfortable sleepwear sets tailored for kids and adults alike.

ADVERTISEMENT - CONTINUE READING BELOW

Buy the Snowman design on Shopee here

Buy the Checkered design on Shopee here

Filipino families always want to make each Christmas season as unique and as memorable as possible. Our matching outfits signify togetherness and family identity, but let us not forget that the spirit of love, joy, and unity can be felt in any season of the year.

Trending in Summit Network