Go Twinning In This Year's Lucky Colors! 5 Online Stores To Shop Matching Outfits

Celebrate the Lunar New Year in style!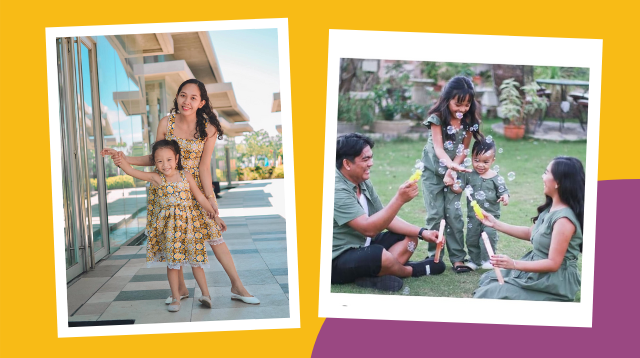 Some traditions say that wearing the lucky colors of the year will not only brighten up your aura — it will also attract good fortune. Whether you believe in these traditions or not, it won't hurt to know what they are, if only to attract positive energy into your lives.

Lucky colors of 2021

According to the Chinese calendar, starting February 12, 2020 to January 31, 2022 is the Year of the Metal Ox. It is said to be a year of more challenges, but at the same time, great accomplishments.

Feng shui experts believe white, gold, silver, purple, and gray are the lucky colors of 2021. If you were born on the year of the Ox, yellow and green are also auspicious colors. In Feng shui these hues attract prosperity and success.

If you want to increase your luck, wear metallic accessories, according to experts.

How to wear this year's lucky colors

What better way to mark the Year of the Metal Ox than to go twinning with your little ones? There are countless of local online stores where you can purchase ready-to-wear, customized or made-to-order matching outfits for you and your kids.

ADVERTISEMENT - CONTINUE READING BELOW

Here are some of our favorites.

White

White is the color associated with the element Metal and it represents resources, support, and authority. According to Karma Weather, it is also the favorite color of the metal ox.

CONTINUE READING BELOW

Recommended Videos

If you find it hard to wear an all-white outfit, choose one with floral prints in another lucky color! These white dresses with purple flowers are too cute!

ADVERTISEMENT - CONTINUE READING BELOW

Yellow or gold

Yellow represents recognition, power, and rank, according to the World of Feng Shui. It is also the color of the Earth, which "symbolizes stability and patience." Wear this color if you want to feel grounded and realistic.

Purple

This royal color is associated with couple happiness and marriage! If your star signs are Aquarius and Capricorn, it is said wearing purple will also bring you success. The shade is also said to bring luck in areas of wisdom, passion, and creativity.

ADVERTISEMENT - CONTINUE READING BELOW

Gray or silver

ADVERTISEMENT - CONTINUE READING BELOW

Both gold and silver are metallic elements that represent money. Silver is also said to be a color that is graceful, sophisticated, and elegant.

If you were born in the year of the Dragon or Snake, wearing shades of white, purple, gold and silver might also bring you luck as Metal benefits your animal sign.


Green

In 2021, green represents a myriad of things including intelligence and creativity. It also means steady and healthy growth. If you want to feel more energized and ready to take action, experts advise to wear the color.

ADVERTISEMENT - CONTINUE READING BELOW

Want to attract wealth in your home? Check out how you can make a prosperity corner here.

Trending in Summit Network