9 Christmas Traditions to Start With Your Family This Year

Make it personal -- your kids will remember them in the years to come!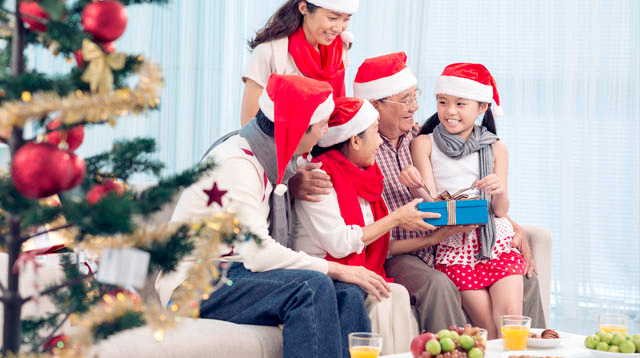 "The best of all gifts around any Christmas tree: the presence of a happy family all wrapped up in each other." - Burton Hillis 

This Christmas, focus on what really matters -- the family. As the baby Jesus gave Himself to us, so too should we ask His help to be more self-giving and more loving to our own families. 

See what traditions these young moms have started with their families to make this year's Christmas celebration a more meaningful and memorable one.

1. Create a time capsule.
"My kids are still small but on Christmas Eve, we'd like to start giving praise to the real reason of the season, Lord Jesus. For now, we'd share what we are thankful for the past year. When they get older, I hope they can write it down and we will keep it in a bottle or can. Years ahead, they will have something to read and remind them why they are blessed." - Liza Esteban, entrepreneur behind Saab and Meelo, wife to Mark and mom to Mikaela Louise, 4 years old, and Martha Lucille, 2 years old

ADVERTISEMENT - CONTINUE READING BELOW

2. Contemplate the Belen.
"We've put up the Christmas tree and belen by ourselves. Even our one-year-old helped out putting the ornaments on the tree. We documented how we did it using timelapse and had fun watching how we successfully transformed the tree. It was a good bonding experience, as well as a way to unite and strengthen the family. We've also started the family tradition of gazing and contemplating the baby Jesus in the belen. We've also introduced each person in the belen to our child while relating the Nativity story." - Bernadette Zulueta, program officer in a university, wife to Geoff and mom to Bella, 1 year old

3. Count down to Christmas Day.
"We tried out advent calendars this year for my toddler. It has a treat for each day leading up to Christmas like reading the Christmas story together, attending mass on Christmas Eve, eating noche Buena." - Clara Sereno, lawyer, wife to Joren and mom to Siloe and Catalina

4. Sing Happy Birthday to Jesus.
"Our unique family tradition is treating the Noche Buena/Christmas lunch as Jesus's birthday party. We sing Happy Birthday to Him over the cake and encourage the children to give birthday greetings and wishes for Him." - Mindy Cabudol, HR specialist, wife to Orie and mom to David, 5 years old and Carmel, 3 years old

5. Start a midnight ritual.
"We say a Christmas prayer at 12 midnight (instead of opening gifts, we start with the family praying together and lighting the Christmas candle) and sing Christmas carols with cousins, aunts, uncles." - Gwen Llana-Serrano, writer, wife to Novo and mom to Natacia Gael, newborn

6. Create Christmas boxes.
"We're starting 'Operation Christmas Boxes' this year. My hubby and I have been gathering up goodies and packing up shoeboxes for children that might not otherwise even receive a gift. We wrap the shoeboxes and put clothes, school supplies, and toys. Kara is blessed to have received a lot of gifts and some of her clothes have not even been worn (babies do grow fast) so instead of keeping them in her closet, we're going to give them away for good use." - Karen Pacia, entrepreneur behind theprojectmommyger.com, wife to Adrian and mom to Adrienne Kara, 14 months old

ADVERTISEMENT - CONTINUE READING BELOW

7. Open piggy bank savings.
"Something new for this year is giving my daughter, who just turned 9 years old, a chance to personally pick gifts for her immediate family. She will open her piggy bank and buy gifts for daddy, mommy and little brother. As parents, we want to instill that Christmas is the season of giving." - Jee Lani Perez, entrepreneur behind Mother Nurture, wife to Anthony, mom to Andre Jeellan, 9 years old, and Antoine Jaden, 3 years old

8. Do outreach activities.
"We are starting to expose Jace to outreach activities. Christmas, as with other activities and events, should be beyond oneself. My husband and I believe that it is never too early to spark altruism. It would be great to see him happy receiving gifts, but better to witness him happily giving gifts to others." - Karla Pelayo-Lozano, academic staff, wife to Ace and mom to Jace, 3 years old. 

"As a new mother, I want to teach my daughter that Christmas is not a season of expecting gifts from relatives, ninongs and ninangs. Rather, I want her to see Christmas as a season where she should be sharing/giving to other people. I will involve her in outreach activities during Christmas and hopefully she grows up to have a generous heart." - Ayeen Rimorin, financial operations manager, wife to Ryan Rimorin and mom to Arya, 1.5 year old

ADVERTISEMENT - CONTINUE READING BELOW

9. Donate toys and clothes.
"For this year, we have started a 'play pen cleanup, give up, cheer up' with our kids. They will choose the toys they would want to keep, and the toys they would want to give to less-fortunate children. Whenever we go around the metro and they see street children, especially my eldest, they wonder where the kids' parents are, or why they don't have shoes or nice clothes, or why they have to beg for money. We explain to them that some children do not have parents to take care of them, or some do not have enough. We took this opportunity to instill awareness, charity and sharing with them, even at an early age." - Marie Macapagal-Galang, wife to Gideon and fulltime mom to Ginger 3.5 years old, and Pepper, 1 year old

"Last year, in an attempt to teach our 4-year-old about sharing, we told her to choose toys that she doesn't play with anymore and would want to give away. This year even before asking, she reminded us that she'll choose toys again (and now clothes and shoes too) to give away. So that's what we did and we'll continue doing every year; not just my daughter, but my hubby and I as well." - Margaux Nonato, wife to Ian Nonato and full-time mom to Audriana, 4 years old

ADVERTISEMENT - CONTINUE READING BELOW

"We donate items in exchange for new items bought or received. For example, if Kael receives two toys, he has to choose two old toys (or I would do it for him) for us to donate. Same goes for me and my husband. This is not only applicable during Christmas but also on ordinary days. Our son learns to share and be detached from material things without him realizing it yet." - Mia, entrepreneur and financial consultant, wife to Reggie and mom to Kael, 2 years old

How about you? What Christmas tradition would you like to start with your family?

Trending in Summit Network