9 Do-It-Yourself Party Decorations, Giveaways, Souvenirs, and Activities

Save money with these party decoration ideas!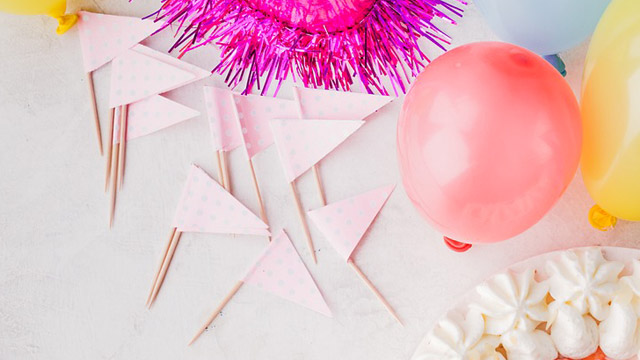 Making your own party decorations isn't only practical, it develops your creativity and gives an opportunity for the family to bond together by helping out in party preparations. Here are 9 ideas from SmartParenting.com.ph's Parent Chat members how they did these themselves, saving a huge amount of money that they were able to use for other party expenses.

Standee - by Clare Sandoval aka tiny _little_mom

 

Photo from Clare Sandoval


The idea:

"Nigel's 1st birthday party's theme was Thomas The Train and was to be held on the second floor of a new clubhouse. I was worried on how to direct the guests to the function hall if I'd be waiting and entertaining the other guests upstairs. That's when the idea of having an usher came into mind and who better than the birthday boy himself, but just a replica of him of course."

Cost to have it done:
Standees as charged by party suppliers are between P850 to P2,000. For Nigel's size it would've been approximately 1,000

Own cost:
Picture on tarp: P160 (2' x 4' @ P20/sqft)
Foam board: P210 from NBS
Double-sided tape: P50 (but I only used half the roll)
Cutter, Scissors, Glue: free (we had at home)
Total = P420

ADVERTISEMENT - CONTINUE READING BELOW

Timeframe:
"After I got the printed tarp it took me 4 days to create the standee," explains Clare. "But I only did it 30 minutes per day. On the first day, I cut the tarp to the shape of Nigel. On the 2nd day, I traced the tarp on the foam board and cut the foam board. On the 3rd day, I made the stand for back support. On the 4th day, I assembled them all together. Working moms can do it this way after they come home from work. Or just do it one entire afternoon on a weekend."

How Clare learned to do it:
A few video clips from Youtube helped in learning how to make the stand for back support

Story of a Mother's love:
"While I was making the standee, my dad said I could have our carpenters do it since they were there to fix the roof. I told my dad that I wanted to do it myself for my baby. I couldn't be prouder and happier than I am with the standee that I made for my little one."

"Until now that it's been more than a month since Nigel's birthday, and his standee still patiently stands outside our bedroom door. My boy waves at it as if it was real every time he sees it."

Advantage of making own standee:
"It's very cost efficient. You discover the artistic side of the not so artistic moms. Of course, there's also the labor of love and the fulfilling feeling afterwards."

24-year-old Clare Sandoval is known as tiny-little-mom at the SP forum. She lives in Paranaque and is an active contributor in the SP Forums.

CONTINUE READING BELOW

Recommended Videos

Balloon decorations
 
Photo from SP member Cyd Santos

Making your own balloon decorations is fun and fulfilling. It can also be tiresome, especially for a first-timer, but thinking of how much you can save not hiring a decorator is a goal good enough to get you working on it. Here's how Jr. SP Parentchat community member Cyd Santos (prettynpink) thought of making her own balloon decorations for her son Andrew's  3rd birthday.

"What really drove me to make my own balloon decors is my desire to learn the basics of balloon decorating, and of course to save money. I couldn't afford to pay a huge amount for a simple balloon set-up so it became a challenge for me to create my own.

Balloons are very cheap especially if you buy them by the pack or in bulk. I made my own balloonderitas, balloon bursts, flower balloons, a centerpiece and a mini-pillar. All these could have costed me P4,000 if I availed of a party planner. I saved almost P2,000 for the entire party set up.
 
The balloons in the photo are for my son's 3rd birthday party. I was supposed to buy these items at a balloon / gift shop but when I asked for their quotation, I was shocked with the price. The mini-pillar and balloon burst costs P500 each plus P300 for delivery charge. So I just bought uninflated balloons from them and it cost me P479.50 including the shipping fee. I saved P820.50 which I used to buy Andrew's birthday cake.

ADVERTISEMENT - CONTINUE READING BELOW

It usually it takes 2-3 hours to complete a simple balloon set-up with a manual dual-air hand pump, and even less time if with an electric inflator. It's a must to have a handy helper on the side to help with the inflation and the tying of the knots.

If I have a tight budget, I buy local metallic and latex balloons at Kyla Mae in Divisoria. For China-made self-sealing mylar balloons, I usually buy at ebay. It's cheap but should be carefully inflated because it easily pops. For imported balloons, I buy at Balloonhaus. They have really nice balloons that last for weeks when inflated.

I learned to DIY balloon decors thru watching youtube videos. Sometimes I grab pictures of balloon set-ups on other party planner websites then I just replicate it."
 
Author's note: Smart Parenting Parent Chat Online Community has an active topic "Make your own balloon decorations". It is one of the most viewed topics with 21,000 views to date. Information is exchanged by community members all with the same interest and passion for balloon decorating.


Cake decorating

photo by Mommy Jazz
 
Let the kids decorate their own cake. The cakes could become very messy looking, but these can also be the most beautiful cake for the celebrant and guests. It's also economical for the parent too.

ADVERTISEMENT - CONTINUE READING BELOW

Get a big plain cake and ask the cake store staff to give you the sugar flowers and leaves in a bag instead of putting it on the cake. Get more goodies to decorate it with like chocolate candies, sprinkles, cereals like star-shaped, cookie shaped and colorful loops, mini-cookies and colored mini chocolate covered biscuits. Add printed characters on popsicle sticks to complete the theme.

 

"We celebrated my daughter's 7th birthday at school and she and her classmates had a blast decorating the chocolate cake. At first, they were disappointed seeing a plain, boring cake. But the disappointment soon turned to excitement when I brought out all the decors. Some boys even put the cereals straight to their mouths instead of the cake. It was a hilarious moment and everyone enjoyed it. This idea is good for small, simple celebrations."

Souvenirs

 DIY giveaways are fun to make. Kids can help too. Not only can you save a lot, your guests will appreciate your personal touch. Here are a few DIY items fit for souvenirs, giveaways, prizes or to keep the "early chicks" occupied.

Puppet kit

photo my Mommy Jazz
 
Children can make their own puppets while waiting for the other guests to arrive. Each puppet kit will cost the planner only P27. This giveaway is good for puppet-themed parties like Sesame Street, Elmo, Johnny and the Sprites, Mighty Jungle and Child Smart video characters.
 
Materials:
Plastic envelope - P11 each
Construction paper - P18.50 for 20 pieces. Only half of the paper and 5 colors will be used per kit.
Yarn - P12. Only 5 meters is needed per kit. One ball of yarn is about 35 meters
Scissors - P10
Googly eyes - P45. 60 pairs per pack. 1 pack has around 30 pairs.
Other craft materials lke buttons, glitters, beads, what-have-you

ADVERTISEMENT - CONTINUE READING BELOW

Origami kit

inset from keystoneblind.org
 
It's fun and educational. Origami teaches following directions touching on geometry, fractions, abstract reasoning and it also develops fine motor skills.
 
Materials:
Construction papers - P18.50 per set of 20 pieces. Only 4 pieces can be used per kit.
Plastic envelope - P11 each
Photocopied origami instructions (can be downloaded from the net)
Cost per kit: P18.75
 
 
Clay Dough



What you need:

ADVERTISEMENT - CONTINUE READING BELOW

1 cup flour
1/2 cup fine salt
Water
Liquid food coloring
A few drops of baby oil.
Glitters



Instructions: 

1. Mix flour and salt in a bowl, gradually add water and knead till you get the right texture.
2. Divide the dough into 3 parts.
3. For each portion, add a few drops of the color you want and keep kneading. If it turns sticky, sprinkle with baby powder (the baby oil and baby powder gives the clay dough a nice scent). 
4. Always wash your hands after each clay dough coloring you make so it will not mix with the next color.
5. Sprinkle the clay dough with same-colored glitter for effect. 
 
Keep in a covered plastic container. About 3 different colored balls of clay dough per set is good enough.

Towel Cupcakes

What you need:

Different colored plain face towels (pastel is more attractive)
Plastic cups (the size of a fastfood gravy container)
Corrugated paper
Clear tape, glue, scissors and creativity



ADVERTISEMENT - CONTINUE READING BELOW

Instructions:

1. Cut the corrugated paper into strips the same height as the plastic cup.
2. Wrap the paper around the cup and glue ends together.
3. Twist the towel and stuff it in the cup.
4. Decorate. You can use a small sign board or top it with small shaped soap or any scrapbook décor material.

In the photo, I used parts of a non-sharpening pencil found at Merriam and Webster bookstore Makati.

Towel Animals
Towel animals aren't only inexpensive and cute, they are also perfect for party themes like The Backyardigans, Word's World, Wonderpets and other animal-themed parties.
 
What you need:

plain colored face towels
Googly eyes (from crafts, school and office supplies stores)
Glue
Rubber bands
Fuzzy wires
Thin ribbon strip (a colored paper strip will do)

 

BUNNY:

 

1. Lay the towel down like a diamond. Roll from the bottom end to the top.

ADVERTISEMENT - CONTINUE READING BELOW

 

2. Bend the rolled towel like an inverted "V". The pointed tip will be the face and both ends will be the ears.


3. Bring the 2 ends inward and upward higher than the middle point of the towel, it's like bringing the ears closer and over the face.

ADVERTISEMENT - CONTINUE READING BELOW

4. Tie the towel at the middle section with a rubber band. Cover the rubber band by tying a ribbon.

5. Raise both ends of the towel to show-off hte ears.

 

6. Decorate with googly eyes and pompoms.


BIRDY:

1. Fold the towel in half forming a triangle.

ADVERTISEMENT - CONTINUE READING BELOW

 

2. Roll it leaving a small tip. 

 

3. Form it like the letter "W" and bring it all together.

 

4. Tie the middle part with a rubber band. Cover the rubber band by tying a matching ribbon.

ADVERTISEMENT - CONTINUE READING BELOW

 

5. Add googly eyes.

BUTTERFLY:

1. Lay the towel like a diamond.

 

2. Fold the entire towel like an accordion (it's like making a paper fan).

 

3. Bring both ends down and tie it with a same colored fuzzy wire forming a head and a neck.

ADVERTISEMENT - CONTINUE READING BELOW

 

4. Bring both tips inside and tie with fuzzy wire securing the bottom (where both tips are) and dividing the head into 2 sections creating the top wings.

 

5. Shape the fuzzy wire into a curvy antennae.

 

SNAIL 
1. Fold the towel into a triangle shape.

2. Fold it in the middle bringing the tip to the base.

ADVERTISEMENT - CONTINUE READING BELOW

 

3. Roll it.


4. Curve it into an "S" shape with the top curve in a curl.

ADVERTISEMENT - CONTINUE READING BELOW

 

5. Tie-in a fuzzy wire to create the head and antennae.

6. Secure the shell to the body by tying it with a nylon cord or taping it with a small piece of double-sided tape.

7. Add eyes.

Read on more ideas for party invitations, games and décor at Parent Chat.

What other parents are reading




Celebrate your pregnancy milestones!


Enter your details below and receive weekly email guides on your baby's weight and height in cute illustration of Filipino fruits. PLUS get helpful tips from experts, freebies and more!

You're almost there! Check your inbox.


We sent a verification email. Can't find it? Check your spam, junk, and promotions folder.

Trending in Summit Network