Around Town: Discover the Joys of Organic Backyard Farming at Jensen Kinder Farm

This unique backyard farm promotes organic urban farming among families.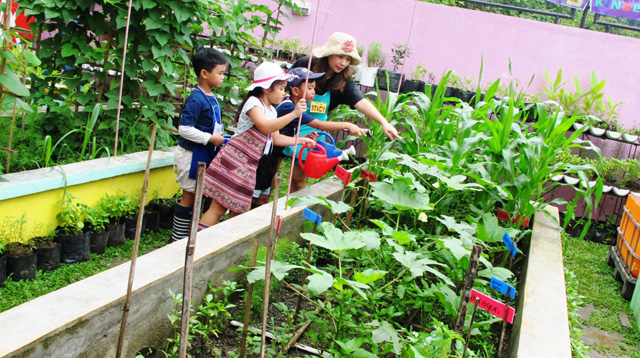 If you ask a child the question "What do you want to be when you grow up?" these days, "farmer" would probably not be a common answer.

The truth is, in today's modern, fast-paced, technologically-charged world, most kids aren't really exposed to the farming industry, and so don't realize how important it is to communities and society in general.

That's precisely why people like Stacy Mae Borromeo chose to promote farming. Stacy, an entrepreneur and homeschooling mom to Chloe, 5, is a staunch advocate of organic urban farming. It is actually her passion for agriculture that led to the "birth" of Jensen Kinder Farm.

What other parents are reading



Farming as a lesson on science and business
"When we started homeschooling, I wanted to incorporate farming lessons in our curriculum," Stacy shares. "I thought it would be a good and practical tool to introduce science to my daughter. It's also nice to have home-grown vegetables and organic food on our table."

"I would love for my daughter to help me process our turmeric and dry herbs, and pack them for selling. This way, I will be able to teach her to be an entrepreneur at a very young age."

"What's more, we can study different kinds of plants, and see the life cycle and growth of plants and animals while teaching her to be patient and learn life skills and many more," she continues. "I am sure that all these 'lessons' and experiences will someday make a big impact on Chloe."

What other parents are reading


The beginning of something bigger
Stacy recalls how she got the idea to expand on what she was doing for her daughter. "One day, in my prayer, I received an inspiration," she says. "I thought, 'Hey, I can share this with other homeschoolers!'"

ADVERTISEMENT - CONTINUE READING BELOW

So, Stacy and her little family started with a mission: "To spread organic urban agriculture to families."

"We got our name Jensen Farm from the name of the street where our house is located. We added 'Kinder' because we want to teach farming to kids from the toddler years and onwards."   

Stacy says starting the farm was quite difficult but so rewarding. "Farming takes a lot of time, patience, hard labor," she adds.

For example, when Stacy started out, 90% of her plants withered from extreme weather conditions and pests. "I was also still learning the process, and had limited know-how in planting," she recalls.

"But just like in any circumstance, as long as you put your whole heart in it, you will eventually find yourself happily tilling the soil, taking out the bugs and making organic concoctions to produce healthier and abundant produce. That is where learning becomes rewarding."

What other parents are reading


Growing the business to help others earn extra income
Stacy admits that she couldn't run their farm and manage all the farm tours by herself, and is thankful for the help of other people.

"With the support of my dear husband Tato, a marketing practitioner by career, we manage to enjoy putting concepts together and apply his urban experiences to create a program for the farm tour that will be relevant for the families living in the city," she explains.

"I also consult some of the professionals and more experienced persons in the field like Ms. Liezl Jose and Engr. Martin De Leon. I also attend trainings and seminars at the Department of Agriculture."

The farm has become a blessing not only to Stacy's family and the "tourists" who come to visit it, but to her hired help as well. "My house helpers transform into 'farm crew' during farm tours. I train them and we conduct meetings to make sure we can provide good service and worthwhile experiences for our tourists," Stacy explains. In turn, her helpers earn extra income from the tours.

CONTINUE READING BELOW

Recommended Videos

What other parents are reading


What happens in a tour at Jensen Kinder Farm?
Stacy emphasizes that the farm tour is not only for kids "but for the entire family."



"The parents will learn about different farming methods and techniques they can apply in their own homes — methods that farmers do in the province but are scaled down to fit our urban homes," Stacy shares.

"Meanwhile, the children will become little farmers for that day. They will collect eggs inside the chicken coop. They will feed the fish, rabbits and chicken. They will water and fertilize the plants," she continues. "They will also learn about the tools we use in farming and will have a chance to try them."

The children who join the farm tours will also be taught how to grow plants with seeds and through cuttings. They will also design their own planters.

What other parents are reading

"While the kids are having their planting activities, the parents can relax and have some tea," Stacy adds. "The herbs we use for the tea are grown on the farm and are freshly picked that day."

Soon, the farm will also have an "aquaponics system" using solar energy. "We are also adding new interactive attractions for our tourists," Stacy shares. "Kids can also catch fish and cook them."

Stacy also plans to implement a "farm to table concept," where the kids can harvest lettuce and vegetables from the farm, and make their own salad or pizza. "We will also open our place for small private parties with farm themes," she divulges.

ADVERTISEMENT - CONTINUE READING BELOW

Stacy also makes sure to involve Chloe in the preparations for every farm tour. "Before the tour, we prepare the farm kits and planting supplies together," Stacy shares. "She would gladly include herself in the assembly line. She counts the seeds in the packets, arranges the buckets and teacups, and shreds paper for us."

Through farming, I will be able to teach my daughter to be an entrepreneur at a very young age.


Involving your child in farming
Stacy wishes to encourage other parents to get their kids involved in farming, even in simple ways. She shares how she gets her own child "excited" about helping out on their farm.

"My daughter spends a lot of time in the backyard. She helps me propagate plants by cutting mature twigs of herbs. She loves to feed the animals, and helps me plant seeds in their seedling trays. She will drop everything to water and spray the plants!"

This kind of exposure has borne fruit — "Chloe now enjoys not only farming but every bit of the process at Jensen Kinder Farm," Stacy proudly declares.




ADVERTISEMENT - CONTINUE READING BELOW

Practical tips for parents who want to do farming activities with their kids
Stacy says parents can introduce planting activities to their children in small steps. "The whole process can be overwhelming if done all at once," she advises. "Start by choosing the easiest plant to grow. I suggest munggo." Here are her tips for getting started:

1. Buy potting soil from the garden supply store and "munggo" seeds from the grocery.

2. Let the seeds grow for a few weeks then harvest the pods once they turn dark brown to black.

3. Let the seeds dry then sprout them in water.

4. After a few days, let your kids prepare a dish with their sprouted munggo.

"The kids will enjoy this meaningful process of planting and eating their harvest," Stacy shares. "This can help jumpstart a love for producing their own food. Then try a different plant to grow next time."

Stacy's additional pointers include providing colorful and kid-friendly tools that kids can use when farming, and setting a special day during the week for farming activities.




ADVERTISEMENT - CONTINUE READING BELOW

Grow your own food, learn important lessons
Stacy leaves us with these heartfelt words, especially for families living in the city: "I would like to encourage families to start producing their own organic food at home.

"We can grow edible plants in many different ways, no matter how small our spaces may be. Vertical-, container- and square foot-gardening can be done with recyclable planters.

"Grow gourmet salad with aquaponics — a farming method that uses soilless technology, and uses fish to supply nutrients to the plants. We can raise backyard chicken and fish like tilapia so we can always have a protein source."

Stacy also says that farming with our families gives the kids "invaluable life lessons that will make them smarter, self-sustaining, independent and responsible individuals in the future."

"Let us teach the importance of agriculture to our children today so we can feed our children tomorrow," she encourages parents everywhere — and we totally agree with her.

Jensen Kinder Farm is open to the public from Thursdays to Sundays, with daily tours from 9-11 am or 2-5 pm. Fees are at P180/child and P50/adult. To book a tour, please visit their Facebook page. You may also send an email through stacymae_ph23@yahoo.com.

What other parents are reading

ADVERTISEMENT - CONTINUE READING BELOW

Celebrate your pregnancy milestones!


Enter your details below and receive weekly email guides on your baby's weight and height in cute illustration of Filipino fruits. PLUS get helpful tips from experts, freebies and more!

You're almost there! Check your inbox.


We sent a verification email. Can't find it? Check your spam, junk, and promotions folder.
Trending in Summit Network