7 Family-Friendly Movies and TV Shows to Watch This Halloween

We've got a friendly ghost, a mystery solving dog and his gang, a butt-kicking princess to-be and more!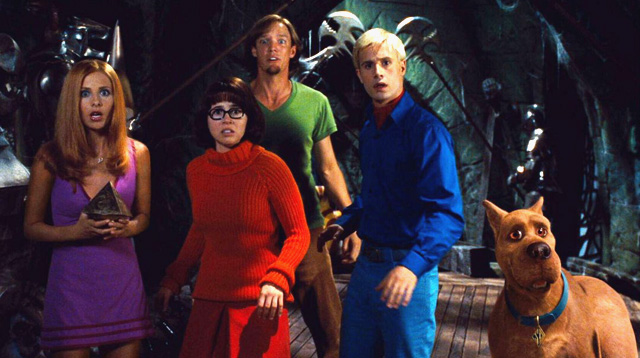 Halloween is slowly creeping up on us! How excited are the kids? So much so that they're jumping from behind doors to scare you or are wearing their costumes around the house? Whether or not they're going trick-or-treating this year, try feeding their hunger for monsters and magic with these kid-friendly Halloween-perfect movies and TV shows. All of these are streaming now on Netflix so turn the lights down and don't forget the jack o' lantern bag of sweet treats!

1. Scooby-Doo (2002)

 

If it's monsters you're looking for, this live-action movie on the world's most beloved Scooby-snack gobbling Great Dane will hit the sweet spot. In this adventure, they're investigating a popular island-themed resort aptly named Spooky Island where actual paranormal activities seem to be happening. It's action-packed, funny, has just the right amount of scares and is great for mystery-loving kids. Take this as a chance to introduce the kids to the Mystery Inc. gang: Shaggy, Velma, Daphne and Fred! 


2. Casper's Scare School (2006)



Ghosts can be too scary for kids. Fortunately, there's nothing hair-raising about Casper, the friendliest ghost around. Unfortunately, this is also what's got him stuck in Scare School where they're forcing him to be more ghoulish. It's not his fault he's just too lovable! Good he's there though because he soon discovers that the headmasters are scheming a nefarious plot to take over both the world and the underworld. Think he and his friends can stop them? 


3. Sabrina: The Animated Series (TV Series; first aired in 1999)



Surely, witches aren't all bad. There's Samantha from 60s TV series Bewitched, Hermione from the Harry Potter stories, and of course Sabina, the teenage witch! The kids (big and little) will love to watch her find solutions to problems big and small using her magic skills (which are sometimes also caused by her magic skills). To be honest, she hasn't really fully mastered her powers yet!  Plus, who wouldn't love a talking sidekick kitty like Sabrina's black cat Salem?

ADVERTISEMENT - CONTINUE READING BELOW

What other parents are reading

4. Goosebumps (TV Series; first aired in 1995) 



A little more thrill and excitement might be what older kids are looking for. For that, flick the screen to Goosebumps! We are not talking about the recent remake, but the 90s kids' TV show. It turns the best stories from RL Stine's novels of the same name and brings them closer to real life! The live-action episodes have stories on creepy basements, haunted masks, ghost-filled castles and more. Perfect for binge-watching on a dark and stormy night! 

5. Open Season: Scared Silly (2015)



Kids enjoyed the Open Season movie franchise? If so, Open Season: Scared Silly, which was a direct-to-video film, is perfect for them on Halloween Night. Though he's as big as a bear (because he is one!), Boog is actually a bit of a scaredy cat. Formerly a domesticated pet, he isn't used to actually being in the forest after hearing spooky tales of a werewolf lurking around in the dark trees. Meanwhile, dear antlered-best friend Elliot and the rest of the gang are determined to scare the fear out of him. But wait, is the werewolf legend really just fiction? 


6. Elle Enchanted (2004)



It wouldn't be Halloween without magical creatures. Fantasy romantic comedy film Ella Enchanted has elves, giants, fairy godmothers, magic powers and, of course, kings and princesses. The film starts off with a fairy godmother bestowing Ella, the heroine of our story, the gift of obedience -- meaning she must do everything she's told! When the gift turns into a burden, she sets off to look for the fairy to ask her to take it back. On the way she meets characters of all shapes and sizes. It's a wonderful fairy tale film that shows girls don't need a charming prince to save the day for them too. 


7. My Babysitter's a Vampire (Film: 2010; TV Series: first aired in 2012)



Ready for a new sitcom to enjoy with the kids? For all the hype around vampire movies, here's one the whole family can go see. My Babysitter's a Vampire was first a comedy horror TV film then bloomed into a TV show after its success. You can watch the movie first and see how two friends find out the babysitter Sarah is actually a vampire, and then fight an army of similar bloodsuckers who plan on resurrecting the dead. It's uncomplicated, enjoyable laugh-out-loud fun for everyone in the household. 

 

Trending in Summit Network