A Mom's Budget-Friendly Baon Ideas When She's Too Tired to Cook or Think

This mom, who loves to cook, devised this no-stress baon plan for days when she has no energy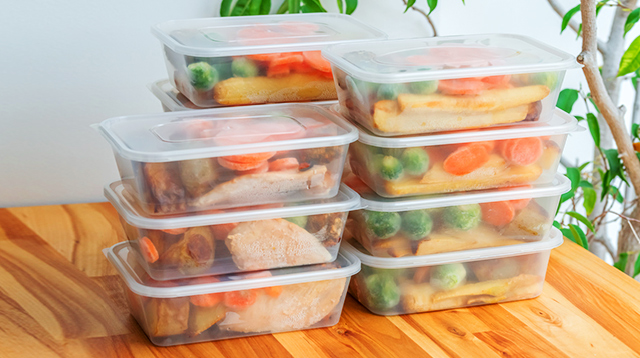 I love to cook, but sometimes I have no energy, time or inspiration. And the last thing I want to worry about is what to put into my kids' lunchboxes. Since their schools have a "no junkfood" policy (they're not even allowed to bring cookies, and I feel silently judged by their teacher each time I give them hotdogs), I devised a no-stress, budget-friendly baon plan that takes three hours of work for one week's worth of baon.  

THE SHOPPING LIST     

Ground pork (a lot of it — trust me on this)
Chicken breast with bone 
Chicken thigh fillets
A big slab of kasim or liempo
Sliced ham
Bacon
Hamburger or Italian seasoning
Large whole potatoes
Canned beans 
Lemon
Quickmelt cheese 
Mayonnaise
Bottled barbecue sauce
A huge pack of spaghetti sauce or canned tomatoes  
Instant carbonara sauce
Instant gravy 
Instant cream of mushroom or chicken
Bottled pesto 
Frozen peas and carrots 
Sweet chili sauce (if your kids like it) 
Pizza dough, panini, tortilla 
Spaghetti 

THE PREPWORK Set aside one night when you have time to precook everything.

1. Fill a large pot with water and boil. While the oven does its work, ground several heads of garlic in a mortar and pestle, chop and onions and grate carrots. 

2. Mix some of the garlic and onion into your ground pork (add a generous dollop of Italian or hamburger seasoning). Shape some of the meat into balls, others into patties, and the rest to just saute. Optional: cube some of the cheese and insert into the meatballs. 

ADVERTISEMENT - CONTINUE READING BELOW

3. Use the rest of the garlic for the chicken. Add it to olive oil and let it steep (it flavors the chicken like magic). Pour some of this on the chicken, then add lemon, salt and pepper and stick into the fridge.

4. By now your water is boiling. Add the pork, chicken breast with bone, onion quarters, a few cloves of garlic, and whole peppercorns.  

5. Go and watch a one-hour show. By the time you're done, the pork should be soft. Save the broth for soup (or set aside some of the pork and serve nilaga for dinner). Another hack: pour leftover broth into ice cube trays — you can use it for vegetables or saucy dishes. Shred the boiled chicken even (you can watch YouTube as you do this). 

6. Now for the mass cooking. Cook the bacon first because the fat drippings add so much flavor to everything else you will add to the pan. Then, cook your hamburger patties and meatballs. They'll render a lot of fat, which is perfect for when you add the chicken thigh fillets (which you can fry on its own or wrap in panko breadcrumbs). See what we're doing here? Divide your meats into the perfect portions for your baon.

YOUR BAON OPTIONS
Your meats are cooked, so everything else is easy peasy. Here are some things you can do with your meats (although you'll find a lot of other recipes that work for you and your family):

ADVERTISEMENT - CONTINUE READING BELOW

Recommended Videos

Shredded chicken. Make a chicken sandwich with mayo and cubed apples and pickles, toss in garlic-mayo dressing and stuff into a pita with cucumber, or add barbecue sauce, red bell peppers, onions and cheese and roll into a tortilla wrap. You can also mix with a bit of pesto and serve in panini or noodles, or add melted cheese and tomato sauce for an enchilada.

Meatballs. Add sweet chili sauce, pineapples and red bell peppers for sweet and sour meatballs, or toss into noodles with either spaghetti sauce or instant mushroom soup with half the recommended amount of water.

Meat patties. Reheat with thin slices of quickmelt cheese on top, add bacon slices and tomato, and place into panini that's been cut in half. Another option: add gravy to make it into burger steak and serve with rice, or  make a curry sauce with green peas and carrots.

Sauteed ground meat. Add tomato sauce, green peas and carrots, and cubed potatoes for picadillo. Add spaghetti sauce and noodles for Bolognese. Add canned beans, spaghetti sauce with a touch of cumin and bacon for chili, or use the same recipe and wrap it into a tortilla with rice for a burrito. If there any leftovers I also mix it into spaghetti sauce and serve it with melted cheese on pizza dough — just a few tablespoons go a long way. If you've got wonton wrappers and a little more time, make pinsec frito and serve with sweet chili sauce.

Boiled pork. This is the little black dress of cooking: add any sauce, and it's different. I've refried this and added everything I had on hand in the kitchen — tomato sauce, lechon sauce, adobo sauce, curry, bagoong and gata, oyster sauce and bokchoy, kare-kare sauce, banana ketchup mixed with soy sauce and mustard. You can also shred the pork and add barbecue sauce and serve on rice or bread for sloppy joes. It's so life-changing just to have this lying in my refrigerator, cooked and ready to be made into anything.

ADVERTISEMENT - CONTINUE READING BELOW

Fried chicken thighs. Another meat cut that will shine with any sauce you happen to pour on it. I also like to cut this into slices for chicken enchiladas, or pour a can of tomato sauce and a huge fist of Italian seasoning and cheese and bake into an oven for chicken parmigiana.  If all else fails, just serve it with unique dressings: mayo mixed with pesto, mayo mixed with honey and mustard, mayo mixed with ketchup, or just plain barbecue sauce. It's a nugge — but homemade, and cheaper, and probably healthier.

Bacon. This is Life. My kids will eat this on its own, with bread or rice or noodles tossed in olive oil, but it can also be served on baked potatoes, tossed with instant carbonara sauce and spaghetti, or wrapped around chicken slices that have been quickly reheated in the microwave with a big dollop of cheese. My kids love it when I take a bit of ground pork and beans, add tomato sauce and quickmelt, and bake it. It's chili baked potatoes at a fraction of a price compared to the one we get from our favorite family restaurant.

Ham slices. Layer it with pineapple and red bell peppers on tomato sauce on pizza bread, toss with carbonara sauce and spaghetti, or make a grilled ham and cheese sandwich. It's also a good way to make good use of any leftover rice in their lunchboxes: I make fried rice with ham, green peas and carrots and eggs. They call it Yang Chow — I call it stretching the food budget.

I promise you'll only need about one marathon cooking session to prep the meats, and maybe one hour in the evening or morning (depending on when you're actually awake and coherent enough to handle knives and stoves) to get it all together. I've discovered if you're just making sauce, you'll need about 20 minutes of actual cook time, and if you're baking or microwaving something, that means you can leave it and get yourself a cup of coffee.

Hey, us moms need coffee. And sometimes we just need to make baon simple so we can have time and energy for everything else, while still feeling pretty awesome about giving our kids really good foods. #Adulting? We're winning it.

ADVERTISEMENT - CONTINUE READING BELOW

What other parents are reading

Celebrate your pregnancy milestones!


Enter your details below and receive weekly email guides on your baby's weight and height in cute illustration of Filipino fruits. PLUS get helpful tips from experts, freebies and more!

You're almost there! Check your inbox.


We sent a verification email. Can't find it? Check your spam, junk, and promotions folder.

Trending in Summit Network