What To Order At Coffee Project If You're Eating With Kids

This coffee place is not only Instagrammable, it also offers satisfying meals and desserts!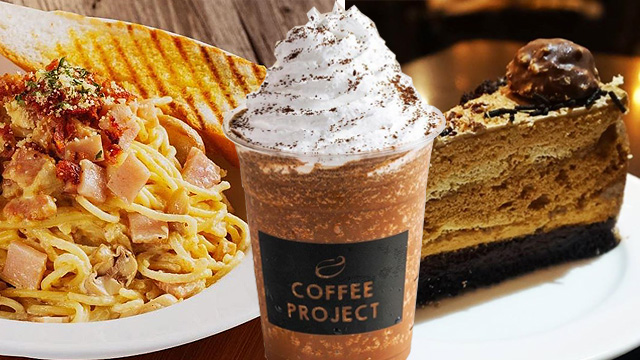 Filipinos love to eat — that is a fact. And when we're not eating, we're "having coffee," which, by the way, is just another code for "eat." (On the upside, as American chef Julia Child once said, "People who love to eat are always the best people.")

With the Christmas season approaching, many meet-ups and reunions will surely happen so you can expect your usual haunts to be packed. If you're looking for a nice alternative to crowded restaurants (and KTV places) where you can meet up with your friends and bring the rest of the family along, no doubt you've heard of (or been to a branch of) Coffee Project.

One could classify Coffee Project under the category "coffee shop," in the same league as Starbucks, but as I have observed every week when we stop by for dinner on Friday nights, the people who come to Coffee Project are there to eat with their family, as opposed to having just a drink and dessert with friends. Owing to their more extensive menu, you can have your meal, coffee, and dessert all in one relaxing place (props for the lush forest-themed interiors too).

ADVERTISEMENT - CONTINUE READING BELOW

So if you're a mom or dad tagging along your kids for a holiday meet-up, here are some items from Coffee Project's menu you won't regret ordering for yourself or your child.

CONTINUE READING BELOW

Recommended Videos

Drinks kids will love

Dark chocolate Frappe

It's chocolate and a frappe — what's not to love?

ADVERTISEMENT - CONTINUE READING BELOW

Strawberry Vanilla Frappe

If your kids prefer something fruity, this will become a fast favorite.

Green Apple Cucumber Slush

This refreshing drink highlights the citrusy flavor of apples, which kids love. 

ADVERTISEMENT - CONTINUE READING BELOW

Food favorites

Carbonara

The kids will forget they love red sauce pasta when they taste this.

Bacon 4 Cheese Sandwich

Because who does not like cheese?

ADVERTISEMENT - CONTINUE READING BELOW

Yummy cakes

Salted Caramel Cheesecake

This cake is one of their bestsellers.

Purple Yam Cheesecake

Ube and cheesecake are a winning combination!

ADVERTISEMENT - CONTINUE READING BELOW

Moist Chocolate Cake

Moist. Chocolate. Cake.

Ferrero Cake

Imagine your favorite treat baked into a cake. This is it.

ADVERTISEMENT - CONTINUE READING BELOW

Sweet Potato Cake

Our humble kamote is reborn into this yummy dessert!

Trending in Summit Network