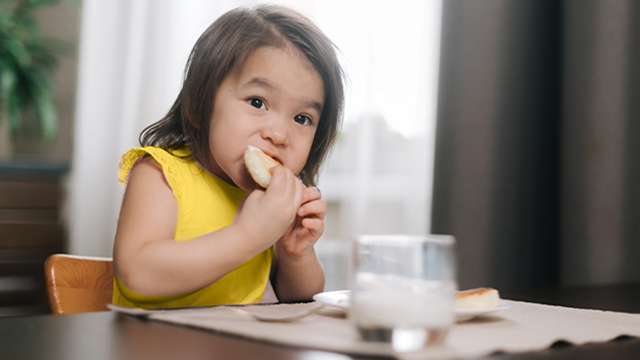 Real talk: When kids become mapili or maselan sa pagkain, feeding them food that's good for them can be a challenge. As parents, it even pushes our buttons.
But, we must remember to remain patient until they finally eat. More than having empty tummies, picky eating can lead to nutrition inadequacy, which manifests in kids being underweight or overweight, or worse, experiencing stunted growth.
To help parents address the picky-eating habits of 3+ toddlers, NIDO® 3+ mounted the virtual event ExperTips Congress last May 15, 2021. Three nutrition experts came together to tackle this common concern and provide practical tips to deal with it.
The lineup of experts included Dr. Ed Santos, an assistant professor in pediatrics at the University of the East - Ramon Magsaysay College of Medicine; Dr. Katrina Valera, a specialist in pediatrics, pediatric gastroenterology, hepatology, and nutrition; and Ditas Sagarbarria, a nutritionist and dietitian.
Keep reading to find out some of their tips on how to cope with picky eating:
[ads:4]
1. Never force the kids to eat
When kids shun away the food that we give them, our initial reaction is to feel frustrated — sometimes even mad. But all three experts agreed that neither lecturing them nor forcing the food on them is the way to get them to eat. According to them, it takes kids up to 20 times of exposure to a new food before they begin to accept it as part of their diet.
What you can do instead is to show them that you, yourself, actually enjoy that particular food first, and consistently expose them to it.
Dr. Valera reminded parents: "No tricking, no hiding, and no bribing," adding that it's better when kids know what they're eating. Likewise, whenever they try new foods, make sure to further encourage your kids by complimenting them!
2. If they don't like the food on the table, don't cook something else
Well-meaning parents who just want their kids to eat tend to do it, but it's time to drop the practice, according to the experts.
[ads:10]
As Dr. Valera put it: "[Wala] kayo sa restaurant" — so better avoid being a "short-order cook."
Sagarbarria echoed this sentiment, saying, "You really have to start early. Otherwise, if you give in to what they want to eat now, as an adult, they will have a very difficult time adapting to healthy or smart food choices."
One way to go about this is to involve the kids in meal preparations. Let them decide what vegetables they would like to eat on a particular day. If you have enough space in your yard, grow veggies and let them prepare some of the ingredients, among other things.
Dr. Valera also advised moms and dads to read kid-friendly cookbooks with children to discover more ideas on what food to prepare together.
3. Be creative with their meals
Most kids love cute things. So, if you're having a hard time feeding them fruits and vegetables, you can try cutting these ingredients into different shapes or even into the mold of their favorite cartoon characters!
[ads:16]
You can also try coming up with creative bento boxes that will entice the kids even just by seeing them. "It's the effort that your kids see that would eventually [encourage them to] try the food that you're preparing for them," said Dr. Valera.
Apart from this, Sagarbarria suggested giving children finger foods as a way of introducing a variety of foods into their diet. These not only train their taste buds but also increase their micronutrient intake.
For snacks, consider the following:
Puto with a smiley face created with sliced cheese, served with half glass of age-appropriate milk
Sliced embutido and crackers, served with a glass of water with frozen fruits as "ice cubes"
Two tablespoons of nuts and raisins along with some frozen fruits
Sliced banana-cue
Here's another ExperTip from Dr. Valera: To make sure each of their meals is just enough for them, base the serving of the food in tablespoons equal to their age. For example, if you have a 3-year-old, give them three tablespoons of rice, meat, fruits, and vegetables in every meal.
[ads:21]
4. Always check the label
When buying packed food and milk for the kids, remember to read the product labels carefully. Keep in mind: Ingredients are listed on labels from most to least amount included in the product. So, if sugar is listed within the first three ingredients, Sagarbarria said to rethink getting them.
This especially applies when you're buying milk for the kids. High-calorie milk tends to fill up the kids too much that they opt not to eat anymore. According to Dr. Valera, it's best to aim for less than 25 grams (or about 6 teaspoons) of added sugar in the kids' diet per day.
5. Get them to drink 2 glasses of age-appropriate milk every day
Dr. Santos said that Filipino kids have calcium deficiency mostly because they tend to skip drinking milk regularly, growing up. In fact, Dr. Santos said only 36% of 3+ toddlers in the Philippines drink milk.
[ads:26]
All three experts agreed that kids need to drink two glasses of milk every day in order to meet their nutritional needs, along with a balanced diet and regular exercise. But don't just choose any milk. It should be age-appropriate, because 3+ toddlers have special nutritional needs that the likes of family milk couldn't provide.
Aside from the experts, celebrity mom Marian Rivera-Dantes was also present during the NIDO® 3+ ExperTips Congress.
In an interview, Rivera said she personally practices giving her 5-year-old daughter, Zia, two glasses of age-appropriate milk every day, NIDO® 3+. She said doing so assures her that Zia is getting all the nutrients that she needs, among other things, along with a balanced diet and regular exercise.
The actress even revealed that Zia prefers to drink her milk two ways: cold in the morning, and hot at night. "Gusto raw niya warm 'yung tiyan niya sa gabi," she said.
[ads:30]
Like Marian, try giving your 3+ toddlers NIDO® 3+ for TODO sustansya and protection! It is expertly formulated with the help of the NUTRITODS™ program to address the growing-up needs and nutrient gaps of Filipino children aged 3 to 5. NIDO® 3+ also has no added sucrose and is 100-percent lactose, allowing children to get the benefits and goodness of milk without added table sugar.
What's more, NIDO® 3+ is packed with DHA, LA, and ALA for the brain; PREBIO3® fiber to support healthy digestion, and other essential vitamins and minerals to help children's normal growth and development with three balanced meals.
NIDO® 3+, together with NIDO® 5+, is the only growing-up milk with Lactobacillus Protectus® (L. Rhamnosus), scientifically proven to help support children's upper respiratory defenses and help protect them against pathogens that cause coughs and colds when partnered with a balanced diet and regular exercise.
[ads:33]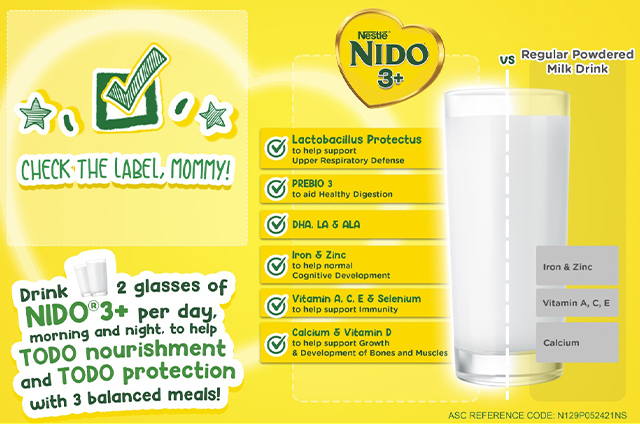 Recalling the days when Zia was still a picky eater, Marian said, "Siyempre bilang nanay, hindi ka mag-gi-give up, kasi 'pag hindi [sila] kumain kawawa naman, 'di ba? So gagawin mo talaga lahat ng paraan para makakain siya nang tama."
The NIDO® 3+ ExperTips Congress was hosted by celebrity mom Iya Villania and the expert panel discussions moderated by Dr. Katrina M. Florcruz-Dacanay. There were also booths, games, information sections, and other activities that made the virtual event interactive.
[ads:36]
For more information, visit http://www.momandme.nestle.com.ph/nido3 and follow NIDO 3+ on Facebook.
ASC REFERENCE CODE: N185P052621NS