Make Baby Food From Natural Ingredients! Here Are 3 Easy Recipes

The Filipino author of a cookbook on baby food shares tips and recipes for healthy baby meals.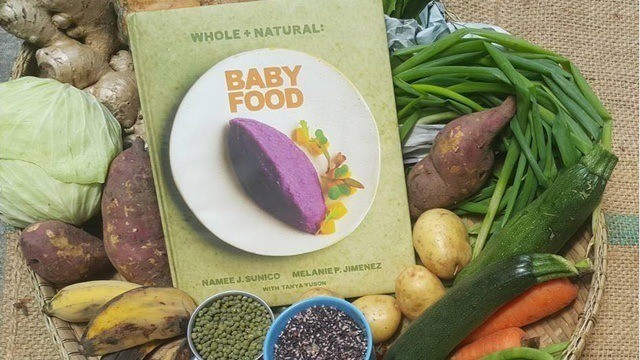 Whole + Natural Baby Food is a self-published cookbook on baby food created by three women. Its goal is to teach moms how to prepare delicious, healthy meals for their babies. We spoke to one of the authors, Namee J. Sunico, to give us a book preview including her tips and recipes using fresh and natural ingredients.    

What was the inspiration behind the book?
It all started with my daughter Juliana's food. I was posting her infant food online, and fellow moms were messaging me about how my daughter's food inspired them to prepare food for their little ones too. The book was co-authored with my friends Tanya Yuson, a film producer, and Melanie Jimenez, a mom and a good stylist. They also had great experiences feeding little ones: Melanie's son and Tanya's nieces and nephews. The book is enriched by our collective experiences. 

What feeding challenge did you personally experience and the book addresses? 
I wanted my Juliana to get used to eating vegetables and make her meal times fun. The food became our point of conversation, and in a way, an education. I was also able to introduce her to a lot of natural flavors, textures, colors, and spices without using salt or sugar. By making our baby food, I knew exactly what was going into our baby's food since I put it together myself. I was able to play with a lot of flavors using herbs and spices.

ADVERTISEMENT - CONTINUE READING BELOW

CONTINUE READING BELOW

Recommended Videos

More from Smart Parenting
How much does it cost to go organic or natural, as opposed to buying ready-to-eat baby food? 
I wasn't particular with organic because it's not something readily available. What matters to me is that I use fresh and natural ingredients. For the most part, I was able to source organic ingredients from farmers that I also know.
Regarding the cost, it really depends on what brands you get, some may be more expensive, some may be cheaper than homemade baby food, but making baby food at home allows us to have better control of costs as well.

What is your best practical tip for working moms when it comes to preparing baby food? 
In our book, there's a way to prepare everything in batches and to store and build flavors based on what is prepared. I used to just prep once a week for Juliana's food. It's like playing with building blocks. One purée plus another makes an entirely different dish. We also have recipes for stocks and sauces that moms can prepare, store, and incorporate into a dish or two. 

Any advice for moms with kids who are picky eaters? 
Juliana at age three gets picky sometimes, but I just let her. I would introduce the same food over and over. She learns to like it eventually especially when she realizes there's no alternative.
ADVERTISEMENT - CONTINUE READING BELOW
More from Smart Parenting
Here are two of Namee's favorite recipes for babies. For other baby food and toddler recipes, you can also check out her blog Girlcook.  

Broccoli and Apple Pops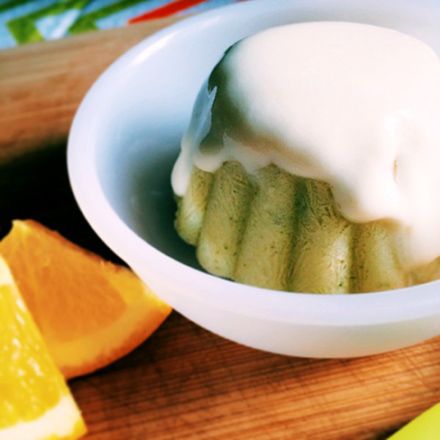 If you're wary of apple juice, you can add pureed cooked apples instead. You can also use a variety of available vegetable purees to make these pops. Add yogurt for a great healthy treat. 
ADVERTISEMENT - CONTINUE READING BELOW
1 cup broccoli puree
1 cup fresh apple juice
1/2 cup water

Place everything in the blender and blend away! Pour them in flexy molds and freeze for at least 2 hours.
More from Smart Parenting
Apples and Bananas, Milk and Oats Parfait
Namee likes to make a batch of baby oat cereal (click here for the recipe) and keep it in the refrigerator for at least one day. It's a good staple to have to mix to baby's fruit and vegetable puree.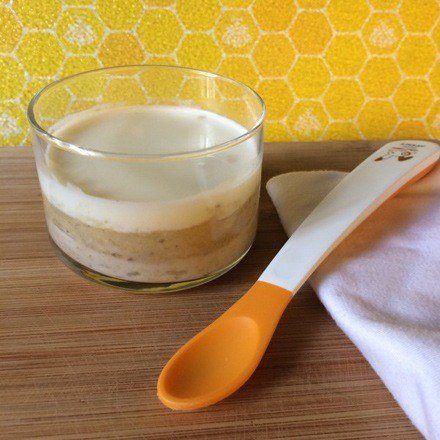 ADVERTISEMENT - CONTINUE READING BELOW
2 tablespoons oat cereal, preferably homemade
1 tablespoon Granny Smith apple, grated and roasted
1 tablespoon fresh banana, mashed
2 tablespoons baby's milk (breast milk or formula)

1. Place 2 tablespoons of oat porridge or oat cereal at the bottom of the cup.
2. Combine the roasted Granny Smith apple and mashed banana. Layer the fruits on top of the oat porridge.
3. Top with about 2 tablespoons of baby's milk, and serve to baby.
More from Smart Parenting


En Papillote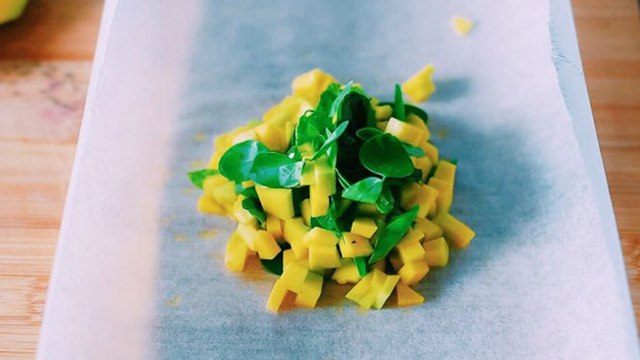 ADVERTISEMENT - CONTINUE READING BELOW
This recipe (the name is French for "in a parchment") involves cutting vegetables into small same-sized pieces so they cook evenly, adding some water and some fat like olive oil and butter for steaming, and then wrapping the veggies in parchment to seal the flavors. The parcel is usually made of parchment paper, but other baking materials such as aluminum foil may also be used. 
Baking the food in the pouch makes the liquid steam so it cooks the food gently. Slow cooking in the sealed pouch also allows for all the flavors inside to marry. You can tell how good the food is by the smell of the aromatic steam that escapes right when you open the pouch.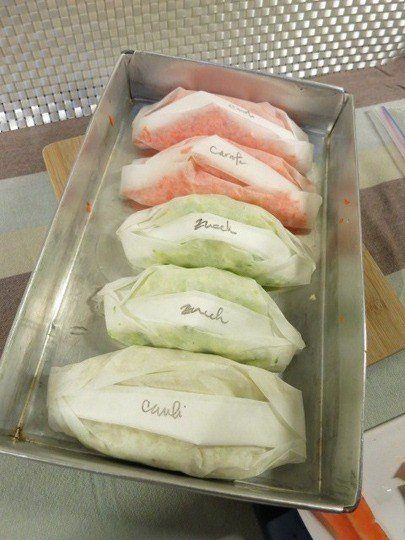 ADVERTISEMENT - CONTINUE READING BELOW
Namee uses this method to steam baby food in batches. "I'd make several small parcels of varying ingredients and combinations such as cauliflower and thyme, squash and malunggay, apple and cinnamon, zucchini and basil, carrot and orange, or practically anything that I would normally cook on a stove top steamer."

1. Preheat the oven to 350F
2. Make your little parcels: place about half a cup of the chopped vegetables on the parchment, add some liquid, drizzle with olive oil or add a nib or 2 of butter, then seal them.
3. Pop the parcels in an oven for about 20 to 25 minutes (for bigger parcels, you'll need 45 minutes)

Namee adds with this recipe you're done with your baby's food for at least three days. "Allow them to cool before serving. I like opening a parcel and letting Juliana smell the aroma before I pour the contents in her bowl for mashing! I think the table side service adds to her enjoyment of food and eating!"

Whole + Natural Baby Food is available at at Salcedo Market every Saturday, 7 p.m. to 2 p.m. You can also order through its Facebook page.

To learn how to make the recipes in the book, join the workshop, "Cooking Baby Food with The Good Food Community," on May 28, Sunday from 10 a.m. to 12 p.m. at Good Food Sundays at Mandala Park, Shaw Boulevard. Click here to sign up. Tickets are P2,200. Each participant will receive a copy of the book and a basket of fresh, seasonal, organic produce. 
ADVERTISEMENT - CONTINUE READING BELOW
More from Smart Parenting

Trending in Summit Network