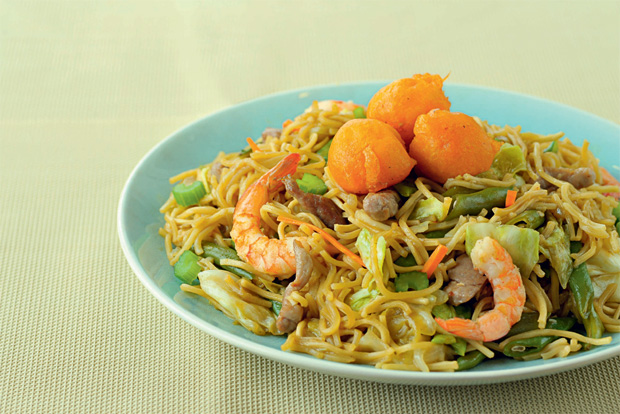 Are your kids always requesting for instant pancit canton? Serve a yummier, healthier version this weekend!
Ingredients:
2 tablespoons oil
3 tablespoons minced garlic
250 grams pork (kasim), boiled and sliced thinly
6 pieces large shrimps, peeled
1/2 cup thinly sliced celery
3 cups cubed cabbage
1 cup sliced carrots
1 cup sliced Baguio beans (abitsuelas)
1 cup snow peas (sitsaro)
1/2 cup sliced onions
4 cups pork broth (from boiling pork)
3 tablespoons oyster sauce
1 teaspoon salt
1/2 teaspoon pepper
2 tablespoons cornstarch
1/2 cup water
1 tablespoon sesame oil
500 grams pancit canton noodles
kwek-kwek for topping
This dish takes 20 minutes to prepare, 35 minutes to cook, and serves 4 to 6.
For the full recipe, go to yummy.ph.