Weekend Recipe: Tomato Soup with Cream Cheese-Basil Dumplings

Tomatoes, cheese, and basil: a flavor combo made in heaven in one flavorful soup.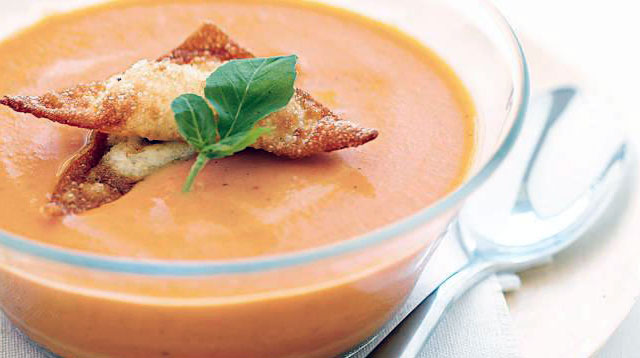 Tomatoes, cheese, and basil: a flavor match made in heaven found in this flavorful soup. It's already a dish in itself--perfect for the cold days. Your kids will love this one, too. The crispy dumplings give this dish a delightful crunch. Plus, the tomato soup is to easy to make!

Serves 3
Prep Time 30 minutes
Cooking Time 25 minutes

Here's what you'll need: 

For the tomato soup
2 tablespoons olive oil
1 cup chopped white onions
1/2 cup chopped celery
1/2 cup chopped carrots
1 tablespoon chopped garlic
1 (400-gram) can crushed tomatoes
2 1/2 cups chicken stock
3 tablespoons chopped fresh basil
1/4 cup heavy cream or milksalt, cayenne pepper, and black pepper to taste 
fresh basil leaves for garnish (optional)

For the cheese-basil dumplings
1/3 cup softened cream cheese
3 tablespoons finely chopped fresh basil
12 (2-inch) pieces square wonton wrappers
oil for deep-frying 

Make it!

1 Make the tomato soup: In a medium saucepan, heat olive oil. Sauté onions, celery, and carrots over medium heat until soft, about 2 minutes. Add garlic and sauté for 30 seconds. Add tomatoes and mix well; cook for 1 to 2 minutes. Add chicken stock and bring to a boil. Reduce to a simmer and cook for 10 to 12 minutes over low heat. Add basil and mix well. Transfer soup to a blender and purée until smooth. Place soup back to a clean pot and bring to a boil. Lower heat and add cream or milk. Season with salt, cayenne, and black pepper to taste.

2 Make the cheese-basil dumplings: In a small bowl, combine cream cheese and basil. Place half a teaspoon of the mixture on the center of a wonton wrapper. Brush edges of wrapper, fold over to make a triangle, pressing edges to seal. Repeat with the rest of the ingredients. Deep-fry in batches until wontons are golden brown.

3 When ready to serve, portion tomato soup among three bowls. Top each with 4 wontons. Garnish with basil leaves, if desired.


Photo by Aldwin Aspillera. Recipe & Styling by Rachelle Santos.




This story originally appeared on Yummy.ph.

ADVERTISEMENT - CONTINUE READING BELOW

CONTINUE READING BELOW

Recommended Videos

*Minor edits have been made by the SmartParenting.com.ph editors.

Trending in Summit Network