10 Struggles Every Mom Knows at Christmastime

Free yourself from the stress of holiday preparations, from scheduling to menu ideas to nosy relatives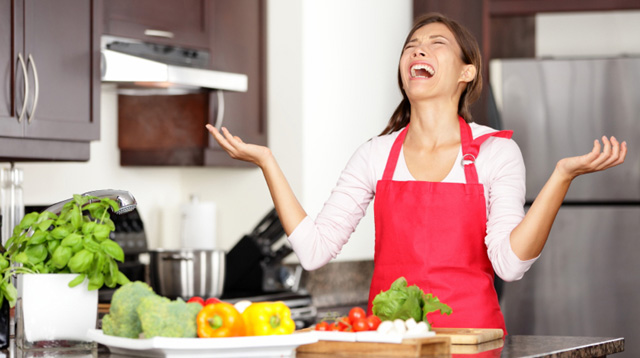 Last-minute Christmas shopping, impromptu guests, and budget worries – these are the struggles every mom knows all to well when the yuletide season rolls around. So how do other moms do it? While some stress themselves out to perfect the smallest details, there are those who just take a deep breath and wait until the season is over before they open their eyes (figuratively, of course).

Check out our list of the top 10 struggles likely to dampen your Christmas spirit – but only if you let them. Moms let us in, too, on what tips and helpful hints have worked for them so far. No Christmas elves needed!

1. Balikbayan relatives
Sure, we love having relatives from abroad in our homes, especially during the holidays. But who hasn't experienced a moment of dread once the dates are confirmed?

Mom Lottie says: If you entertain balikbayans every year, you must have a pretty good idea how the visit should go. Arrange for a welcome lunch or dinner when they arrive, and allow the guests to rest. Over the next few days, ask the help of other family members to entertain them so you can take a breather. Shortly before they leave, you can gather friends and family for a despedida.


2. Family health.
All the partying begins just when: you start a new diet, your kids learn how to control their sugar intake, and to top it all, your husband is advised by the doctor to watch his cholesterol.

Mom Helene says: It's really hard, but we make a conscious effort to eat at home whenever possible. This way, we can control what we eat, and we are more likely to make healthier choices. As for the kids, I tell them before every reunion or meet-up with relatives that they should politely refuse sweets when they've had enough, or say that they will save it for later. Constant reminders work.


3. Spending.
It seems no matter how much you prepare for all that shopping, you always seem to find yourself short of money halfway through your Christmas list! On top of gifts, you also need to do the grocery for noche buena! Will the expenses ever end?

ADVERTISEMENT - CONTINUE READING BELOW

What other parents are reading

Mom Annie says: No, the expenses will not end if you don't put a stop to it. I pay for my purchases in cash because credit cards are such a temptation! At the start of Christmas shopping, I physically separate the total shopping budget from my savings account, so I can completely avoid spending more than I am supposed to. Sometimes you just have to say, "Tama na 'to!"


4. Anything related to food and cooking.
Is it the potluck dish you're bringing to your family dinner? Your kids' food-to-share for their Christmas party? Food is such an integral part of the Pinoy holiday celebration that you'll probably need to bring a dish or two every party you go to!

Mom Malou says: Remember that clear file where you keep all the food delivery menus? There's bound to be a family meal or a large order version of a favorite dish in one of your go-to restaurants. I transfer delivered food into a glass pan or one of my nicer casseroles for better presentation. It's okay to want to cook something yourself sometimes, but remember too that you can't do everything at once. Cut yourself some slack!

What other parents are reading

5. Schedules.
Say you're a family of five. How do you manage your schedules so you can all be present at family gatherings as well as reunions with friends -- or so you don't double-book?

Mom Darla says: I'm sure nowadays there's an online calendar you can share, or even an app you can all access, but we stick to our good old bulletin board at home. Each one is assigned a specific sticky note color, and we are all required to post our schedules on a big calendar. This allows us to see who will be out on certain days, and when we are all free.


6. Christmas bonus.
A chunk of your 13th month pay or Christmas bonus has just been credited to your payroll account. Do you go on a shopping spree or invest it? If the latter, where?

ADVERTISEMENT - CONTINUE READING BELOW

Recommended Videos

What other parents are reading

Mom Susan says: Having extra money is just as stressful as having little of it, or none at all. Since you already know more or less when you are getting your bonus, you have to plan ahead how much of it you are giving as a gift to yourself and how much of it you are saving for a rainy day. Go to your bank and ask about investment products you can avail of. If you don't need to access it right away, put it somewhere else (as far away from your debit card as possible).


7. Nosy questions.
When are you having more kids? Have you bought your own house yet? Did your husband finally get his promotion? What type of car are you getting next year?

Mom Deniece says: They mean well, sure, but some questions can be quite offensive. A smile and a simple, "Ito naman, kung makatanong!" always seems to do the trick for me. I've had to deal with that "Kailan niyo susundan ang panganay niyo?" question for so long, that I wonder if they will ever get tired of asking. Just brush them aside, and change the subject immediately. Ask them to talk about what's new with them and they will gladly talk about themselves. Trust me.

What other parents are reading

8. Décor.
The neighbors put up their lights in October, and by now, your house is the only dark spot on your street. The pain of bringing out your décor and storing them again in January is just too much for you to bear.

Mom Sandy says: I avoid buying new décor without throwing or giving away old ones. I keep everything in a single plastic storage box, so it's easy to spot if we have space for additional décor. We also try to keep it simple each year, remembering that Christmas isn't just about how much you've got glistening or hanging from the tree.


9. Traffic.
While this is not a struggle limited only to Christmas time, the thought of ordinary traffic being ten times worse during the holidays can make your blood pressure soar. Is there any chance at all you can escape this nightmare this time?

Mom Julia says: It's highly unlikely you'll be able to escape it completely, but you can lessen the time you spend on the road. The advent of online shops has made Christmas shopping a little easier to bear because you can do it at home (while relaxing!). Just remember to buy only from reliable shops, preferably those that have a brick and mortar shop too, or those that someone you know patronizes.


10. Long school break.
The kids are at home raiding the pantry morning, noon, and night. Are they ever getting up from the couch in front of the TV? Hello, Christmas vacation.

Mom Deedee says: Get them involved in the holiday preparations instead of slaving away by yourself, wrapping gifts or cooking in the kitchen. Older kids can help design and print out personalized gift tags, while the little ones can help write the names. In the kitchen, set up a small table for younger kids to do their own mixing or mashing – anything to keep them off their gadgets and give them the feeling that you value their help this Christmas.

ADVERTISEMENT - CONTINUE READING BELOW

Celebrate your pregnancy milestones!


Enter your details below and receive weekly email guides on your baby's weight and height in cute illustration of Filipino fruits. PLUS get helpful tips from experts, freebies and more!

You're almost there! Check your inbox.


We sent a verification email. Can't find it? Check your spam, junk, and promotions folder.

Trending in Summit Network