19 Dos and Dont's Your Yaya Needs to Hear Again

It doesn't hurt to remind yaya about these occasionally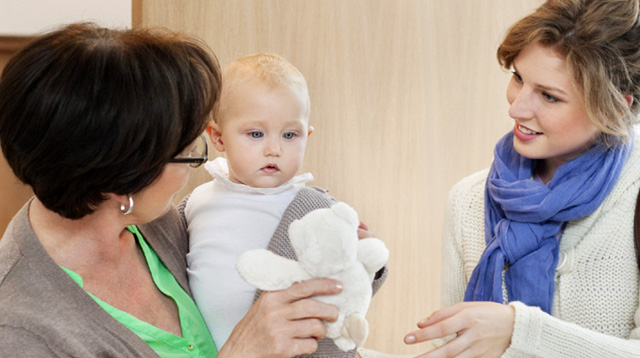 At school
"As a security precaution, I always tell the nannies of my students that during dismissal time, they should wait for their ride inside the school premisesnot outside on the sidewalk. This minimizes the chances of the child running out into the street or, worse, getting snatched or grabbed by criminals." - Ann Fernandez, directress of Little Lights Learning Center in Paranaque City

"I tell our yaya to dress appropriately when going to my child's school -- nothing skimpy or revealing -- and to leave the platform wedges at home. It's a school, not a party." - Marian Alvarez, chef; mom to David, 5

"I remind our yaya to keep her ears open for announcements made over the school's public address system during drop-off and pick-up time. If she sees the guard announcing something over the megaphone, she should approach him to hear him more clearly. Sometimes, the nannies are so busy chatting with each other that they tune out the important school announcements." - Elena Montecillo, mom to Ethan, 7, and Raquel, 4

"We live pretty far from school, so I always remind our yaya to make sure that my daughter pees before they leave the house. That way, they don't have to worry about my child needing to use the toilet in the middle of traffic." - Alaine Alcantara, mom to Cecile, 7

What other parents are reading

At home
"When my pediatrician prescribes a medicine, I write everything down on a separate sheet of paper: the name of the medicine, its dosage, and the dose frequency. If there's more than one medicine, I make sure each bottle has its own cup or dropper, so Yaya will not get confused." - Geraldine Lastimoso, interior designer; mom to Joaquin, 8, and Liezel, 6

ADVERTISEMENT - CONTINUE READING BELOW

"I made a list of everything my child needs to wear for school and posted it on the door of his cabinet. That way, when my son's yaya prepares his things every night, she just needs to check against that list." - Raquel Ongkiko, accountant; mom to Robin, 7

"Because I'm trying to teach my kids to be more independent, I tell Yaya that it's okay for her to gently remind my kids that there are some things they can already do for themselves, such as putting on their shoes or getting a glass of water. They don't have to call her for every little thing." - Angel Chan, mom to Zachary, 9, and Zenith, 6

At parties
"When we attend parties, people often come up and tell my yaya, 'Oh, Fara is so cute! Let me hold her,' and then they proceed to carry my baby. I remind Yaya that if she does not know the person,  -- even if he claims to be a relative or a friend -- she has our permission not to hand our child over or, better yet, to back away. She should not be worried about offending that supposed friend or relative. There have been many cases of kidnappers making off with kids at parties this way." - Michelle Abaquin, entrepreneur; mom to Fara, 8 months old

"Do not force the child to participate in the games if he does not want to. Minsan kasi, si Yaya pa ang mas competitive!" - Abigail Soberano, mom to Anika, 6, and Anya, 5

CONTINUE READING BELOW

Recommended Videos

"Before you get food for yourself, please get food for your alaga first." - Hyacinth See, makeup artist; mom to Jaime, 8

What other parents are reading

The mall or any crowded, outdoor place
"Always know where the nearest exit points are. In case of an emergency, ditch everything -- just grab my kid's hand and run to a safe place." - Pablo Artade, architect; dad to Joaquin, 8

"If you see a commotion up ahead, never go near it, especially when my child is with you." - Sandra Honorio, web programmer; mom to Elizabeth, 7

"Whenever we go to a crowded place like a mall, I tell my yaya to dress my child in bright, bold colors. This way, it will be easy to spot her in the middle of a crowd." - Samantha Aguirre, mom to Stephanie, 7

"I always tell our yaya to be wary of people coming up and asking things like "Ilang taon na ang alaga mo? Saan kayo nakatira? If questions become too intrusive, she should just walk away." - Jasmine Sison, mom to Jinelle, 8

"The doctor's clinic
"Don't be too eager to let your alaga socialize with other kids while waiting their turn at the clinic; they may be carrying a contagious illness." - Mirabelle Solis, M.D., pediatrician at Makati Medical Center

"If the child asks if she will get an injection on her scheduled visit, tell her the truth. And never tell her that an injection will not hurt. Lying will only make the experience worse." - Farrah Nepomuceno, M.D., pediatrician at St. Luke's Medical Center in Quezon City

ADVERTISEMENT - CONTINUE READING BELOW

"Don't touch anything unnecessary at the doctor's office. Wash both your hands and your alaga's right after the visit or disinfect with a hand sanitizer." - Kaye Concepcion, mom to Hannah, 8, and Henry, 7

What other parents are reading

At someone else's house
"Always leave things the way they were when you arrived. Return the toys properly, put the furniture back in their original places if you moved them, and never let my child play with anything without asking for the owner's permission first." - Janice Santiago, mom to Jewel, 8, and Jemie, 7

"I remind our yaya that even if she's at my parents' house, she must still always knock before entering closed doors and never get anything from the refrigerator without asking for permission first." - Amanda Chuatoco, mom to Austin, 9, and Ashley, 7

This article first appeared in the June 2014 issue of Smart Parenting magazine




Celebrate your pregnancy milestones!


Enter your details below and receive weekly email guides on your baby's weight and height in cute illustration of Filipino fruits. PLUS get helpful tips from experts, freebies and more!

You're almost there! Check your inbox.


We sent a verification email. Can't find it? Check your spam, junk, and promotions folder.
Trending in Summit Network