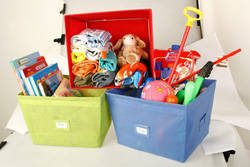 Professional  organizer  Kathleen Ong, Interior Designers Anne Caro and Ardeliza Claveria, and smarties moms help you ease your way to an organized home.
Ready, get set…
1. Schedule the deed and stick to it. Do one room or one drawer at a time—just make sure you finish one area first, says Ong.
2. Establish the mindset.  Prepare to be overwhelmed but remember, if you postpone further, clutter can pile up overnight, shares Ong.
3. Choose a system. Devise rules to help you decide what to do with an object—and follow them.
4. Gear up.  Arm yourself with trash bags, boxes, containers and label makers or marker pens to limit trips looking for one and concentrate on your goal.
5. Focus on the goal.  Watching TV gets you dis-tracted, explains Ong.  Let the machine answer calls and get someone else to answer the door.
6. Jot them down.  Stuff unearthed from clutter makes you remember tasks you have to do, so write them in a handy notebook and remember to do them after you finish your target area, stresses Ong.
7. Be comfy.  Mom Jaymie Zalameda-Alviar does it barefoot to make her comfortable.
8. Tune in.  Fast-paced and upbeat music can help you speed up.
Down to basics
9. Sort, sort, sort! Classify and categorize clutter into things to throw, to give away or sell, and to recycle, says Claveria.
10.  Use dividers to define physical boundaries. "Shoot" things in its space with no worries of mixing them up, adds Claveria.
11. Place items where you use them.  Strate-gically, seasonings belong near the cooking area and cleaning materials near the sink, explains Ong.
12. Label it.  Use easy-to-do labels to save time making them, says Ong. 
13.  Store away things you seldom use. Clothes that you don't wear, shoes for special occasions, appliances rarely touched should be kept away from areas that are accessed everyday. 
14.  Keep stuff in such a way that all is easily accessible so that you don't rummage through everything looking for something, advises Mom Anne Urbana-Fernando.
15.  If you plan to delay tackling your clutter, contain it.  Provide a defined but temporary space for unsorted things. Regularly schedule time to target your clutter container so as not to accumulate and spread throughout the house.
Click here to read more decluttering tactics.
[previous|page|next]
Read on for more decluttering tactics.
Now that you've started...
16.  Use stackable cheap containers available at hardware and department stores for uniformity and visual appeal.
17.  Clear containers make it easy to identify what's inside.
18.  Put a list of leftovers on your refrigerator door so that you know what you have inside.
19.  Provide adjustable shelves for easy re-organizing if need be.
20.  Sliding drawers underneath the bed can add storage space for seasonal items.
21.  Assign areas for different kinds of media, suggests homemaker Lana Ferrer-Juan. An enter-tainment case can house your TV, movie players, games consoles, tapes and cartridges, CDs and DVDs, and remote controls.  Separate print media such as books, newspapers, and mags in bookshelves or baskets.
22.  Instead of having albums of different sorts, photo boxes indexed by occasion or by person makes finding pictures easier. 
23.  If you must keep mags or CDs and DVDs, use a bookcase to prevent running out of space, as racks/stands tend to fill up quickly, reveals Ong.
24.  Try bookbinding magazines by year and title for easy storage, says Mom Martha De Lusong.
25.  Got more than one remote control? A small box near your entertainment area is a nice way to store them, advises Mom Tetet Albis.
26.  Segregate mail instantly near the trash can and throw junk mail at once.
27.  An accordion envelope works best for keep-ing bills, credit statements, and other paper clutter.  Tag it by month and discard after a year.
28.  You can also use separate envelopes and stack them in one drawer, suggests Mom Donna Ausan.
29.  Easy-to-build pigeonholes keep documents in orderly sight.
30.  If you use a corkboard for paper clutter, divide the board into sections to prevent mix-up and overcrowding.
30.  Use a tissue holder for letters and invites. You may opt to provide one for every member of the family, but place them in one designated area.
32.  Keep a logbook for calls instead of removable notepads, which are often misplaced. Regularly copy all contact numbers to update your phonebooks.
33.  Keep a piggy bank for lose coins.
Click here to read more decluttering tactics.
[previous|page|next]
Read on for more decluttering tactics.
34.  Steel pullouts utilize your cabinets completely, especially those hard to reach back areas.
35.  Maximize vertical space by using hooks at the back of doors, cabinet doors, and bare walls.
36.  Ladder-type hanging rails can keep towels in order and double as display in your water closet.
37.  Assign one basket for toiletries for every member of the family.  Instruct to bring it with them when they use the bathroom and keep it in their room/cabinet for storage.
38.  A small garbage bin in your water closets is adequate to promote emptying it once a day to restrain clutter build-up.
39.  Ice cube trays lined with cotton fabric works great for storing jewelry—pair of earrings in one cube, a bracelet in another.
40.  Put shoes in a shoe rack instead of leaving them on the stair steps, advises Mom Trina Camille Espartero.
41.  Bedside tables should house a few items only—water, a book or two, and a small lamp.  Ong reminds us that it's not a cabinet.
42.  Don't buy shampoo until you need it.  This goes for your kitchen inventories as well.
43   Paint the far side of your cabinet insides red.  When you see the paint, then that's the time to replenish your stock.
44.  When you want to buy a new pair of pants, decide which pair you own has to go to make space for the new one.
45.  Keep only half good-conditioned baby clothes and essentials if you plan on having another baby.  You end up buying new ones after all when the new baby comes.
46.  Clearly define areas for painting, drawing, reading, and playing to avoid mess in the kids' room.
47.  Sort children's toys by size.
48.  Place a duyan type net or a toy chest in the playroom corner for toys.
49.  Window treatments patched with pockets serve as nice display to put kids' stuff in order.
Click here to read more decluttering tactics.
[previous|page|next]
Read on for more decluttering tactics.
What to keep, when to throw
50.  If it does not serve a purpose or make you smile, trash it now. Stop the you-might-use-it-someday attitude; you never get to use them in the long run.
51.  After a year, if you haven't touched your boxed items or haven't fixed things that you've put aside for mending, trash them.
52.  Instead of keeping worn out memorabilia, say a shirt, consider making a quilt made of a piece of these items, says Mom Tanya Kathrina Cabbab-Ortha.
53.  If you're not into quilting and for non-fabric sentimental items, like your tot's masterpiece, take a picture and store it in a box, adds Cabbab-Ortha.
54.  Tear out your fave magazine article and slip it in a refillable clearbook to save space.  You can do this also to your fave recipes.
55.  Use the thematic approach.  If a chair does not really go with your theme, get rid of it.
Clutter-free upkeep
56.  Get your family in the habit of putting things where they got them.  Teach your tot to pack away toys in bins after playing.
57.  Develop a routine.  Regularly make a run-through of your things—refrigerator, cabinets, clothes, drawers, containers, etc.
58.  Utilize the Internet.  Info becomes obsolete and gets recycled anyway, and some articles are already available in the web, shares Ong.
59.  Be conscious of clutter. Remove shoes near your shoe rack. Discard old items before you place new ones. Tag along things that you can easily return to their proper place while doing your nightly bed checks.
60.  Decide right away what you want to do with stuff.  Delayed decision-making means adding up to your clutter.
Remember the 80/20 Rule: We only use 20% of what we own, Ong explains.  A cluttered home leads to stress snowballs plus tons of wasted effort, energy, and money. It's not about neatness or cleanliness.  She stresses, "Organizing is about setting up a system that helps you function at your best."
CHOOSE A SYSTEM.
Devise rules to help you decide what to do with an object—and follow them.
Group similar stuff.
Sort, classify, and categorize clutter into things to throw, to give away or sell, and to recycle. Or sort by function and by color and tackle them one at a time.
For organizing and interior design services, you may contact: Kathleen Ong (0917-8452579), Anne Caro (0917-4277945, disegno.caro@gmail.com), or Ardeliza Claveria (ardeliza@gmail.com).
Photography by Vincent Consoluella