A List of Cleaning Hacks to Keep Your Bathroom Looking Spotless!

Make bathroom cleaning a breeze with these helpful hacks!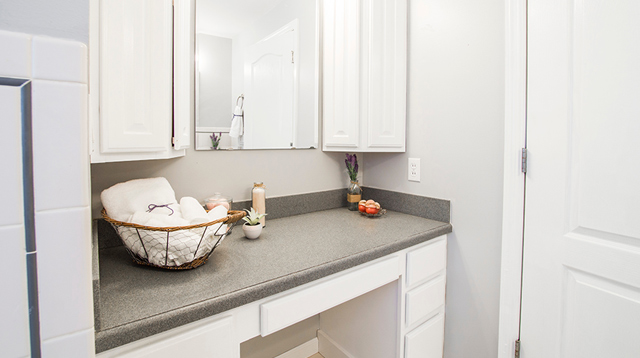 It's not easy to keep a home clean and orderly, especially if you're a parent. But you know how cleaning is a crucial chore at home since it doesn't only help keep a house look nice, but it also reduces the possibility of germs and other harmful substances. And except for the kitchen, no other room in the house requires deep cleaning than the bathroom.

Bathroom cleaning hacks for every spot in your T&B

If there is a place you consistently need to clean, it's the bathroom, which is the most used space in the house. There is always the threat of mold, mildew, and funky odor, which makes it a labor-intensive cleaning chore. Hopefully, these bathroom cleaning hacks, which don't involve expensive chemical cleaning solutions, can help.

Countertops

Get a spray bottle and fill it with a mixture of water and vinegar. Spray this mixture on your countertop and scrub it with a mildly abrasive cleaner or with baking soda paste. Keep your countertop free from unnecessary clutter daily by returning items to its proper place after using them.

Sink

To do a deep clean of your bathroom sink, fill it up with a few inches of hot water. Put in 1 to 2 cups of white vinegar or a few drops of your preferred bathroom cleaning solution. Dip a rag into this mixture and rub it around your faucet and on your countertops. You can also use this solution to clean smaller items stored inside your bathroom like your soap tray. Let the solution sit for around 10 minutes before draining the sink, and then rinse and dry. Finally, get a dry cloth and wipe the sink and surrounding areas until there are no more remaining drops of water.

ADVERTISEMENT - CONTINUE READING BELOW

Chrome fixtures

A popular natural way to get rid of scum and build-up on your fixtures is to scrub them with a solution of equal parts of vinegar and of hot water. You can also try soaking a clean cloth in the solution and wrapping it around the fixture for about 15 minutes. Then wipe it again with a clean cloth afterward.

Other items and ingredients can be just as effective in cleaning bathroom fixtures. For example, a lemon half can be rubbed onto the fixture, followed by a good rinse and buff. You can also try dipping an old toothbrush in water and sprinkling some baking soda on the bristles, using this to scrub at the stains, leaving it for about 10 minutes, and then giving it a rinse and buff.

If you just want to polish your fixtures, try adding a few drops of baby oil on a piece of cloth and using this to wipe the fixtures thoroughly. Finish off by cleaning the fixtures with a paper towel to get rid of the greasiness.

Drawers and cabinets

Chances are, you have several items stowed in your bathroom cabinets and drawers that you don't actually use or that have long expired. Start by discarding all of those items. Vacuum these spaces, wipe them with a damp microfiber cloth, and let them air dry. Once your drawers and cabinets are completely dry, return the items you're keeping, making sure to store them in an organized manner.

Mirrors

ADVERTISEMENT - CONTINUE READING BELOW

Recommended Videos

Tired of foggy, dirty mirrors? Strong black tea might be just what you need. Make some tea, dip a lint-free cloth in it, then rub the fabric on your mirror in circular motions. Finally, use a clean cloth to dry your mirror down.

Trash bin

One factor contributing to nasty odors in your T&B might be your trash bin. To help keep your bathroom smelling good, just sprinkle some baking soda on the bottom of your trash bin after every time you empty out the garbage.

Toilet bowl

To make sure your toilet bowl is clean, first make a solution of equal parts water and vinegar. Spray this solution on the toilet seat, lid, and rim, and then let it sit for a few minutes. Using a microfiber cloth, give your toilet a good wipe-down, starting with the lid then working your way down to the base. To clean the inside of the bowl, sprinkle some baking soda into it, scrub it with a toilet brush, then flush everything down.

Another way to clean the inside of your toilet is by pouring ¼ cup baking soda and ¼ cup white vinegar into it. Let this sit for about 15 minutes, then scrub the inside of the bowl with a toilet brush. Finish off by flushing.

If you're not too keen on homemade cleaners and would prefer using commercial products, that's also fine. Just make sure to be careful in handling chemical cleaners and to clean every part of your toilet, including the handle or the button mechanism that allows you to flush.

ADVERTISEMENT - CONTINUE READING BELOW

Toilet brush

Right after you finish cleaning your toilet, spray your toilet brush with a disinfectant, let it sit for 10 minutes, and then rinse it with some hot water. For a deeper clean, you can try adding some bleach to clean toilet water, soaking your toilet brush in it for around an hour, and then rinsing both the bowl and the brush with a flush. Let the toilet brush drip dry into the bowl.

Don't also forget to clean your toilet brush holder. Spritz the holder with disinfecting spray, let it sit for around 10 minutes, then rinse it in hot water. Make sure it is completely dry before you put the toilet brush back in it.

Shower curtain

Is there some unsightly mildew or soap scum building up on your shower curtain? Here's how you can prevent that from happening again. First, know what material your shower curtain is made of. Good Housekeeping points out that shower curtains made of nylon can be put in the washing machine. Before the spin cycle starts, remove your nylon curtain from the washing appliance and hang it up to clear away any creases.

On the other hand, if your shower curtain is not machine-washable, you can just wash it in warm water mixed with a cup of biological detergent. The key is to look at the label of your shower curtain to know how best to wash it. Finally, to prevent mildew from building up on your curtain in the first place, leave the bathroom door open after use, so that the moisture doesn't stay inside the bathroom. This can help reduce the need for you to clean your deep-clean your curtain.

ADVERTISEMENT - CONTINUE READING BELOW

Bathtub

To deep clean your tub, Good Housekeeping recommends filling it with warm water with some scoops of biological washing powder. Let this soak overnight, and rinse it the next day before you take a bath.

Bath toys

Help make sure your little one's favorite bath toys are always clean and mold-free by squeezing the water out of each toy after every use or letting it dry thoroughly. According to Real Homes, one indication that you need to buy new toys is if you see black mold coming out of the existing ones when you squeeze them dry.

Tile grout

To bring back the cleanliness of your tile grout, first, make a paste by combining water and oxygen bleach. Spray the grout with some water and spread the paste on the grout. If you think your grout stain will be much more challenging to get rid of, TODAY Home suggests combining the oxygen with lemon juice instead of water. Let the paste sit for about 15 minutes, use an old toothbrush or grout brush to scrub it, then rinse everything off.

Exhaust fan

You may not be aware of it, but your exhaust fan is a hotspot for dust and grime build-up. To clean it, first, start by disassembling the fan cover. Let this soak in warm water and some drops of dish soap for a few minutes. After unplugging the fan, remove the screws or nuts securing the fan and motor. Use a damp microfiber cloth to clean each part, and a vacuum attachment to clear out any build-up of dust and grime. Give everything one last wipe with a microfiber cloth before putting the fan back in place.

ADVERTISEMENT - CONTINUE READING BELOW

Floors

No cleaning job is complete without a solid mopping of the floors. Better Homes & Gardens suggests first sweeping the whole space, including corners and other hard-to-reach areas, then mopping the floor thoroughly, and finally, drying it with a large towel.

Celebrate your pregnancy milestones!


Enter your details below and receive weekly email guides on your baby's weight and height in cute illustration of Filipino fruits. PLUS get helpful tips from experts, freebies and more!

You're almost there! Check your inbox.


We sent a verification email. Can't find it? Check your spam, junk, and promotions folder.

Trending in Summit Network