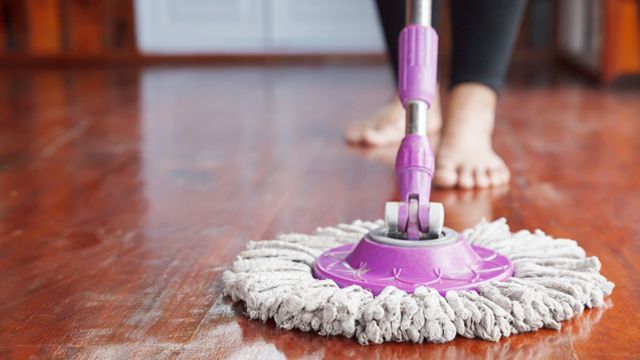 They say a mother can do it all. That's true, but we don't have to do everything all the time.
I've been a stay-at-home mom for almost two years now, and though this is what I wanted, it gets tiring especially when you don't have a yaya or a helper at home. There are days that I don't want to do anything but lie in bed, eat junk food, and not think of anything at all. 

But I can't do it. The house is messy. The bathroom is slippery. The dishes are waiting in the sink... the list goes on. All these on top of my clingy toddler who never fails to follow me wherever I go.
One night, my husband was still at work, and I just finished feeding my daughter when I smelled something weird coming from the kitchen. When I went to check it, I saw dirty and funky water in the sink — the grease trap leaked!
Everything in the cabinet under the sink was wet with dirty water. I had to deal with the sebo, amoy, everything! I didn't even have gloves, so I had to use a plastic bag to remove all sebo from the grease trap.
I cried after cleaning because of exhaustion. From then on, I promised myself that I would have it regularly cleaned by professionals.
We want to help all exhausted moms out there and so we made a directory of trusted professional services in the metro for every possible household problem you might encounter. They'll make your life easier!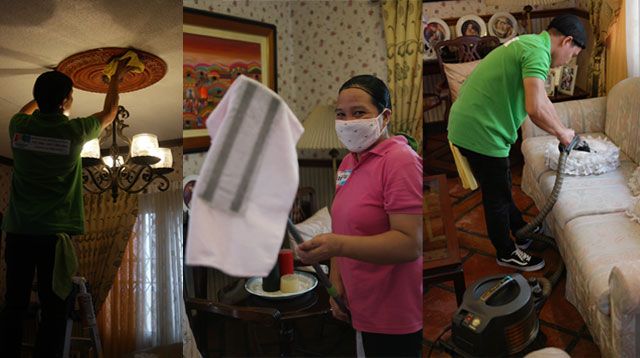 Cleaning rates: Start at Php500 for three hours

The mom behind Rainbow Cleaners, Duday Dancel, had enough with helpers who did not meet her standards in cleaning and maintaining their household. She put up her cleaning service with a promise to clean every corner of your home and office and remove 99.997% of dust even from upholstery and carpets using their Rainbow Hydrovacuum and premium natural cleansers. (Read more about their services here.)

Services include General Cleaning, Tenancy Cleaning, Housekeeping, Post Construction, and Upholstery Shampoo. They also offer monthly service for those who cannot find a helper but wants to preserve the cleanliness of their home.

Areas covered: Makati, Bonifacio Global City, Ortigas, Pasig, San Juan, Mandaluyong. Call +63 917 584-4564, +632 775-7883 or email duday.dancel@rainbowph.com
Cleaning rates: Start at Php500 for the first two hours of condo cleaning 

It caters not only to residential but small offices as well. Choose either 'Quick' and 'Careful' cleaning, which runs for an hour and a half to two hours or 'Meticulous' cleaning which runs for three to six hours. Other services include grease trap cleaning, clothes ironing, carpet and rugs shampooing, upholstery cleaning, move in/out and after party cleaning, post-construction and renovation cleaning.
Areas covered: Metro Manila. Call +63 997 602-1222 / +63 925 326-9663 /+632 721-7061.
Cleaning rates: Start at Php500 for basic cleaning (no time limit)

The Nanny Philippines provides essential household help and housekeeping assistance. The company focuses not only on precise cleaning services but also run errands, child and elderly care, laundry, nutritional cooking, grocery, and so much more. It can also provide a temporary or emergency yaya for a day at a rate of Php900 for eight hours (exclusive of transportation).

Areas covered: Metro Manila. Call +63 906 377-9514
Cleaning rates: Start at Php750 for the first three hours of condo cleaning

NinjaMade prioritizes its clients' health and wellness by using eco-friendly products when cleaning the home or office. Its expertise includes housekeeping and aircon cleaning, but it also provides other services like plumbing, electrical, and simple handy works.

Areas covered: Makati, Bonifacio Global City, Taguig, Mandaluyong, Ortigas, Quezon City, Las Pinas, Alabang, Manila. Call +63 916 668-6308 / +63 917 166-5444 or email inquiry@ninjamade.ph
Cleaning rates: Start at Php1,699 for 60sqm and below
Busy Bee offers intensive cleaning, floor mopping, vacuum with a rainbow machine, bathroom sanitation, dry-cleaning mattresses, and air purification. Its Deep Cleaning service includes intensive cleaning, vacuuming, air purification, aromatizing, bathroom sanitation, floor mopping and wiping, and vacuuming of mattresses. The company has been a consistent favorite among cleaning service in the metro with a huge following in its social media accounts.
Areas covered: Metro Manila and nearby areas. Call +63 917 845-2245 or email busybeecleaning.ph@gmail.com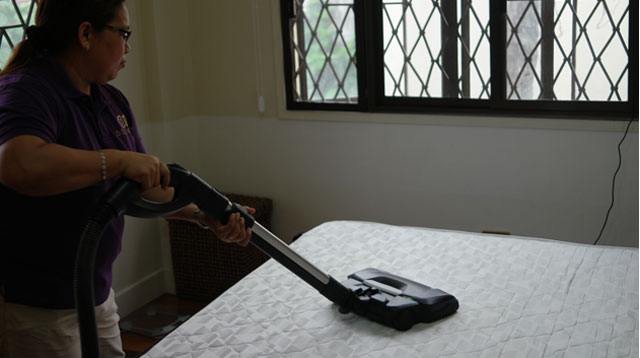 Cleaning rates: Start at a minimum of Php6,800 (consumable with services like mattress cleaning and steam shampoo)
The company uses a steam cleaning system to get rid of unwanted odors and dirt on carpets, upholstery, curtains, and mattresses (one of its most availed services) but it would also be happy to accommodate simple cleaning requests. (Read more about their services here.)

Areas covered: National Capital Region
Cleaning rates: To be discussed upon assessment
Neat Obsessions is different from the above cleaning services because it makes sure that everything in your house is well-placed and sorted by partnering with cleaning services to achieve this. It is ideal for the OC momma who doesn't have the time to organize her cupboard or refrigerator, or those who want to make sure their home looks tidy and pleasing to the eye.
Areas covered: Metro Manila. Email neatobsessions@gmail.com
Din Real Bautista is a proud full-time homemaker. Most of the time, she's busy raising a kind-hearted and strong human being named Monica with the help of the most amazing husband, Beejay. And the rest of her time, she's making sure her life is better outside social media.