Follow These 9 Cardinal Rules to Make Your Home Toddler Safe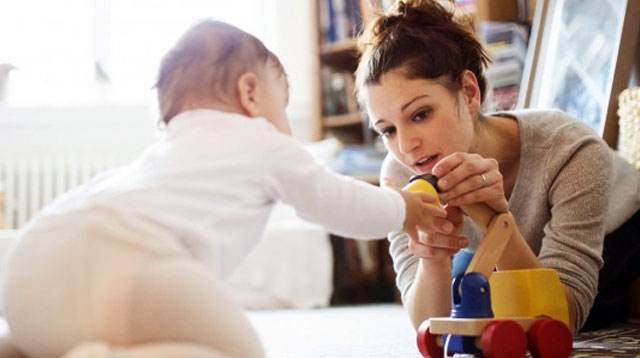 Photo from ahf.co.uk

The toddler stage doesn't get labeled as the terrible twos just because of the tantrums. Now that he's discovered what his legs and hands can do, your toddler is constantly exploring, putting things in his mouth, and to your horror, has complete disregard for his safety. Oh, he'll know when to stop fiddling with the electrical socket--after he gets that shocking jolt. 

Since there's no use telling a toddler to stay put, here's a few tips on how you can protect him from himself.  

1 Look at things from your child's perspective
Interior decorator and mom of two Marilen Faustino Montenegro shared this great tip: "Get down on your knees and see if there's anything potentially dangerous that would attract your child's attention, such as unsteady furniture or electrical cords." 

2 Keep the house clean and tidy
This is already a big step for child safety. This way, there are less clutter that can cause trips and falls. Make sure to mop spills to avoid accidental slips. 

3 Secure free-standing bookshelves and dressers to the wall
Don't trust the weight of the contents of the shelf or the structure itself. With another grown-up, you can try "dangling" from one of the panels and see if it won't be pulled over by your toddler if he climbs it. Any movement is a red flag, but we must stress this isn't a reliable "test." We highly recommend trooping to your favorite home improvement store to find the right wall bracket for your furniture. 

In Marilen's case, she didn't take chances with her kids when they were 1 and 3 years old. She made the bookshelves easily accessible by putting them on the floor. The plus side: it encouraged her kids to read more since they can pick up a book any time.

ADVERTISEMENT - CONTINUE READING BELOW

What other parents are reading

4 Consider stove knob covers and multi-purpose locks
Toddlers may not yet reach the pots and pans on the stove, but they can play with the knobs. Keep the pot handles away from the knobs and turned towards the back of the stove especially if you're stepping away to do something on the sink or on the kitchen counter.

Look for latches that can secure cabinets and appliances like the oven and refrigerator from kids' curious hands. Window guards prevent children from accidentally opening them. 

5 Invest in a toilet seat lock
With toilet-training, a toddler's curiosity knows no bounds. You don't want him opening the cover and be in danger of falling in the water or hitting his head on the bowl. Put all bath, body and hair products out of his reach. 

6 Practice going up and down the stairs  
A safety gate at the stairs is well and good, but you never know when someone in the house forgets to lock it. So practice climbing up and down the stairs with safe stair techniques. What to Expect.com recommends making him climb the first three steps at the bottom of the staircase. Show him how to hold the banister to support him as he climbs up. 

Climbing down is the hard part because it requires more balance. It's totally okay if he climbs down by sliding down on his bottom (like this guy) or on his belly (feet first). 

What other parents are reading

7 Cushion sharp edges and cover open electrical outlets
Organize cords because these are choking hazards. Watch out not only for cords in electric appliances and equipment, but those that come with your phone, tablet and game console chargers and adapters, which are often found on tables and surfaces your toddler can reach. Watch out also for wires from ear phones and drapes and blinds. 

8 Store dangerous items out of children reach
This includes matches, medicines, and small loose items like coins, batteries, breakables, and even small toys and crayons. Round, cylindrical objects smaller than one-and-a-half inch is a choking hazard. Make sure everyone in the house especially yaya makes it a habit to lock and tightly secure bottle caps, boxes, or drawers that may be harmful.

ADVERTISEMENT - CONTINUE READING BELOW

Recommended Videos

Store any breakable, sharp or small object in a secure container. House cleaning products or paints should be kept on a high shelf, preferably outside the house, and in airtight containers.  

And remember: If the item is small enough to fit through an empty toilet paper roll tube, it is a choking hazard and needs to be kept far away from your toddlers.

9 Assign a play-safe space
Everything above should be applied in this space so your mind can rest easy as you work from home or accomplish household chores. 

Remember our toddlers are curious little humans so don't underestimate the possible hazards in your home. In fact, a study from the University of Alabama at Birmingham study showed that first-time moms of kids ages 12- to 36-months could identify fewer than half of potential hazards in a house tour.

What other parents are reading

Want to test how good is your eye at spotting hazards in the home? See how many you can identify in this 30-second video.

Did you get all eleven baby hazards? While the video is intended to remind parents of the dangers that laundry pods pose to kids, it's also a helpful reminder of how quick accidents can happen around kids.

Note that household injuries is one of the top reasons for emergency-room visits. Check your home every six months to make sure that it's up-to-date in the safety department.  

What other parents are reading

Celebrate your pregnancy milestones!


Enter your details below and receive weekly email guides on your baby's weight and height in cute illustration of Filipino fruits. PLUS get helpful tips from experts, freebies and more!

You're almost there! Check your inbox.


We sent a verification email. Can't find it? Check your spam, junk, and promotions folder.

Trending in Summit Network