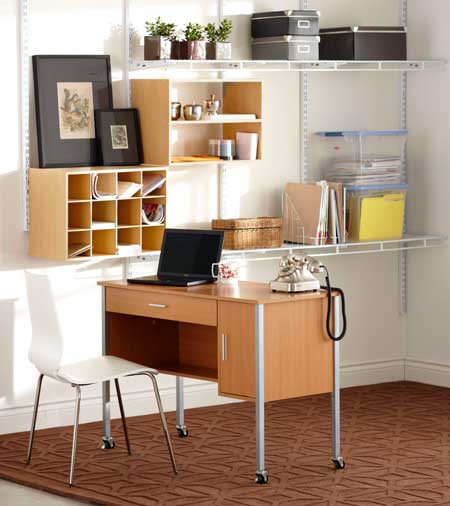 There is no better way to start a fresh, new year with the family than to enjoy a home that is clutter-free.
Keeping your junk at bay helps clear the mind and gives you enough room (physically and emotionally) to deal with the challenges that will come in the next few months. Dealing with your own growing pile of old clothes, books, and other items is one issue in and of itself, but having to sort through your kids' toys and other knick-knacks and embarking on a massive overhaul of your living room and bedroom layouts can seem almost impossible.
You may be busy running a household, raising kids, spending time with your husband, and saving some me-time for yourself, but taking the huge task of organization one step at a time—and with enough foresight—can easily make the job more manageable, more doable, and definitely more achievable.
Plan it out.
 "One must be prepared physically and mentally for spring cleaning," explains architect, interior decorator, and mom Arlene Maslog. "Don't kid yourself that it will be easy because it is not—especially if you have not done it for a while or if you are doing it alone."
"Set a schedule for cleaning up, and divide the spaces of your home into modules," she adds, recommending at least a weekend to cover a specific room. "Do not just say, 'I'm working on the den today.' Tackle a wall or a cabinet first, and then move on to the next module." Working in small steps allows you to take breaks without leaving an entire room in chaos.
[previous|page|next]
Having the proper tools helps cut down cleaning time as well. "Always have three balikbayan boxes ready: one labeled 'keep', the other 'throw', and the last 'give away,'" says Maslog. "Labeling is key to organizing. Every box, drawer, and cabinet should be labeled to keep things neat throughout the year and not just during the process of spring cleaning."
Spring cleaning is also a great opportunity to bond with your kids and involve family. 
"Have your child lay out her toys, and ask which ones she is willing to discard and which ones she wants to keep," advises architect and mom Ciel Tagaza. "Children are naturally helpful. As long as you make the activity sound and look fun, they will do the task willingly. Have your child help you pack away or group her toys in storage bins."
Making the process of organization a family task can help take a load off your shoulders as well. "Having a garage sale every year after everything is sorted out is a good way to put in some family time," says Maslog. "You can give half of your profit to charity, and the other half can go to dinner and a movie out with the kids."
Timing is also important when spring cleaning. After the holidays, kids will have accumulated many new toys and clothes and may be more ready to give up older items. Take advantage of this time, and get them to edit their closets and cabinets before finding ways to fit every new (and old) item in.
"Staying organized takes commitment and time," says Maslog. "Others think of it as part of home management, but for me, it is one thing that I can do something about that I have control of." View spring cleaning as an opportunity instead of a tiresome task to keep you motivated to stay organized. It will help you stick through it 'til your next cleanup."
1. Maximize your space 
 Work on the different areas of your home with these practical space-savers.
Kids' play room
 • Install overhead shelves instead of stand cabinets for additional display or storage.
• Stack toy bins for easy access when kids play in the room. Group toys according to theme.
• Keep the play space as open as possible. Put an activity table in the corner of the room next to the shelves with craft materials, or save space by using lap desks instead of a table.
[previous|page|next]
2. Master's bedroom
 • As much as possible, do not bring a work desk inside the bedroom—paperwork requires extra cabinets, a computer, and even a printer. Dedicate a separate room or area in your house for an office instead.
• Prioritize: a console for a television, a long desk as both a console and a dresser, or a vanity table. Choosing one allows you to streamline your activities according to how you spend your time in the room.
Arm yourselfInvest in these inexpensive items to help keep you organized throughout the year.
• Transparent plastic boxes. Get them in different sizes. These boxes help you identify contents easily, even when stacked in your home's utility room or bodega. 
• Have a bin or basket (preferably a covered one that is decorative enough to have in each room in the house). Each person is responsible for putting things that do not belong to that room in this specific basket. At the end of the day or on the weekend, return everything in the bin to their proper places.
• Tiny catch-alls can store everyday random things like school supplies, nail cutters, and even screw drivers.• A chest or baul can function as furniture and storage for sports equipment.
• Adhesive hooks are useful as long as you have a vertical space, a wall, or a door. These can help organize books, caps, school IDs, and eco bags.
Photo by Rubbermaid Products via flickr creative commons