Washing Your Bed Sheets Regularly Can Help Prevent Allergies

Constant sneezing and a runny nose can instantly ruin a good day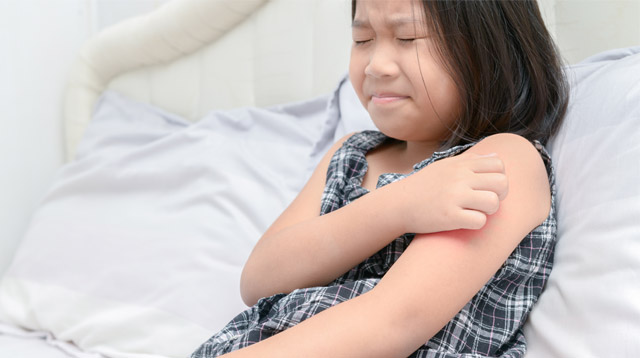 Given the unpredictable weather, it's inevitable to catch a cold and experience allergies. With the dry season still upon us, seasonal allergies can ruin your vacation plans or even a relaxing staycation you've planned for the family.

Seasonal allergies or hay fever is a form of allergic rhinitis — a condition that causes inflammation in the nose when the immune system reacts to certain allergens. During warmer climate, the presence of allergens like pollen and dust mites are more prevalent. Adults and children who suffer from allergic rhinitis experience symptoms that most people associate with colder weather like constant sneezing, a runny nose, and phlegm.

If not treated right away, these allergy symptoms can turn a runny nose into a cough and a cough into an infection. It can definitely dampen the mood of someone's sunny disposition. Those who have constant bouts with allergic rhinitis may want to visit the doctor as soon as possible to get the right treatment as well as to find out if it's connected to several problems such as asthma, sinus and ear conditions, as well as eczema. Whether you experience seasonal, perennial, or non-allergic rhinitis, your doctor is the best person to give diagnosis and proper treatment.

What other parents are reading

How to allergy-proof the home

Many of the triggers of allergic rhinitis — pollen, dust mites, mold, and smoke — can be prevented from entering or spreading around your house. Regularly cleaning the home, washing your bed sheets and investing in the right appliances can do wonders in preventing an allergy attack. Prevention is better than cure so keep in mind these measures you can do to prepare the home for allergy season:

ADVERTISEMENT - CONTINUE READING BELOW

Don't let dust linger

Dust is everywhere – it's in the streets, the air we breathe, on the shelves, and even on the curtains. If you've ever been responsible for cleaning up your home, you would know how much dust can accumulate in just one day. Dust is the most present allergen in the home so take the necessary means to keep it from settling by sweeping the floors twice daily, especially if you keep shoes inside the house.

Remove dust from surfaces daily by using a damp cloth instead of a feather duster to avoid agitating the dust back into the air. Fan blades and guards catch a lot of dust when it's being used so wipe them clean weekly. Regularly vacuum your windows, curtains, mattresses, and other upholstered furniture. Not only can dust get caught in fabric but so can pollen and pet hair or dander, all of which are allergens.

Make use of filters and clean them, too

Filters are a great way of preventing dust, pollen, and other airborne allergens from circulating and entering your home. There are several kinds of "filters" you can use to do the trick. If you keep windows open during the day, try installing screens with a finer mesh to catch dust and pollen before it enters your home.

Your air conditioning units have built-in filters that catch dust or particles in the air when being used. Make sure you clean them weekly. If you use box fans or stand fans in any of your rooms, try buying a microfiber filter to cover them with. Similar to an AC filter, it will pick up any dust that passes through it. If you have the budget, invest in an air purifier. These appliances have filters that can trap all kinds of airborne allergens from dust and pollen to even smoke and mold particles.

ADVERTISEMENT - CONTINUE READING BELOW

Recommended Videos

What other parents are reading

Wash your linens regularly

Dust mites are also big culprits in causing allergic rhinitis. And if you're still unaware, they often breed in pillows and on the mattress. Make sure to switch your fitted sheets, pillow covers, and blankets at least twice a week. Wash your linens in warm water to kill the dust mites and make use of a dust mite spray to get any that are still lingering on your mattress.

Airing out your mattress is a good way to rid your bed of these pesky critters. If this is not possible (especially if you don't have an outdoor space), you can steam your mattress and upholstered furniture every month. Don't forget to wash your pillows as well.

Get a humidifier

A humidifier is a great way to prevent or alleviate the symptoms of allergic rhinitis. It can help suppress the inflammation in your nose and will relieve congestion, giving you room to blow out the allergens that's causing irritation in the first place. However, humidifiers are especially great for people who have nonallergic rhinitis like me.

Nonallergic rhinitis has similar symptoms but different set of causes. This kind of rhinitis is caused by irritants like certain odors or sudden changes in weather. I suffer from both allergic and nonallergic rhinitis. Just by stepping inside a cold, airconditioned room can irritate my nose. Other than taking medication, a humidifier can help intervene and prevent symptoms from getting worse.

A bonus tip: A humidifier differs from a diffuser. Do your research before purchasing anything.

ADVERTISEMENT - CONTINUE READING BELOW

What other parents are reading

Keep your home free of irritants

While there are ways to prevent dust, pollen, dust mites, and other allergens from spreading inside your home, there are other irritants that are a little harder to spot. Perfume or the scent of flowers can be a trigger for some who are sensitive to smells.

Chemical fumes from cleaning products are also known irritants so consider buying unscented options or those with milder scents. Secondhand smoke is a big one to avoid even if your kids aren't prone to allergic rhinitis. It can cause health problems for young ones so it should be prohibited in your home. Since it can be difficult to detect and solve mold problems, scheduling maintenance checks is a must. Having mold is dangerous when airborne not only for people with allergic rhinitis.

Keep all areas of your home — especially areas with wood work — dry and clean at all times. If you notice any of your family members suffering from allergic rhinitis, try to observe and detect what the causes are. It would help a lot to avoid any of these inside your home to alleviate the symptoms among your family.

What other parents are reading

Celebrate your pregnancy milestones!


Enter your details below and receive weekly email guides on your baby's weight and height in cute illustration of Filipino fruits. PLUS get helpful tips from experts, freebies and more!

You're almost there! Check your inbox.


We sent a verification email. Can't find it? Check your spam, junk, and promotions folder.

Trending in Summit Network