How do you raise kids with a big heart or a generous spirit? How do you encourage them to go out of their comfort zone and to actively reach out to the disadvantaged and less fortunate to make a difference? 
As part of Tang's latest campaign, "Handa-Inom-Gawa", nine students from the Multiple Intelligences International School (MIIS) were honored for launching projects that enabled them to make a difference in their family, school, community or country. Tang is celebrating its new wave of kid heroes and how they can channel their enthusiasm, creativity and imagination to do create positive change in the real world. 
We got the chance to talk to the parents of these kids recognized by Tang for their acts of heroism, and how they bolstered a spirit of generosity in their children.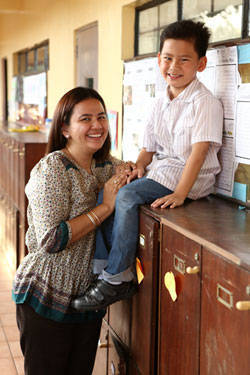 7-year-old Jam Uy sold home baked goodies dubbed "rainforest cafe" to help raise funds for the Cambantoc Project rainforest rehabilitation. His mom, Mitch Uy, a congresswoman, believes that by bringing Jam along during feeding programs or distributing relief goods, she was able to teach by example the act of giving, which Jam has imbibed and enjoys.
Since they are also Christians by faith, and they are encouraged to do Samaritan work, Jam was able to take part in many activities that sought to help the less fortunate. "He can see it in me, in my work, in church, and in his school," Mrs. Uy says.
[previous|page|next]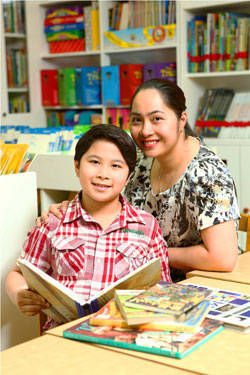 Nine-year-old Pablo Gamboa, on the other hand, has been writing and publishing books to raise awareness for hunger and environmental concerns. 
"He learned to be generous through what he sees in us, his family," explains his mother. "Every Christmas, we have [goodie] bags to help the poor." 
His dad, Louie, also shares that their home is always open to anyone who may ask for help. "For example, there are people who are wheelchair-bound," he says. "They come regularly, and we give them a little donation. By that alone, we show him that when you make a commitment to help people, you just don't help them once, but as far as you can go."
"We brought Pablo to Hospicio de San Jose at a very young age, when he was three years old, and every once in a while he would go back. He saw the kids there with no parents, which made him appreciate how lucky he is."
[previous|page|next]
For Ella Inventor, mother to nine-year-old Yael Inventor, it was teaching her child to be caring of other people. "They have the awareness that they have the capacity to help other people," she says. "Everything they do affects other people. If they do good things, other people will benefit from these."
Through her and her husband's active work with NGOs, they also make sure to ask their children, 'Is there anything that you want to share with these children?' They also tell them where these donations will go and what will happen to them. 
When Ella told Yael about the Cancer Warriors Foundation, the girl thought of selling cookies, "Caring Cookies", to raise money and help supply medicine for a child with cancer. She has been consistently doing this advocacy since October 2012.  
"You just need to provide them with an opportunity to help other people," Ella says. "When parents give their children the opportunity, the encouragement and the time, the experience of giving becomes complete. And it's good for them."
[previous|page|next]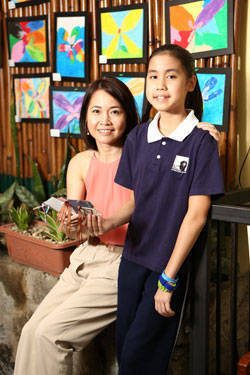 To benefit the education of underprivileged kids in Bohol, 11-year-old Audrey Pe made trinkets and swatches for sale.
How was she inspired to become big-hearted? "We do it by example," shares her mother, Aileen. By showing support for their child's project, the children see that helping is not all just talk. "For us, it's not just a one-time inspirational moment, but it's really working hard with her and being there for her.
That's what's more important. Of course, you cannot do things without a value system. The values are there—hard work, patience and diligence." 
"It's so easy to just pick from your pocket and give, but it's something else to teach them that charity becomes really part of their lives and of course it also has to be something that you're passionate about."
[previous|page|next]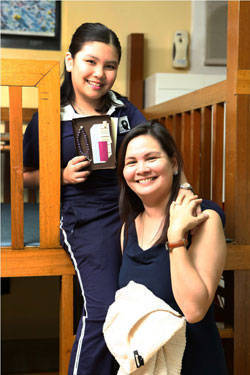 For Cynthia Rodriguez, mother to 11-year-old Mika Rodriguez, who sold bracelets and bookmarks to benefit the Cancer Warrior Foundation, it was also largely by example that she encouraged her child to be generous and concerned for the welfare of others.
"She just sees what I do and I try to expose her to my activities. In the summer, I'm more active with them, with the feeding program," Cynthia says.
"If you see the impact of what you're doing, you really connect to the people, with the kids, and you're just so happy. And if you carry that with you, going forward, then you will make more plans. That makes you more determined to create a bigger difference or a bigger ripple. Or at least, sustain what you're doing."
"You begin to see relatively how blessed you are. Active generosity shows you you're so blessed, especially when you're out there, helping real people, and you see them so happy with so little. It's a big thing to them. There are so many ways [to help]. You don't even have to look far."
[previous|page|next]
Joy Abaquin, MIIS founding directress, and mother to 12-year-old Anica Abaquin, believes that one of the important things to instill in your children is empathy. 
"Ever since she was small, whenever there is an opportunity to learn empathy, I talk to her about it," she explains. "It starts small; if you hurt somebody, then that is how they feel. If a child is empathic, they see problems later on, then they feel like they can do something about it."
"Empathy can be widespread, it can be towards a person, it can be towards the environment, and as they grow older, the issues that they see allow them to practice being empowered to make a difference."
"As a parent, as an educator, I respect na even if they are kids, they have come up with solutions for things. You practice making them grow up that way. In our home, we try to practice proactive language. If they say, 'Oh, you know, this happened…' We say, 'Okay, if that's the problem, what do you think is the solution for it?' This then contributes to that mindset, that empowerment." 
"[Instill in them] a sense of shared responsibility. Parents must clarify that a child on the street is not just one person's problem, it's a shared problem. Those are concrete ways that you can help raise a child who would choose to make a difference."
[previous|page|next]
Other children who were recognized by Tang were Raine Gavino and Diego Cortez who, along with Anica Abaquin made products for the M.I. Kids Can! Bazaar to provide nutritious breakfasts for the children of Bahay Mapagmahal.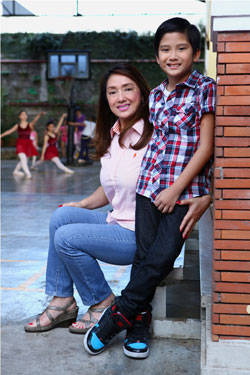 Harvey Gana, 9 years old, organized a fun run to pay for the expensive medication of kids with cancer. 
The Tang Galing Mo Kid award is inspired by the ritual, "Handa-Inom-Gawa," which refreshes the hero in each and every kid, and encourages them to do good for their communities. 
Some of the Tang Heroes who were recognized in the past year include Kesz Valdez, who founded "Caring Children" which gives slippers, books and hygiene kits to street kids; brothers U Maalam Wisely and Trubador Wisely, who sell their artwork to buy canvas, coloring and drawing pens and other art materials which are used to teach other kids to draw; Raynold de la Cruz, who launched "Saving Kids with First-Aid Kits", which provides first-aid kits to public-school clinics from funds he raises by selling ice candy; Angela Serafico, who sells her paintings to donate to calamity victims; and Dannah Suaze and Martha Balagat, who teach catechism to kids. 
That these kids were picked from hundreds of nominations proves that there are many more kids out there with a mind and heart for others. 
Visit www.TangGalingClub.com, and www.facebook.com/TangGalingMoKid for more inspiring stories on empowering kids.