When you have a newborn you might as well give up sleep for some time because your baby will sleep, wake up, and feed round the clock. So we could understand new mom Isabelle Daza's, er, dilemma.

The actress shared on her Instagram Stories that she "fired" her night nurse, and the caption came with a photo of husband Adrien Semblat playing with their newborn son at night. Awww, right? But grrr at the same time!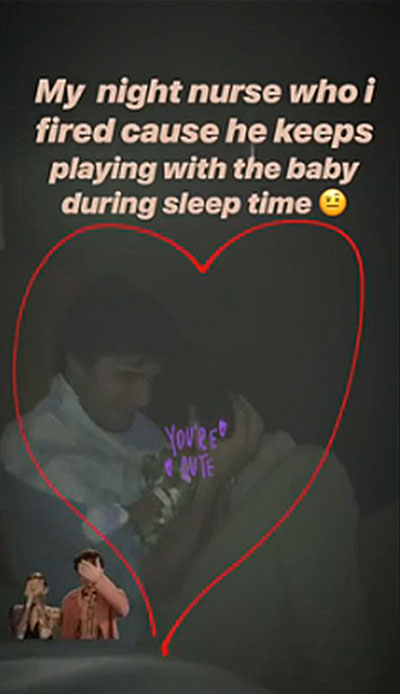 The actress and model's next Instagram Story then revealed that she did hire a real night nurse.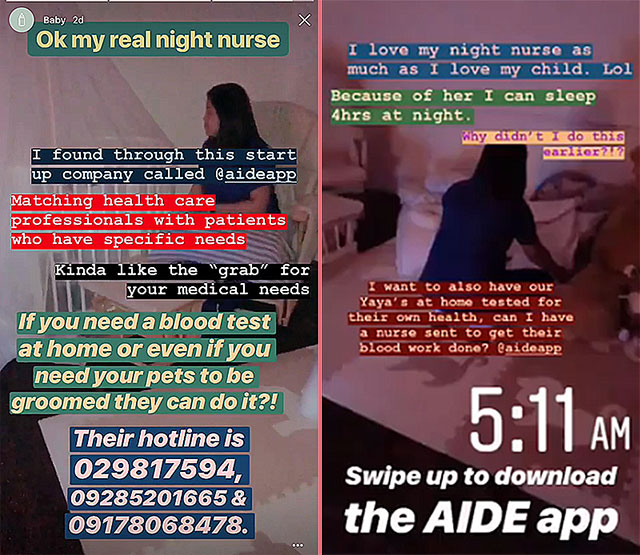 "I love my night nurse as much as I love my child," Isabelle joked. "Because of her I can sleep four hours at night," she added. "Why didn't I do this earlier?"

We're asking ourselves the same question, too! How and where can new moms hire a night nurse so the sleepless nights with a newborn wouldn't be so sleepless anymore?
Isabelle said that she hired her night nurse via the smartphone app AIDE. She compared its services to Grab, but instead of transportation need, it caters to its client's medical needs. "Matching healthcare professionals with patients who have specific needs," she wrote in her Instagram Story. 
We've featured the AIDE app before as the first app in the country where you can book a health professional. (Read how the company started here.)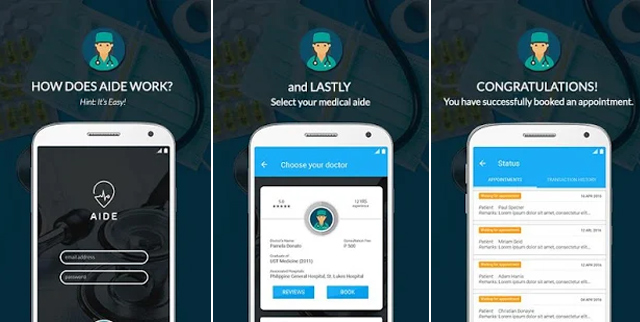 If a member of your family needs to have a checkup or a blood test done and for some reason isn't able to leave the house, this app will send a doctor or a medical laboratory technician to you to address that need. If you need to buy medicine and send it to you, AIDE can also help you. A nurse or physical therapist? Check! Even if the patient is your pet, AIDE can send a vet or a groomer. 
Here's a more visual take on how the app works: 
The company assured its clients that the person they send is a professional is qualified and will bring with them whatever equipment they need to address your medical concerns. According to its website, AIDE currently works with a network of doctors, nurses, physical therapists, and other specialists and has partnered with diagnostics labs that enable them to match a patient with a medical professional quickly. 
How much time it would take for AIDE to send a professional or if one can book it the night before, or several nights in a row, is unclear. A service, such as a doctor's appointment, can set you back anywhere from Ph750 to Php2,000, depending on the service you need. A night nurse's fee may depend on how many hours you need her to stay and attend to your newborn. 
A night nurse for a mom with a newborn didn't immediately come to mind when the AIDE app launched last year. In hindsight, it falls under nursing care. Plus, taking care of a baby and being able to get some decent sleep falls within the medical and health needs of both mom and baby. This could be a lifeline when you need it most!
AIDE's hotlines: (02)981.7594; (0928)520.1665; (0927)8068478. Download the AIDE App for free on the Apple Store or Google Play.