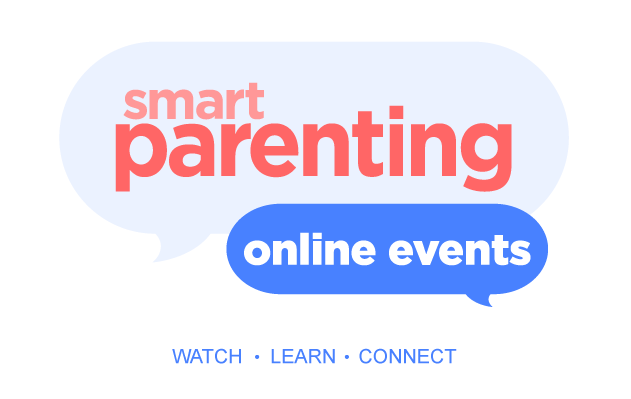 00
Days
:
00
Hours
:
00
Mins
:
00
Secs
The Daughter of a Former Jeepney Driver Built This House Inspired by Nature

This two-storey house in San Mateo, Rizal has huge windows that give the owners a relaxing view of the outdoors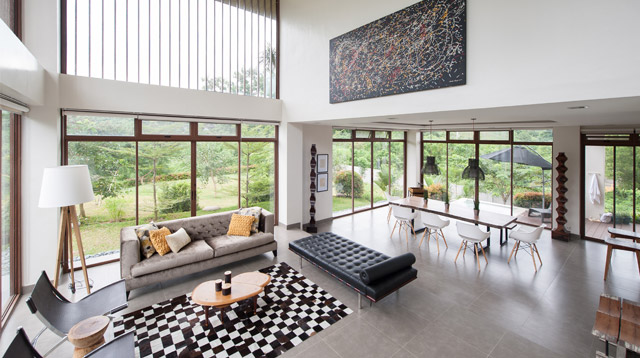 Whether it's a cozy apartment or a big house with many rooms, we all have dream homes we wish to achieve. From saving up to working hard, we strive to make that happen so we can have a special haven to share with the family. The story behind this beautiful home in San Mateo, Rizal will surely inspire you. Owned by a former jeepney driver's daughter who used to work at a fastfood restaurant, the 300sqm house is proof that you can achieve your dreams as long as you put your heart into your work. With the help of her relatives, she was able to start her own salon business. Through the said business, she was able to save up funds for this dream home.

Take a tour of this inspiring home below:

Front Door

The house has a solid wooden door that complements the high ceiling and huge windows.

ADVERTISEMENT - CONTINUE READING BELOW

CONTINUE READING BELOW

Recommended Videos

The owner worked with architect Renato Carpio and contractor Nikki Bustos in bringing her dream home to life. It has a modern theme with clean lines, furniture pieces in neutral colors, and an overall welcoming feel.

Living Area

Who wouldn't want to spend quiet afternoons in this relaxing living area with a view of the outdoors?

ADVERTISEMENT - CONTINUE READING BELOW

Since the owner is an inspiring interior designer, she was hands-on in terms of choosing the materials, the furniture, and finalizing the look of the home. In the living area, roomy seating pieces take the spotlight — making it ideal for entertaining guests. Touches of yellow and wood add warmth to the space dominated by neutral colors.

Dining Area

The dining area is perfect for get-togethers as comfy chairs are paired with a wooden bench.

ADVERTISEMENT - CONTINUE READING BELOW

An open layout connects the living, dining, and kitchen areas. Choosing an open layout makes the home seem bigger and more spacious. From this angle, you can't help but appreciate how maaliwalas this home is. In the dining area, the owner chosen to have a solid Dao table by Aida Flores and Eames-inspired chairs in white.

Kitchen

Compact yet functional, the kitchen is equipped with quality appliances and has enough storage, too.

ADVERTISEMENT - CONTINUE READING BELOW

The kitchen looks compact, but cooking can be done in the space — thanks to the spacious countertops. Well-equipped with appliances, this part of the home can also be used for quick meals and snacks since there are wooden stools that turn the extra counter into an instant breakfast bar.

Family Room

This room can be used as a guest room when needed.

ADVERTISEMENT - CONTINUE READING BELOW

With its size and location, the two-storey house can also be used as a retirement home in the future. The owner made sure there are enough rooms to accommodate friends and relatives. This family room is ideal for siestas, reading, and catching up on TV shows and movies.

What other parents are reading
Bathroom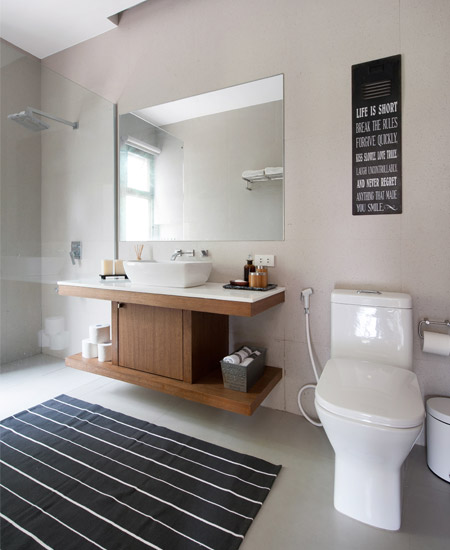 ADVERTISEMENT - CONTINUE READING BELOW

The owner has plans of turning the family room into her bedroom when she retires. Given this, she opted to have an en-suite bathroom (a bathroom that's directly connected to the sleeping space) to ensure comfort and ease of use. Decorated with a simple area rug and wall art, it has a wooden counter with enough storage nooks for toiletries.
Master Bedroom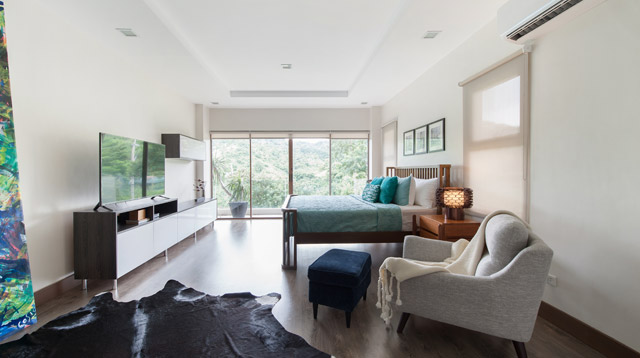 ADVERTISEMENT - CONTINUE READING BELOW
Calming and perfect for a good night's sleep, this master bedroom features an inviting wooden bed, a comfy chair where the owner can read a book, and a plush foot rest. The huge windows let in plenty of natural light so there's no need to turn on the lights in the morning. By nighttime, it's as if she's in the woods, given the abundance of trees and greenery outside.
Master Bathroom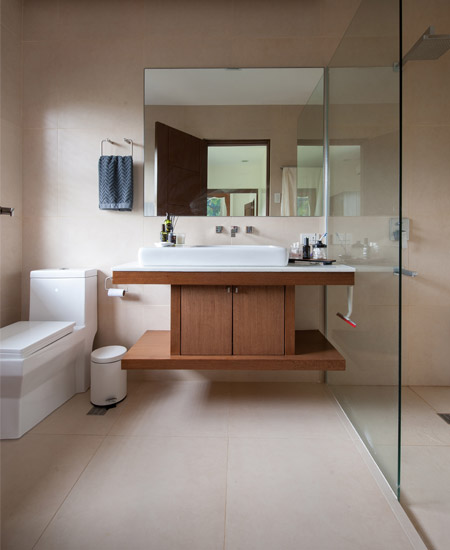 ADVERTISEMENT - CONTINUE READING BELOW
We're sure you've heard of the saying, "there's beauty in simplicity." In this bathroom, the owner decided not to have too much decor to prioritize storage and having enough space to move around in. Just like in the other bathroom, this space features a wall-mounted counter. To keep within the modern theme, she opted for a glass-enclosed shower area.
What other parents are reading
Guest Bedroom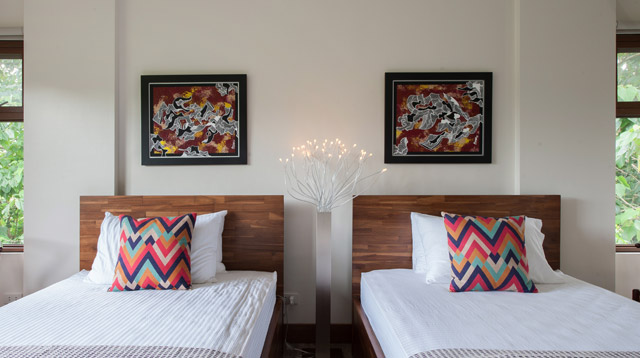 ADVERTISEMENT - CONTINUE READING BELOW
The owner decided to furnish this room with pull-out beds so she can accommodate as many guests as possible. Four to six people can sleep comfortably in this room dominated by wooden touches and vibrant pops of color.
Lanai and Jacuzzi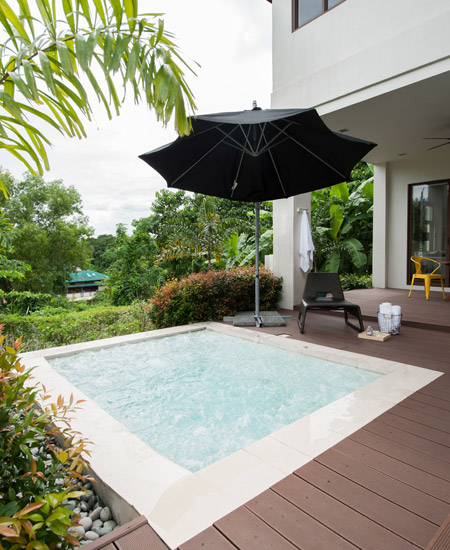 ADVERTISEMENT - CONTINUE READING BELOW
The lanai is the ideal spot for hearty breakfasts and or just a cup of coffee. It gives a soothing view of the outdoors, too. After a long day, the owner can also take a dip in the heated jacuzzi surrounded by trees and the beauty of nature.
With additional information from Therese Dehesa | This home tour originally appeared on Real Living.
What other parents are reading

Trending in Summit Network