10 Ways to Get Rid of Disposable Products and Save Thousands of Pesos

We only need to look at our trash bins to know that all of us contribute to global pollution.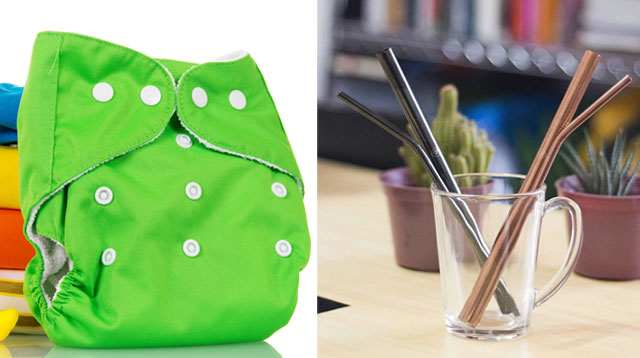 A year ago, we chose to move to Laguna so that we could enjoy trees and fresh air. We go what we wished for and so much more. Every couple of weeks, we drive out to Metro Manila, but as soon as we get home, my daughter, Adriana, would always say, "I'm so happy, we live here now, Mama." 

One of our simple joys is being able to drive around with the windows down and enjoy the fresh breeze. One day, we were driving home after a long day, Adriana was wistfully looking out her window. "Mama, what if the world won't be like this anymore when I grow up? What if there will be no more trees and fresh air?" 

My 7-year-old is all too familiar with the congestion and pollution in Metro Manila. I didn't have the heart to tell her that I feared the same. Instead, I did what any mom would do — I promised my little girl that she WILL still have trees and fresh air when she grows up. I pinky-promised (you can't break a pinky-promise). There was just one tiny problem: I can't fulfill my promise alone.

What other parents are reading

In a 2017 report, Greenpeace had identified the Philippines as the "third-worst polluter into the world's oceans" after China and Indonesia. We only need to look at our trash bins to know that all of us contribute significantly to that statistic from consumer goods alone. It means that moms are in a commanding position to make a difference.

Here's what we can do to ensure that we can ALL promise all our children that when they grow up, they will still have a world with trees, fresh air, and clean water: 

#1 Potty train early
When Adriana was a baby, I would buy mountains of disposable diapers every month. I did this until a flash flood hit Metro Manila, and I realized that I contributed to that disaster. We put in the extra effort, and Adriana was potty-trained before she was 2 years old, and I saved a fortune. Maybe one less baby using disposable diapers did make a difference.

ADVERTISEMENT - CONTINUE READING BELOW




If you're expecting, please consider cloth diapers. For baby's first two years, you can choose between spending an average of Php50,000 on disposable diapers or Php10,000 on cloth diapers (BONUS: you can even pass it on to your future children). Washing cloth diapers may not be as convenient as disposables, but you save money and help ensure that your baby will have a habitable world when he grows up.

What other parents are reading

ADVERTISEMENT - CONTINUE READING BELOW

Recommended Videos

#2 Use menstrual cups or reusable cloth pads and liners
I used to spend a minimum of Php4,500 a year on sanitary napkins, tampons, and panty liners. I bought a menstrual cup a year ago for Php1,239 (shipping included). I expect to use my cup for at least two years, meaning I'll save at least Php7,000!(I've also since said goodbye to worrying about stained pants and bed sheets, even the smell, and the hassle of it all.)

Reusable cloth pads are also affordable at only Php150 for overnight pads and Php100 for cloth liners. Whether menstrual cup or reusable pads, it's a guaranteed win for you and Mother Earth.

What other parents are reading

ADVERTISEMENT - CONTINUE READING BELOW

#3 Never leave home without a reusable water bottle
Refill it as your day progresses. Don't be shy to ask for refills from restaurants or cafes even if you're not a customer — I've done it several times, and they're always happy to oblige. Stop paying for bottled water. Mineral water in a 5-gallon dispenser costs Php25 while a 330mL water bottle costs at least Php30 in a restaurant. There are over 60 MILLION water bottles thrown away every single day. Let's not add to that.

#4 Having a potluck party?
Make it a B.Y.O.K. (bring-your-own-kainan). Disposable plates, cups, and utensils have become a party staple, but these are unnecessary expenses. It's entirely okay to have everyone bring their own sets of reusable plates/bowls, utensils, and cups.

We did this for Adriana's class parties, and guess what? Everyone brought their own sets, and they even spread the word that it could be done!

You can also carry around the same kit and use them every time you're offered single-use items (this is shockingly frequent). A lot of my friends have been holding off doing this because they say they haven't found the perfect set. Trendy sets are lovely, but I can guarantee that what you have at home are perfectly acceptable.

ADVERTISEMENT - CONTINUE READING BELOW

What other parents are reading

#5 Shop wisely
Know the products you purchase and the brands that manufacture them.

Your facial wash, body wash, and toothpaste brands might contain plastic microbeads that pollute our waters without you even knowing it.
Refrain from purchasing coffee, shampoo, detergent, and fabric softener in sachets. If you do the math, sachets end up costing you more, and the convenience doesn't justify our ranking as a top polluting nation.
Invest in quality products that will last you a very long time. Products that break quickly just end up getting thrown away and defeats the purpose.
Are you sending your kids sandwiches in single-use plastic bags because you worry they'll lose their containers? Consider this an opportunity to teach your kids about responsibility.  

What other parents are reading

#6 Go carpooling and plan your trips
Even if you can afford the ridiculous cost of fuel today, you significantly increase your carbon footprint every time you use your vehicle. Do you have neighbors that you can carpool with to work and school? Have a checklist, so you complete your errands in one go instead of having to make several trips.

#7 Build eco-bricks
Turtles eat jellyfish. Plastic bags floating in the sea look just like jellyfish, and this is how we kill innocent sea creatures.

If you do have plastic waste, you can collect them and make them into eco-bricks so they can be used as construction materials. The challenge is still to generate less waste so you should ideally need a long time to create one eco-brick.

If you're generating one eco-brick a week, then you will need to re-evaluate your plastic consumption. This won't cost you anything, but it's a step towards us being able to swim on a beach without plastic waste AND saving the turtles.

ADVERTISEMENT - CONTINUE READING BELOW

What other parents are reading

#8 Educate and inspire your family, friends, and everyone around you
Adriana already knows how to check if products have too much plastic packaging. She's stopped asking for them when we go to the grocery, and she even teaches her little classmates about making conscious choices. 

My mom loves all things disposable and at 65, she's a tougher nut to crack but every so often, she agrees to some of the changes I recommend. 

For working moms, see if there are measures your company can put in place. A friend had purchased steel straws for her employees. They order fast food every day, and the plastic straws alone add up.

If you are in the academe, perhaps you can propose a ban on plastic straws and disposable utensils from your school cafeteria and encourage parents to carefully select and package their children's baon. Not everyone will want to make drastic changes, but do what you can, and eventually, it will catch on. Just yesterday, we had several senior citizens purchase steel straws for themselves because their children had the same.

What other parents are reading

#9 Patronize shops that encourage zero-waste lifestyles
Try Hamsa Earth-Conscious Collections, which has an alternative to tissue paper, and Island Happy Zero-Waste that sells a reusable wrap for food storage.

ADVERTISEMENT - CONTINUE READING BELOW

You'll find essential items to ease you into your transition — reusable cloth pads for makeup and other beauty regimens, bamboo toothbrush, katsa produce bags, beeswax wraps, and a lot of other items that will save you a lot of money in the long run.

#10 Seek inspiration

ADVERTISEMENT - CONTINUE READING BELOW

Follow Filipina women who are on their journey towards zero-waste living. It's definitely doable. Collectively, we can all save the earth for our children.

What other parents are reading

Celebrate your pregnancy milestones!


Enter your details below and receive weekly email guides on your baby's weight and height in cute illustration of Filipino fruits. PLUS get helpful tips from experts, freebies and more!

You're almost there! Check your inbox.


We sent a verification email. Can't find it? Check your spam, junk, and promotions folder.

Trending in Summit Network