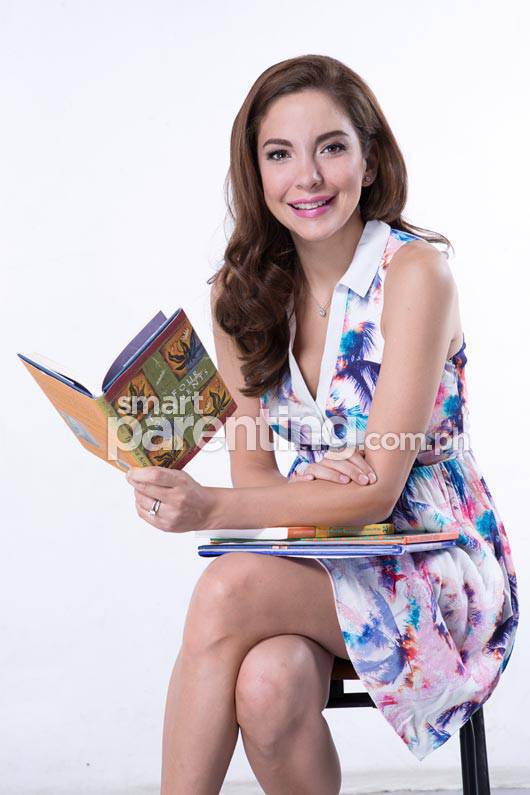 Amanda Griffin-Jacob, mom to Kieran, 3, and Kalon, 1
Model, host, entrepreneur, book author of "Project Mom"

How did your parents raise you as a reader?
When I was growing up, there weren't so many channels and my parents' generation really encouraged us to play outdoors, read and not watch too much TV or play video games. They really stocked up on a lot of children's classics and read to us at night, and they made sure that we always did our own reading. My parents really nurtured our reading—me and my brother—and since then we've both enjoyed reading our entire lives.

What were some of your favorite books growing up?
Well, I loved the Peter Rabbit series. My dad's English so I loved Beatrix Potter. Black Beauty [too], because I loved horses since I was younger. And anything by Enid Blyton.

Would you say that your preference for books changed after you became a mom?
Absolutely. Before I had kids, I was into a lot of criminal fiction—actually that was my number one [choice]—and then when I got pregnant, I started transitioning into a lot of help books and child development books. It's really shifted. I'm reading more for information because I'm a mom. And I don't actually get to read for pleasure too much anymore because I don't have time, unfortunately. But on my to-do list is to make more time for reading for the love, rather than for study or homework.
[previous|page|next]
How do you incorporate books into your children's daily routine?
Well there is always, of course, the bedtime stories for both of them; I like to read to both of them. But usually, if my husband is home early enough, I like for him to do it because he doesn't have time with them during the day. I want to try and promote that as their sort of bonding time. He's a great storyteller, story reader, and sometimes too much—he gets so excited—it's all about the voices! They're supposed to be going to sleep, not getting excited! Ha ha.

Kieran, my eldest, has so much fun when his dad reads him a story. Kieran's going to school now. They read in class, and the teacher will always finish the class with a story, and then their homework is reading books, so he spends a lot of time reading.

What do you look for when selecting books for your kids in the bookstore?
I want the content to be appropriate and relevant. You know, you'll be surprised -- there are some books for children and you'll be like, "Why would I read that?" It's just strange. I want it to teach them something.

Right now for my three-year-old, I'm focusing on trying to get books on numbers, to really help him get better at recognizing and being able to read numbers. Before, it was about colors. I'm always trying to link it back to where he should be at developmentally and where he's at in school, so we can build upon those different things. Reading is fun, but you want the children to really learn from it.

If you could have more time to read for yourself, what books would you want to stock up on?
If I had more time, I think I'd go back to criminal fiction. I'm like that—I like CSI, Criminal Minds and all that when I'm watching TV. I want some light stuff, something that I don't have to invest too much time and energy in, since I don't have too much time. I just want to relax. I want to have that sort of escapism that's light and fun and relaxing and nothing extremely heavy and mind-hurting.

What would be your advice to moms who would like to raise a reader?
The best way, obviously, is the bedtime story. And with us, now, it's not one bedtime story, it's four. Kieran wants more. He'll choose his books and he'll say, "Just one more." That's great. I think you should always encourage your kids [to read], especially when they enjoy it. And maybe look at your child's lesson plan and support what the school's doing so they have the building blocks for reading.
[previous|page|next]
Amanda's favorite books:
The Power of One by Bryce Courtenay:
This is one of my favorite books. Bryce is one my favorite authors. I stole this from my dad's collection years ago. I must've been in college. And it really struck a chord with me. I found the story so moving. It's about a boxer in Africa; it's about apartheid in that era, so you really feel the struggles of that time. I really discovered a lot about that time period in Africa. The story spoke to me, and I loved the way he writes, so this is one of my favorite books. I always cry. It's just written beautifully, that's why it's one of my favorites.

The Four Agreements by Don Miguel Ruiz
This one was a book I got while doing a yoga challenge. It was all about meditation and growing, practicing yoga everyday and deepening my practice. It was good. I'm still working on it. Especially the meditation [part]. It's about how you want to live your life and be calm and open to everything.

101 Reasons Why I'm a Vegetarian by Pamela Rice
I read this like seven years ago, and this is what changed my life and why I'm a vegetarian now. It's exactly the title; pretty explanatory, but it went through the whole gamut of reasons why she's a vegetarian. She doesn't actually say "You should be a vegetarian". She just lists down a 101 reasons from health, to the environment, to cruelty, to poor health practices. I didn't pick it up intending to become a vegetarian, but a third of the way into the book, I just couldn't help but [be convinced].

Raising Boys by Steve Biddulph
"I have two boys, and everyday is an adventure. Most of my girlfriends in the Philippines have girls, so I really didn't have any sort of example to follow, or people to ask, like "What do you do with boys?", since boys or girls are different. So yeah. That's one of my favorite books to read to try and get an insight on boys, and also to try to learn how to be able to encourage your optimal development."

Baby Greens by Michaela Lynn and Michael Chrisemer, N.C.
I am a fan of raw food, the raw food movement, which means that I believe food are live enzymes, so when you cook food, you actually kill the nutrients in it. The raw food philosophy is that it shouldn't be heated at a certain temperature.

Both my children are vegetarian. I like this because with Kieran, he doesn't like eating raw veggies so it's hard. I wanted to try with Kalon to see if I can make him eat raw vegetables, so he doesn't have an adverse reaction, the way Kieran did. We'll see. It's still a work in progress.
[previous|page|next]
Kalon and Kieran's favorite books:
Guess How Much I Love You—All Year Round by Sam McBratney
This is obviously a crowd-pleaser with both my boys, especially with Kieran, because he understands it now. I've been reading this to Kieran since he was a baby. I like this because it goes through seasons. It's educational for him as well, and it's all about love.

Where The Wild Things Are by Maurice Sendak
This one I like because it stirs the imagination and the illustrations are beautiful. It's a fun thing for them to look at.

Goodnight Moon by Margaret Wise Brown
"Goodnight Moon" is a children's classic. When I was a child, I used to say goodnight to everything. I had to say goodnight to all my stuffed toys. It's a good book for kids to signal it's time to sleep, but also, it labels a lot of objects that they can start remembering. And the colors are really nice, the illustrations are really nice, and it's not a long book for babies. I like to point out [the objects].

Llama, Llama, Red Pajama by Anna Dewdney
This one Kieran loves because he has a "lovey" like that, he has little bunnies. So he thinks that that's him (the llama). It's a bedtime story. And it all rhymes!
Related: VIDEO: Amanda and Kalon Read Aloud Llama Llama Red Pajama


Click "View slideshow" to see the book covers!

Photos by Heidi Pascual-Aquende