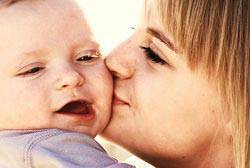 Affection for your baby can take on many forms: the gentle tone with which yaya speaks to her, the loving way in which she plays with her and then there are of course the instances when yaya may actually kiss your baby. Hold on now… for those of you who are completely aghast at the thought… Relax!
The attitude towards situation is split down the middle.
The Problem with Yaya Kissing Baby
There are those who see it as a non-negotiable, a boundary never to be crossed, a simple case of delicadeza or even a hygiene concern. There are others however, who believe the opposite to be true. For them, they would prefer that their yaya completely love their children and don't mind their showing it.
1. Hygiene
If hygiene is of concern to you, always remember that as their employer, you are also your yaya's best teacher. Make sure you make it your responsibility to highlight the importance of cleanliness. Not for anything, but helping to preserve someone's health is always a worthwhile endeavor. You may want to teach yaya the following:
            a) Proper hand washing
            b) Proper dental hygiene --- both brushing her teeth and flossing
            c) The Importance of having a clean face, hair and body
            d) The basic understanding of how germs are transmitted and how they can "breed"
            e) The vulnerable state of baby's immune system at such a young age
2. Delicadeza or Breach of Employer-Employee Boundaries
If let's say, hygiene if not so much your bone of contention but a certain amount of delicadeza or implicit boundary breach --- this concern is one that is engrained in culture, background and family values. If this is the case, it is important for you to call yaya's attention but also to explain to her why you are not comfortable with her kissing your child.
Click here to read more on how to deal with yaya kissing baby.
[previous|page|next]
Read more on how to deal with yaya kissing baby.
Be straightforward and matter-of-fact
In most cases, yayas are generally not very forward in their actions. However, for those who are, you must be honest with them. I suggest that your rules for showing affection for your baby is stated very "matter of factly" when you brief your yaya on the general guidelines for your household.
Try not to make it appear like you don't want her to kiss baby but rather you don't want your baby to be kissed in general by anyone other than yourself and your husband. This way, she will not take it personally. This approach should minimize whatever awkwardness may exist on the matter.
Again, there is no right or wrong way to address this situation. There is however, your way. If you are comfortable with it, then good for you. Otherwise, you have every right as a parent and employer to decide how your baby is cared for. However, either way you must be honest with your staffer and respect her enough as a person to explain in a way that will not hurt or demean­­-- after all, you are tasking her to care for your child.
Photo from flickr.com