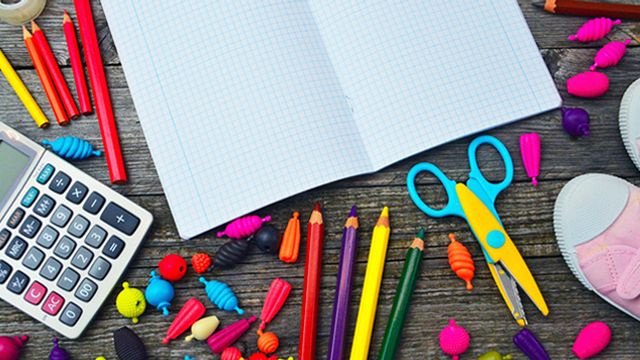 Now that school season is back in full swing, you might find yourself in need of ideas on how to store your child's school stuff, from papers to craft supplies to sports equipment and gear. Here, we give you 10 ways to help make sure that you are on top of the clutter you may have at home.
Keep paper under control with labeled organizers
Your child will undoubtedly bring home lots of paper from school, including tests, classroom activities, and art projects. To manage the paperwork, it can help to prepare a labeled organizer like the one above. Instead of by year, you can label each tab according to the different subjects your child takes in school. This way, when she brings home papers, it has a place automatically.
Separate craft materials with small organizer drawers
The use of clear bins not only makes you see what you need immediately, but it also forces you to be neat when you put them back in place. Acrylic boxes are expensive, so other moms use plastic food containers. If you don't have see-through boxes, add labels to each compartment to distinguish their contents.
Use old jars as storage for pens
Give your old jars new life by using them as the home of your child's pens, pencils, markers, and other craft materials! Then have an empty jar where you can place those that run out of ink. If they can be refilled, it should be another jar. It will be easy to know which needs refilling or replacing when you go to the school supplies store.
Build a shelf for your child's trophies and medals
What better to showcase your child's achievements than by putting up her awards for everyone to see? Get inspiration from this shelf, which also features hooks on which you can hang medals.
Mount hooks for school bags
Create a station in your home where your child can hang up her bag when she gets home after school! If you have more than one child, you can assign one hook to one child, so each one knows where to put his or her bag. It also makes them accountable for their things.
Designate a space for lunchboxes
Preparing baon will be a breeze if your child's lunchbox, lunch bag, and water bottles are all stored in one place. Depending on the space that is available to you at home, you can set a drawer to hold these items or even an entire cabinet.
Store shoes in clear boxes
Do you find that your child always has a missing shoe? Clear boxes may be just what you need to organize your shoes once and for all. The key is to stay consistent in storing your shoes in these containers.
Keep clothes and gear in order
If your little one is a budding athlete, it's important to keep her sports gear safely stored. Storage units like boxes, baskets, and bins can help you achieve that. You can also try storing everything in a cabinet so you would have more space. Once you have organized where everything must go, it is up to your child to maintain order. It will teach him how to be responsible for his things. 
Make craft supplies easy to grab and go
We think pegboards are a great way to stow craft supplies without taking up precious space on your desks or tables. You can try mounting small racks or baskets on your pegboard to hold objects that can't be hung up by themselves, like writing materials.
Utilize vertical storage
Space is a precious thing, especially to those who live in small homes. That's why vertical space is definitely something you should maximize when it comes to storage. One way to utilize the vertical space available to you is by making use of over-the-door organizers, which can hold basically anything from clothes to small school materials to even kitchen items.