As of August 11, 2010, the MMDA (Metro Manila Development Authority) updates rules on its regulation on all private and public vehicles per LGU (local government unit).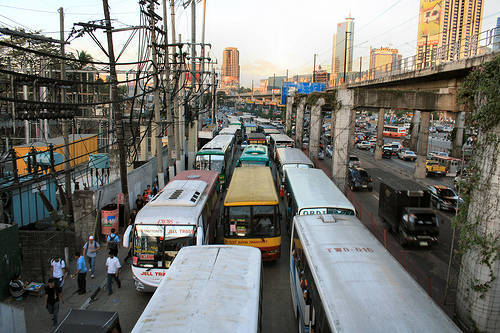 On Window Hours and the Number Coding Scheme
1. No window hours in Makati, Malabon and Las Piñas. Number Coding is in effect from 7 am to 7 pm.
2. No number coding in Taguig, Marikina and Parañaque.
3. Window hours in Pasig City are from 9 am to 4 pm.
4. Number coding in effect in Caloocan, Mandaluyong, Manila, Navotas, Pateros, Quezon City, Valenzuela and San Juan. Window hours are from 10 am to 3 pm.
5. Pasay City is implementing Number Coding except on the following roads: Ninoy Aquino Avenue, MIA Road, Domestic Road, Airport Road, Sales Road and parts of Buendia.
6. EDSA, C5, Pres. Diosdado Macapagal Avenue and Roxas Blvd have window hours regardless of the city.
7. Still no umber coding during weekends and is suspended during national and special holidays.
Rules on MMDA Apprehension for Traffic Violations
1. MMDA officers are not allowed to group together in order to apprehend. They are not even allowed to stand together in groups of 2 or more. The only time they are allowed to work together is for special operations.
2. Swerving IS NOT a traffic violation. Moving one lane to the left or right is not swerving, no matter where on the road you do it. And it is even less of a violation when you do it with a signal. Swerving is defined as shifting 2 or more lanes very quickly.
3. Using the yellow lane is a traffic violation and will get you a ticket. However, buses are really not allowed to go out of the yellow lane.
4. Your driver's license MAY NOT BE CONFISCATED at a traffic apprehension. The only time they can do so is if you are part of an accident, or it is your third violation and you have not settled your fines yet. They are only allowed to give you a ticket, which you can contest. He recommends actually receiving the ticket in some instances, so that you can report the officer who did it.
5. Also, you are free to ask any of these officers for their "mission order", which is written by their supervisor. If they apprehend you for a violation that is not in their mission order for the day, you can report them and they will receive disciplinary action.
To report cases of selective apprehension or abuses by MMDA officers, you may report these by calling the MMDA hotline (136) or call the METRO BASE at 0920-9389861 or 0920-9389875 and ask for an Inspectorate.
For more information, visit www.mmda.gov.ph.
Photo from flickr.com