These Real-Life Yaya Horror Stories Will Make You Say 'Okay Lang Na Walang Yaya'

We are not talking about ghosts here, but these stories about household help are certainly any mom's worst nightmare.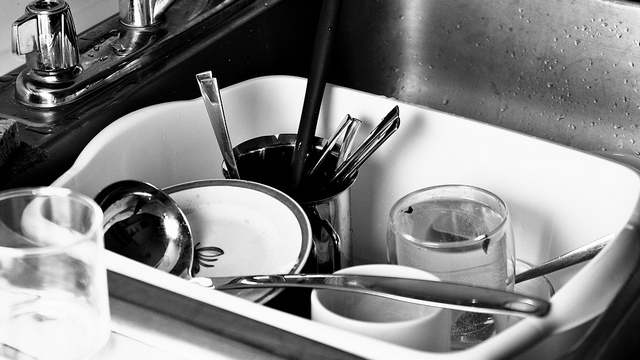 Hiring a complete stranger to take care of someone who means more than just the world to you can be daunting and frightening. I know because I have been raising my son, who is almost a year and a half, without a yaya. Maybe because I am still American in my ways, so entrusting him to a stranger is still a culture shock for me. It doesn't help that my first experience with a yaya lasted for six days. I am now forever traumatized!

I know I am not alone. While I have plenty of girlfriends who have had their yayas for decades now, I also have a lot of friends with yaya horror stories. Here's a tiny preview. (Have a yaya horror story to share? Send us a message in Facebook.)    

In denial 
"One day I asked my yaya to bathe my son who was only 2 years old at the time. A few minutes later, I hear my son screaming from the bathroom. I hurriedly walked in and asked, 'What is going on?!' My yaya responded, 'He's complaining the water is too hot, but it's not!' So I ran my hand through the running water, and was shocked at the water's temperature! My son was crying out of pain the entire time. My blood started to boil as the yaya kept repeating that the water, in her own opinion, was not hot and that my son and I were overreacting."--Anna 

What other parents are reading

Miss Cunning 
"I relied on a yaya to take care of my two kids while I was at work. My kids were only a year apart so I knew they could be a handful. But, apparently, they were better behaved with her -- or so I thought. I later found out that the yaya would leave and lock my daughter in the house (she was 5) while she and my son would go out in the afternoons to chat with other yayas. My daughter couldn't complain because the yaya threated to spank her if she did, and she believed the yaya because she often pinched her arm or the side of her stomach. My husband and I fixed our work schedules, and I never hired a yaya again."--Felicia

Discriminating taste
"My son's first yaya was very picky. She refused to sleep in the maid's room and also refused to use the designated maid's comfort room. Instead, she always insisted she sleep and use the comfort room in my son's room. She wouldn't cook, clean, or do anything else around the house, and there were times when I caught her lying on our bed! At the time, I didn't implement any rule for checking the maid's bags every time they left the house. That was a big mistake. One day when she was out on her day off, I took a peek inside her closet and found there many of the things I was missing!"--Erin

ADVERTISEMENT - CONTINUE READING BELOW

Teenage problem 
"When I was younger my yaya pretended to be 18 years old. One night when the entire family was out, she brought her boyfriend over to the house. I never saw my yaya after that night, and my mom never replaced her. Years later, my mom told me that my yaya had her boyfriend over all night and used my mother's bed. She was also actually 16 years old, not 18."--Masha

What other parents are reading

Accident prone 
"I have a yaya now, and my teen and tween kids are telling me she needs to go. First, there was the 'pagod pa ako' reply when my son kindly asked her to wash the dishes. As far as we know, this was her sole task that morning. Then I asked her to pour the used cooking oil outside and not in the sink since it could cause clogging. I should have been more specific where to throw it outside because she poured the oil on the garage floor. We found out when my husband slid on the oil and fell on his back when he came home. One day she cleaned the floor with soap, but she didn't rinse it with water. My uncle promptly slid on the soap and hurt his back as well."--Verna 
 
Show me the money
"My yaya was with us for about a week when she asked for a cash advance of P1,000 for her daughter's birthday the following week. I lent her the money, and she promptly disappeard without prior notice. The next day, while I was enjoying breakfast wth a few guests, my yaya reappeared and waltzed right in with her daughter, son and grandson in her arms. She was also crying, going on and on about how her mother just died, and she needed more money to buy coffee and flowers for the wake. I calmly told her to use the money I gave her the night before, and I would give her some money for her daughter's birthday next week. She refused. She cried harder and complained, in front of my shocked guests, about how terrible I was for not giving her extra money for her mother's wake. I eventually asked her to leave. And as she was walking out the door, she asked me if I could give her grandson some of my own son's toys."--Rachel 
 
The nudists
"My husband and I were taking our first trip outside the country without the kids, who were 2 and 5 at the time. My mother was to come over and stay with them for the four days we were gone, but I had to leave the kids with our two yayas for the first day. Just for my peace of mind, my husband and I installed nanny cameras in the living room and children's rooms. Once we were settled into our hotel that night, I decided to turn on the nanny cam and review the happenings thus far in our house. To my surprise, I saw both of my yayas walking around our house, butt-naked! I called them right away and asked what was going on. They calmly replied that they did this every night, and it's not like my children were awake to see. I was beyond horrified and forever traumatized!"--Hannah

*Names have been changed to protect privacy.  

CONTINUE READING BELOW

Recommended Videos

P1,500
PHP 1,500.00
PHP 3,000
PHP 3,500.00
PHP 3,500.00
PHP 3,500.00
PHP 3,500.00
PHP 3,000.00
PHP 2,000.00
PHP 2,000.00
PHP 2,000.00
PHP 2,000.00

Celebrate your pregnancy milestones!


Enter your details below and receive weekly email guides on your baby's weight and height in cute illustration of Filipino fruits. PLUS get helpful tips from experts, freebies and more!

You're almost there! Check your inbox.


We sent a verification email. Can't find it? Check your spam, junk, and promotions folder.

Trending in Summit Network