Moms, Here Are 12 Things We REALLY Need to Throw Out

Unless you really have a plan for those undies with loose garters, make the new year you finally toss them out in the garbage.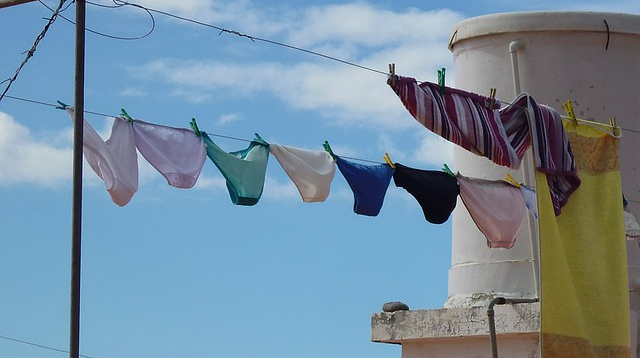 Let's admit it. Somewhere inside every woman's heart lives a pack rat. For some reason, we have this penchant for filling our homes with empty bottles, store paper bags, and all kinds of useless stuff. And we CANNOT seem to bring ourselves to throw them out. We'll leave the psychology of the why to the experts. But, if you really want to detoxify for the new year, we think tossing a few of the junk in this list is a good start. 

1. Your old panties
Let's start with the essentials. Nobody should be going around in underwear with garters too loose or that has holes in them. What's that? Nobody sees them anyway, you say? Well why don't you ask your husband what he honestly thinks about that. Still can't bear to part with them? Put them in a box marked "To open in 20 years." When you're a grandma, you still cannot wear them! Instead recycle them into baby bonnets -- might as well have fun with the apos! Now that's something to think about.

2. Almost empty bottles of shampoo 
Inside every woman's bathroom is a silent army made up of bottles of shampoo, conditioner, and liquid soap. Each one contains just enough for one more wash. Do your shelves a favor by putting them upside down so the liquid drips near the opening. Use them up one by one.

What other parents are reading

3. Pens with no ink
If a tree falls in the forest, does it make a sound? That's a hard question to answer. Easier: If a pen does not write anymore, is it still a pen? No, it's not. It's just junk occupying space on your tabletop. Throw it out!

4. Receipts
On a recent cleaning spree, I discovered rectangular pieces of empty paper in a drawer. It took me a moment to realize what they were: receipts I've kept so long the ink on them had faded to nothing! I did some research and found out that unless it's a big-ticket item on warranty, you can safely get rid of all your receipts on the day of the purchase, especially if you paid in cash. If you paid with a card, you only have to check that you've been billed correctly. Then those receipts can be chucked, too. 

ADVERTISEMENT - CONTINUE READING BELOW

5. Ice cream or yogurt tubs
No, they will not come in handy should aliens come in the middle of the night, and steal all your tabo away in their scientific quest to understand life on earth. Ice cream tubs are, instead, a bittersweet reminder of all the sugar that you ingested this past year, making no. 2 on this list a reality.

What other parents are reading

6. Old gadgets and their accessories
In the same cleaning session, I also realized that I've been keeping a cardboard box full of cables, a couple of dead laptops, and numerous broken phones tucked away in various drawers. I'm keeping my eye on The EWaste Project's Facebook page for opportunities to give these high tech junk away.

7. Old magazines
A.k.a. termite food. A.k.a. fire hazard. Okay, fine, you can keep that copy of Yes! magazine with Alden Richards on the cover. The rest you will have to bring to the neighborhood parlor where they can at least be enjoyed by the titas waiting for their nails to dry. 

8. Old food jars 
I personally re-use bottles for storing spice in the kitchen or for making jam. If you don't cook, though, you will never use them. Give them to a friend who has Martha Stewart aspirations instead.

What other parents are reading

9.  Clothes that are too tight
Ah, hope springs eternal. We all have in our closets those skin tight jeans that has never made it past our upper thighs, at least in the last five years. Take some advice from my mom. When I told her that I intended to exercise my way out of the middle-age spread, she said, "Fat is a destination we all get to." You should enjoy the ride breathing easy in clothes that fit.

ADVERTISEMENT - CONTINUE READING BELOW

Recommended Videos

10. Icky pillows
Check what you're sleeping on at night. If your pillows are so old they're stained and musty, do your health a favor and exchange them for fresh ones. Moldy pillows are not just health hazards -- they're eeew.

11. Broken grocery bags
They stopped giving away free plastic bags at the grocery. Now they're selling us these bags whose straps pop if you put too many canned goods in them. Sigh. Despite your promises to yourself, you'll never get them repaired, so best get rid of them. Invest in more durable bags, and bring those along every time you go shopping.

12. Cans of dry paint
The husband decided to go on a DIY binge and painted the walls all by himself. Bravo! Oh, but he forgot to do the cleanup bit. The leftover paint is now dry in their cans. Alongside are brushes with bristles so hard you can stab your messy husband with them. Forgive and forget, we say. And that's made easy if you ditch the evidence.

Now take out your trash bags, get ready, set…go!

Have anything to add? Let us know in the comments below!

Apol Massebieau blogs about minimalism and the DIY life at La Pomme Living. She runs La Pomme, which hand-makes toys and DIY kits for kids. She is currently based in the Philippines and lives with her husband Pierre and 6-year-old daughter Lilou. 

What other parents are reading




Celebrate your pregnancy milestones!


Enter your details below and receive weekly email guides on your baby's weight and height in cute illustration of Filipino fruits. PLUS get helpful tips from experts, freebies and more!

You're almost there! Check your inbox.


We sent a verification email. Can't find it? Check your spam, junk, and promotions folder.

Trending in Summit Network