'Girls, It IS Possible,' Ad Exec Encourages Daughters to Reach for Their Dreams

She changed her views about gender equality to survive in a male-dominated industry.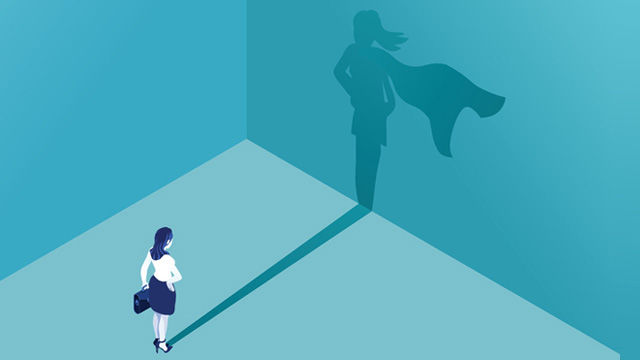 Merlee Cruz-Jayme is the first Filipino to be awarded The Creative of the Year for Southeast Asia in the Campaign Asia Pacific Agency of the Year. Working as a creative for 25 years, she has also been recognized with the Hall of Fame Award from the Creative Guild of the Philippines and the New York Festivals Creative Achievement Award. She is Dentsu Jayme Syfu's "Chairmom" and Chief Creative Officer, and the only woman in the 20 top creative directors in Asia as reported by Campaign Brief Asia this year.

This letter was written by Merlee as part of the book Letters to My Children, a compilation of heartwarming notes penned by personalities for their kids, which was published by Summit Media in 2016.

Dear Isabella, Inez, Sofia, and Sabine,

"I wish you were a teacher in our school. Then you'd be with us every day." This is something you'd tell me when I would come home late for two to three consecutive days. In fact, a week can go by when we don't see each other--you've all left for school by the time I wake up, and you're all fast asleep by the time I come home.

One time, I remember coming home at 3 AM after working on a pitch. Feeling guilty for not spending time with you girls, I forced myself to wake up early just to drive you to school. With a few hours of sleep, I wasn't very alert and had slow reaction time. When I drove back home, a man suddenly entered the car right in front of our gate, and pointed a gun at me point-blank. Thank God I was calm and collected enough to hold his gun away and to slowly leave my car. This made me think that there must be a better way to balance my work and family life.

ADVERTISEMENT - CONTINUE READING BELOW

What other parents are reading

At this time, I was struggling as a copywriter. I was hell-bent on succeeding at home and at work, but this was also the time I felt the most guilt. In fact, the quote "success does not compensate for failure in the home" was and still is my biggest reminder every day.

Since Dad was traveling most of the time, my support family helped immensely. I was so thankful we were living with Lola and Lolo then. Somehow they "covered" for me and took care of all of you. Then, I asked myself, "Is it impossible for me--a woman, a mother--to really succeed in my creative field?" Is it possible for me to be creative enough to come up with brilliant ideas 24/7, take care of four daughters, and survive this manly industry?

It took 25 years of unbelievable energy, courage, passion, and determination to wake up early to attend parent-teacher conferences before work, finish pitch materials until the wee hours of the morning even when I was eight months pregnant, think of new lyrics for a jingle while singing you lullabies., write scripts in the dark while you were asleep in the crib, run to your ballet recitals in between client presentations, write never-ending palanca letters, create campaigns for five different brands in a week, make reviewers for your exams, defend my ideas with the right "reasons to believe," talk to your teachers when you're failing in Math, draw my storyboard for the next day's presentation, talk to you about boys, and later on, start my very own agency.

ADVERTISEMENT - CONTINUE READING BELOW

Recommended Videos

Girls, it is possible. Do not let anything or anyone persuade you that "it can't be done."

What other parents are reading

Through the years, I've discovered that there are two big barriers that keep girls from succeeding. The first is thinking you're "not good enough." Dad and I helped nurture your talents as you were growing up. Each of you has your personality and creative instinct. You just have to believe in yourself, take time to develop your talent, find a great mentor, and patiently work hard to achieve your dream. 

The second barrier is gender inequality. In my 25 years in this industry, I'm still trying to find ways to make women succeed in this masculine-friendly world. I've had my share of sleazy comments and harassment. I've had experiences when men were chosen for a promotion or given nice, big budgeted projects instead of me. To fight back, I never chose the path of self-pity or acted like the victim. I simply changed my view on gender equality.

People think gender equality will help women fulfill all their goals. I think the biggest factor for us to reach our goals is "opportunity equality." We have to keep on breaking that "glass ceiling" to prove to the world that we are just as good or even better. Give us equal opportunity and we will teach differently, but brilliantly. We will solve problems differently, but efficiently. We will fight differently, but bravely. We will lead differently, but greatly. 

To be able to achieve your utmost creativity, enrich your mind every day and expose yourself to all kinds of interesting stuff. Don't accept eveything as it happens. Question it. Be curious. Be restless.

ADVERTISEMENT - CONTINUE READING BELOW

What other parents are reading

Lastly, success in this world is not all about fame and money. It is about having a purpose and contributing something good to others. That is why I'm restless--because I'm afraid to be useless. As you know, I'm a member of a feminist group that protects women and children against violence and abuse. My sisters in GABRIELA mean so much to me. Helping them gives me a higher purpose in life, which is to create a safer and better world for all of you. I hope that one day, you'll also find a cause that's close to your heart. It'll really make you feel fulfilled and a better person. 

I've also put up my agency to create a workplace that respects women and encourages them to succeed as creatives, and more importantly, as mothers. All these pave the way for your future.

This year, I turned 50. Your dad and I are also celebrating our 25th wedding anniversary. I have to give it to your dad--it's never easy being married to a creative, you know. By now, I've achieved half of my bucket list. Thank you for making it all memorable for me!

Love,

Mommy

What other parents are reading

Celebrate your pregnancy milestones!


Enter your details below and receive weekly email guides on your baby's weight and height in cute illustration of Filipino fruits. PLUS get helpful tips from experts, freebies and more!

You're almost there! Check your inbox.


We sent a verification email. Can't find it? Check your spam, junk, and promotions folder.

Trending in Summit Network