Burden to Blessing: Dad Shares How Son's Autism Turned into an Advocacy

Sometimes, what seems to us like a problem is actually a blessing in disguise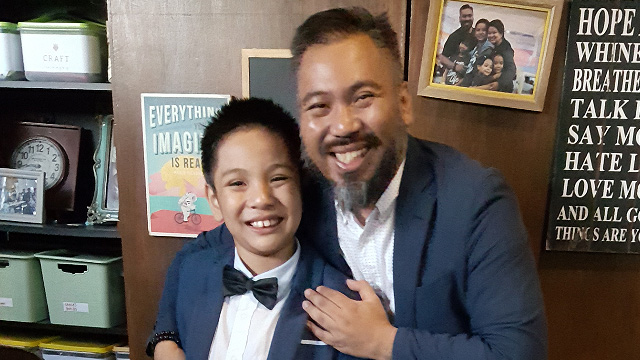 When you encounter challenges or trials in life, how do you usually react? What do you usually think or say? Are you centered enough to see the silver lining in the clouds of your life? Or do you let life's storms overwhelm you?

Whatever your answers may be, you can probably learn a thing or two from Cocoi Javier's inspiring story.

Cocoi and his wife Gay are the proud parents of five children, namely Pablo, Benita, Lourdes, Guadalupe, and Isidro. Cocoi is a missionary of Couples for Christ Foundation for Family and Life (CFCFFL), and the Executive Director of Project Inclusion Network Inc. Gay is also a missionary of CFCFFL.

Their eldest, Pablo, has autism.

What other parents are reading

Finding out

Cocoi remembers their journey towards Pablo's official diagnosis: "After our wedding, Gay and I went on our honeymoon to Europe, where I was assigned as a missionary. We learned she was pregnant just three months after our wedding day. We named our son after Saint Paul, as we dreamed that he would become a missionary."

After spending seven years in Europe, the Javiers returned to the Philippines to continue doing mission work. By that time, their second child had already been born.

They initially stayed with Cocoi's mother, and it was she who first pointed out Pablo's behavior.

"She asked me if I had noticed anything unusual about Pablo," Cocoi shares. "I asked her why she thought that way."

Cocoi's mother proceeded to tell him her observations: Pablo didn't make eye contact and was not responsive when called; he tiptoed, flapped his hands, and did not speak.

ADVERTISEMENT - CONTINUE READING BELOW

Considering their family's move to the Philippines from Europe, Cocoi suggested to his mom that perhaps Pablo was just adjusting to his new environment. She said that he might be right but, for her peace of mind, she still urged Cocoi and Gay to have Pablo checked.

After searching for a developmental pediatrician with a vacant slot, they finally got an appointment. They waited three months, and as Pablo's check-up day approached, they started feeling anxious.

"We went to the doctor's clinic, and in less than five minutes of observing Pablo and asking him to sit and play with toys, the doctor unhesitatingly told us, 'May autism po ang anak niyo,'" Cocoi recalls.

Those six words changed Cocoi's and Gay's lives forever.

What other parents are reading

The need to move on

"I didn't know how to react, but I saw my wife cry instantaneously," Cocoi shares. "She was inconsolable."
For his part, Cocoi felt as if the "whole world had crumbled" and that a heavy burden had suddenly been placed on his back. He also felt anger towards the doctor. 

"I felt like she had instantly judged my son, and her words were like a curse being hurled upon us," he adds. Countless questions filled Cocoi's head back then. The future, especially for their son, seemed so unsure. 

Despite all his questions, worries, and emotions, Cocoi mustered up the courage to move on quickly. "I saw my wife breaking down," he divulges. He realized that it would be more challenging if the two of them would be dragged down by their situation. 

CONTINUE READING BELOW

Recommended Videos

"Someone had to stand firm, to be level-headed and simply move on. I realized that that person was me, so I shrugged off the negative feelings for a while." 

Cocoi proceeded to consult the doctor as to what their next steps should be. Suppressing the feelings of guilt at his son's diagnosis, he knew that his son and his wife both needed him.                                                                                                                                                                                                                                                                 
"Prior to Pablo's diagnosis, the only experience I had with kids with special needs is that our cook in our carienderia has a daughter with Down Syndrome, and she brings her daughter to work most of the time," he shares.

Needless to say, Cocoi and the rest of his family were in for a rollercoaster ride.

What other parents are reading

A new normal

Grappling with their family's seemingly shattered dreams for Pablo, Cocoi and Gay started Pablo on his life of therapies. They researched incessantly and tried every intervention that they could find. 

Their new normal now included special education classes, occupational therapy, and, for Gay particularly, nights of endless crying. 

"She was still devastated. Our family life was in shambles. This was not what we wanted, not what we signed up for when we got married," Cocoi shares. At the time, he and Gay felt as if God had misunderstood their prayers, and that He was "playing" with them.

 

Living with autism for Cocoi and Gay, shown here with son Pablo, has been like a roller coaster ride.

PHOTO BY

courtesy of Cocoi Javier

ADVERTISEMENT - CONTINUE READING BELOW

 

From "why" to "what"

"We know that all things work for good for those who love God, who are called according to His purpose." - Letter of Saint Paul to the Romans, 8:28

This is one of Cocoi's favorite Bible verses, yet he could barely utter it after Pablo''s diagnosis and the subsequent events. "I felt that things were not working well for us," he says. "But the second part [of the verse] about the 'purpose' intrigued me."

The turning point came when Cocoi attended a recollection. "The priest said that sometimes the reason why we never find the answers to our prayers is that we ask the wrong questions," he divulges. "All that time, Gay and I had been asking the Lord, 'Why?' 'Why us?' 'Why autism?' 'Why this burden?'"

Instead, the priest suggested that we should ask the Lord, "What?" "What is Your will?" "What do You want to happen?" "What do You want me to do?"

The priest's words had a great impact on Cocoi, who shared what he had heard with Gay. "That night, we slowly changed our prayers—from "Why, Lord?" to "What, Lord?" he shares.

What other parents are reading

The "what" clarified

After a few weeks, Cocoi discovered the answer to their "What, Lord?" question when he was able to reconnect with a longtime friend, who asked him about Pablo and their experience with autism. 

After sharing their struggles, Cocoi's friend invited him to visit Unilab Foundation and speak to the Executive Director. It just so happened that they were considering starting a project for persons with disabilities!

ADVERTISEMENT - CONTINUE READING BELOW

Thus began Cocoi's new journey with the foundation, which included the opportunity to impact the lives of other families with children with special needs—specifically through "Project Inclusion."

 

The Javiers: Cocoi, Gay, Pablo, Guadalupe, Benita, and Lourdes. The portrait they are holding is of their youngest child Isidro, who passed away 71 days after being born prematurely.

PHOTO BY

courtesy of Cocoi Javier

 

In a nutshell, "Project Inclusion" helps persons with disabilities or PWDs find jobs, starting with those who have developmental and intellectual disabilities. This is because employers usually prefer hiring persons with physical disabilities over those with Down syndrome or autism.  

So, in this way, Pablo's special needs actually became the "seeds" of something greater, something beyond their family's own dreams and goals. In fact, the Javier family's "burden" has become a source of blessings for many families of kids with special needs.

"The greatest achievement is being able to help your brethren, who are really in need," Cocoi shares. "As I was able to go out of my border as a parent and answer my own personal questions, I am able to help other people go beyond their borders as well. And that's the grace of God. When you go out of your border, other people are helped as well."

ADVERTISEMENT - CONTINUE READING BELOW

Celebrate your pregnancy milestones!


Enter your details below and receive weekly email guides on your baby's weight and height in cute illustration of Filipino fruits. PLUS get helpful tips from experts, freebies and more!

You're almost there! Check your inbox.


We sent a verification email. Can't find it? Check your spam, junk, and promotions folder.
Trending in Summit Network