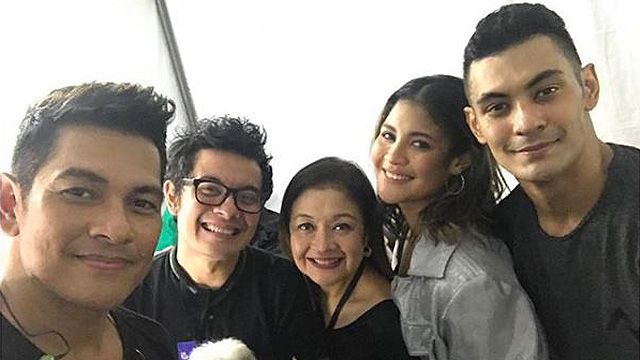 Singer, performer, songwriter, musical arranger and record producer, Gary V's longevity in show business is not by any means a matter of luck. His talent and passion for this craft made him the icon he is, who is celebrating his 35th anniversary in the Philippine music industry this year.
In one of the entries in the book called Letters to my Children, a compilation of personal messages written by parents for their children, Gary puts the spotlight on one very special song he made, which was released in 2008. 
The letter is replete with meaning now moreso, not only because of Father's Day, but also because the 53-year-old Gary, a juvenile diabetic, underwent an emergency open heart surgery just a month ago. Reports say he is recovering well. Below is his letter to his three kids. 
Dearest Paolo, Gab, and Kiana,
The inspiration behind the song "When I Hear You Call" came to me when I first entered a house called the Big Brother House. It was for the show Pinoy Big Brother: Teen Edition 1. When I entered the house, I was faced with the last six housemates. Each of them carried their own back story. A song is not just created to sound good. It's created because of a good back story.
By the time I left the house, I was in tears because I had met these beautiful people including superstars-in-the-making Gerald Anderson and Kim Chiu. So I wrote this song that stems from a father's heart. There's no need to go into detail, but I know you (like yours truly) have suffered some deep pains or wounds. Perhaps from relationships that never flourished into what they should have been.
Human fathers can never really "be there" 24 hours a day. They may often promise that they'd be there, but that is really impossible. However, there's one Father who promised He would never leave  you nor forsake you--and that is your Heavenly Father. I hope this song inspires you to have a stronger relationship with someone you can call a father. You still can. He is waiting for you.

"When I Hear You Call"
When I
Look into those bright eyes
So young
Always so ready to run
Then I 
See your change when fun subsides
And new colors start to arise
There's a hidden picture
That wasn't seen outside
When you run, don't tire
Keep on reaching, higher
Even when the pain and toruble bring you down, sometimes
I will see you through
I'm forever right here with you
Even when you feel you don't need me around
I will be your friend, forever
I will be your one, big brother
Even when I see you fall
I will be your father
When I hear you call
Don't cry
This is not the end, nor goodbye
But begin
To know I'm with you till the end
And when you pray
I will hear every word you say
And so with all my promises made
For one like you
Someone who's especially made
When you run, don't tire
Keep on reaching, higher
Even if the pain and trouble bring you down, sometimes
I will see you through
I'm forever right here with you
Even if you feel you don't need me around
I will be your friend, forever
I will be your one, big brother
Even when I see you fall
I will be your father
Yeah
I will be your friend, forever
I will be your big brother
Even when I see you fall
I will be your father
Yeah
I will be your friend, forever
I will be your big brother
Even when I see you fall
I will be your father
Be your friend, your brother
When I hear you call
Lift you when you fall
When I hear you call
I love you all,
Dad