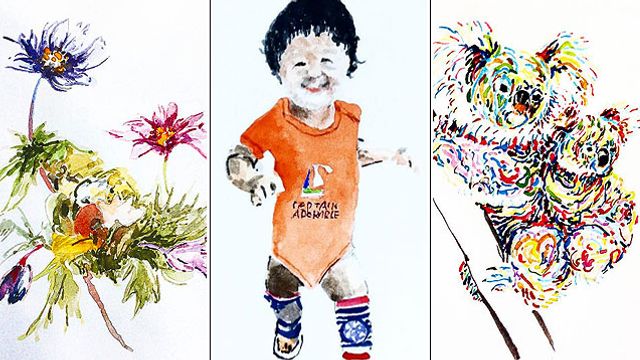 Parents have been worried about the kids' easy access to technology, but one can't deny the perks it brings to families that are separated from their loved ones. Take this inspirational story -- courtesy of the Internet, of course.
Chan Jae Lee, a 75-year-old artist who lives in Brazil, lost his interest in drawing when his grandkids, Arthur and Allan, and their parents (the mom is Chan Jae's daughter) decided to move back to Korea. It worried his New York-based son, Ji Lee, a designer, especially when Chan Jae was spending most of his time watching mindless TV.  So Ji proposed to his dad Chan Jae to create daily drawings that his more techy-savvy wife, also 75 years old and is active in social media, could post them on Intstagram for their grandkids to see.
"He didn't see the purpose of drawing and what's more, he didn't see the meaning of sharing it on Instagram. Eventually, he gave in," Ji told TODAY Parents.

Giving in meant reluctantly drawing a few pieces, but Chan Jae never really got the hang of it. In fact, according to this video Ji posted on Facebook, Chan Jae didn't see the point of doing it. 
Ji's idea for his father didn't really take off until his own son, Astro, was born. Chan Jae visited New York to meet his new grandson, and that's when inspiration struck grandpa. He realized he wouldn't live forever, and he should take every opportunity to let his grandkids feel that he thinks of them often and loves them dearly. If that meant understanding Instagram, then he would draw for his grandkids. 
"He saw a very specific purpose. It's not just drawing for drawing's sake, it's not just sharing for sharing's sake. It's for his grandchildren," Ji said.

Thus, the Drawings for my Grandchildren Instagram account was born where Chan Jae draws and then his wife writes the captions when she posts them on the photo-sharing social media platform. Ji and his sister would translate the captions in English and Portuguese for the kids. Inspired, Chan Jae got his groove back. 
This is his drawing of Astro, who's already running about.
To remind Astro of the time he visited an art gallery as a toddler.
This is his drawing of Arthur who's missing his friends in Brazil.
Arthur once imitated the Brazilian football player Neymar's hairstyle.
This is his drawing of Allan. He likes riding bikes.
Allan was once into Thomas the Train toys.
Chan Jae drew anything he thought of, mostly any scene that reminded him of his grandchildren and signs them "For AAA" -- Arthur and Allan (in Korea) and Astro (in the U.S.). The captions are often addressed to the boys, encouraging conversation and sometimes reminds them of a time or place that had been part of their lives -- the places they used to go to in Brazil, the young ones' hobbies and milestones, and little bits of trivia about the culture of the countries they live in. When you read them you feel lucky that you are witnessing a grandfather pass on his legacy to the newest members of his family through technology.
"Drawings For My Grandchildren" now has more than 165,000 followers, and the family has been receiving messages from around the world, telling them how their inspiring story had touched their lives. Others are encouraging Chan Jae to print and sell his drawings, which Ji is currently working on and discussing with the family on what to do with the proceeds. Of course, they'll use it to buy plane tickets for the Chan Jae to visit the boys. But they also want to donate the rest of the money for a cause, something related to art, kids, or the elderly.

"I want the message to be that anyone can teach their parents or grandparents how to use technology," Ji said. "It can connect the family again." Yes, indeed. 
To see more of Chan Jae Lee's artworks, click here.