Sexually Abused By Her Father as a Child, Woman Finally Finds The Grace To Forgive

One mom shares her story of childhood sexual abuse and how God's grace is healing her.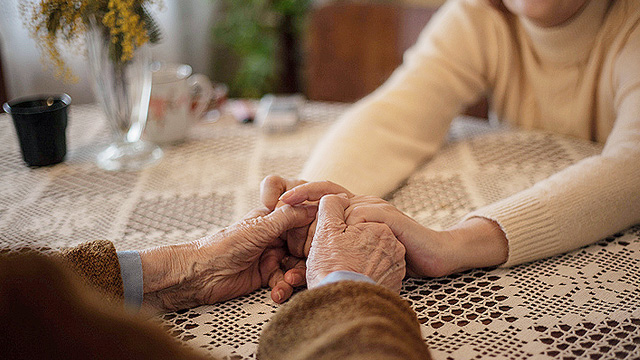 When you first meet Cora (not her real name), you'll probably have the same response as I did: "What a warm, friendly person!" You'll probably find her endearing and a joy to be with.   

Indeed, with a devoted husband and three loving children, serving actively together in their church, Cora would seem to be one of those blessed people who are also blessings to others. You would not see from her lovely, pleasant smile that she harbors a deep, dark secret—one that she has recently brought to light for the sole purpose of "giving back glory to God," as she says. 

You see, Cora suffered sexual abuse as a child.

Her abuser? Her very own flesh and blood—her father. 

"The perfect life" 

"I grew up in a very big family," Cora shares. "Being the youngest, my older siblings were kind of old enough to be my parents. I grew up with their children, my nephews and nieces.

"From the outside, we looked like an ideal big, happy family. We lived in a big house. My friends thought I had the perfect life. They all thought that I was so privileged." If only they had known the truth. 

"When I was 10 years old my father started sexually abusing me," Cora continues. "It lasted until I was 13. The sad thing is, when finally the abuses stopped—when I was brave enough to protect myself—that was when my sister revealed to me—supposedly to warn me—that she was also abused." 

ADVERTISEMENT - CONTINUE READING BELOW

Cora's sister also told her how their other sisters had all been sexually molested by their father. "Some [were] more severe than the others. Each one thought they were singled out. That she was the only victim. They found out they were not alone when a sister read my other sister's diary. Finally finding strength in numbers, they all had the courage to confront my dad," Cora divulges. 

"They also asked him if he also abused the two youngest, that is me and my other sister who is two years older than me. My dad assured them that he did not and promised that he wouldn't. Little did they know that my abuse [had] already started that year and continued." 

Needless to say, the abuse had far-reaching effects on Cora and her sisters. "It affected the way we looked at ourselves, the way we related to our loved ones, and the way I accepted God's love," she says. "It distorted my image of God." 

What other parents are reading

The healing process 

Cora and her sisters found ways to cope and heal in their own individual ways. "Some through therapy, others just tried to move on, mine was in the Catholic Charismatic Renewal," she shares. "When I was renewed in 1994, I thought I was already healed when I surrendered all my pains during my baptism (this is when people are "prayed over" to receive the Holy Spirit). But wanting to make sure that I am truly healed, before getting married, I went for psycho-spiritual counselling. " 

CONTINUE READING BELOW

Recommended Videos

The counselling was a long process, which involved writing to her mother and siblings to let them know how the abuse had affected her, and how they had failed to protect her. Cora also wrote to her father and gave him the letter in person, demanding him to say sorry. 

"At first, he was denying it but my sister who was present rebuked him and asked him to say it to me. I thought hearing him say sorry, even if it wasn't the way I wanted to hear it, was all I needed to hear. I closed that chapter in my life," she recalls. 

What other parents are reading

Wounds reopened 

Cora thought that she had finally put her painful childhood behind her. "I got married and had children. There were moments when I would still feel depressed and insecure but I would try to cope by convincing myself that he already said sorry; I am healed," she says. "After many years of not being in a Charismatic community, the Lord led us back to the community to which we belong until now. We have been very blessed as a family." 

Through the years, Cora's parents and siblings all thought that everything was normal—until last December, when Cora received a phone call that would cause her wounds to open once again. 

"My dad had to be rushed to the hospital because of a broken bone he got from slipping on the floor. He needed to undergo surgery," she shares. 

The call left Cora with mixed emotions and many questions. Who would take care of him? Who would assist him when he would need to use the bathroom? I can't do that! Why would I care for him? He does not deserve to be cared for! He's old na. Let him die! Para hindi na complicated. Wala naman siyang remorse eh, so he doesn't deserve our care. 

ADVERTISEMENT - CONTINUE READING BELOW

The call also caused memories of her abuse to resurface. "I spiraled downwards," Cora divulges. "I cried almost every day. I had difficulty functioning; I thought I was going to have a nervous breakdown." 

Cora's two eldest sisters ended up caring for their father. "I wanted to help them but it was so hard at that time," she confesses. "I kept asking myself, 'Akala ko ba napatawad ko na?'"

What other parents are reading

A Christmas message 

It was a Christmas Eve homily that helped Cora face all her feelings and memories. 

"The priest said Jesus came to save us all; salvation was for everyone," she shares. "Napaisip ako. Jesus came to save us all, to bring God's love, forgiveness and mercy to all. "So I went [to the hospital]. Pilit na pilit. Pero after that visit, when he went home to my sister's house, he was still bedridden needing therapy to be able to walk again. I remained apathetic. I did not visit nor check on him. I felt I [already] did my part." 

But two weeks after her father's discharge, Cora faced a similar situation. Her dad was rushed to the hospital again because his organs were failing. Her only thought: "Ayan na naman. Who will care for him?" Cora's sisters who had cared for him the first time around couldn't do so. "One was having a nervous breakdown, a recurring episode (an effect of the abuse). Plus, her husband was also in the hospital. My other sister had a serious fight with my Mama," she explains. Thankfully, their nephews and nieces filled in for them.

ADVERTISEMENT - CONTINUE READING BELOW

What other parents are reading

Dealing with the hurt 

Cora and her sisters knew that they had to come to terms with what had happened to them. "We all thought okay na kami. But the reality of having to physically care for your abuser, we were all not prepared for that," she says. "My sisters in other countries felt my anguish and because we were all told that Daddy's organs were failing, three of them came home." 

Cora found herself rebelling towards God. "Sabi ko, 'Akala ko ba na-heal Mo na ako. Why am I feeling this? Akala ko ba napatawad ko na? Bakit galit na galit pa din ako?'" She admits she just wanted to walk away from it all. "But God's voice was clear kahit na I refused to accept. 'Forgive us our sins as we forgive those who sin against us.' Ang hirap tanggapin!" 

Be merciful 

But Cora was reminded of the Corporal Works of Mercy, one of the teachings of the Catholic Church."Visit the imprisoned. It didn't say 'Visit the innocent imprisoned.' So the call was to visit them guilty or innocent," she shares. Around the same time, Cora started doing the "33 Days to Morning Glory: A Do-It-Yourself Retreat In Preparation for Marian Consecration." 

"I felt Mama Mary's loving presence, her intercession in my struggles," she says. "Through the readings and reflections, I had to face God's truths." Even if she wanted to choose to be apathetic, Cora knew that God was calling her to bring His love, mercy, and compassion to her father. She and her sisters ended up sharing their struggles with one another, surrendering their hurts, and choosing to forgive. 

ADVERTISEMENT - CONTINUE READING BELOW

"It was a long process," she recalls. "Many nights of threshing out my hurts, processing with my husband who is also struggling with forgiving Daddy. 'Where is God in all this?' He is with me the whole time." 

What other parents are reading

God is always with us 

Cora shares how God guided her to accompany her Ate outside the ICU where their father was, then to finally go inside, stay longer, and then pray over him and help dress his wounds. "At one point, when my sisters and I were praying over him, I told him I forgive him. Then there were tears in his eyes," she remembers. Cora admits that it is only the grace of God that transformed her from being so angry and hurt to having "only love" for her dad, and a "desire that he be reunited with God in heaven." 

She says that her biggest realization was that it's not her father's 'sorry' that was the source of healing—it's in the grace that God provided. "The grace to take the step to forgive," she explains. "It  wasn't necessary for me to hear him saying sorry. I found healing in taking the steps God led me to do, to choose to forgive and release him from affecting my life."

"God gave me the grace to forgive fully," she adds. "I may not have a perfect father here on earth but I have a perfect Father who has a perfect plan for me. My abuse may not be part of His plan but I remember Romans 8:28. 'We know that in all things God works for good with those who love him, those whom he has called according to his purpose.'

ADVERTISEMENT - CONTINUE READING BELOW

What other parents are reading

It was a difficult and painful process and I had to rely fully on Him to overcome this part of my journey. His grace and consolation are undeniable." 

Cora's father is no longer in the ICU but he is still in the hospital. "I haven't visited him for quite some time, not because I am angry again but because our family dynamics is really complicated," she shares. 

"There is still so much hurting and misunderstanding," Cora adds. "But I am confident that in the same way that God provided the grace to heal me through forgiveness, He would do the same thing to the rest of my family. Whatever happens, I have surrendered Daddy to God, and my only prayer is for him to desire to be completely reconciled with God, our loving Father in heaven."  

God loves you . . . and your kids! 

To end, Cora invites the parents who are reading this to reflect on their faith and how much God loves them—and their children. 

"We all have different faith journeys. Same thing with our children. They will have their own," she explains.

"Because of my abuse, I tend to be so fearful and protective of them to the point of [being] controlling. But then I remind myself that our God loves them so much more than I do. I pray for their protection a lot and I also pray that in everything they do, they experience the love of God.

"I also have to remember that my relationship with them may affect how they view God's love. So I have to always to remember to ask for God's grace to mirror His unconditional, forgiving, and stubborn love to them."

ADVERTISEMENT - CONTINUE READING BELOW

Celebrate your pregnancy milestones!


Enter your details below and receive weekly email guides on your baby's weight and height in cute illustration of Filipino fruits. PLUS get helpful tips from experts, freebies and more!

You're almost there! Check your inbox.


We sent a verification email. Can't find it? Check your spam, junk, and promotions folder.
Trending in Summit Network