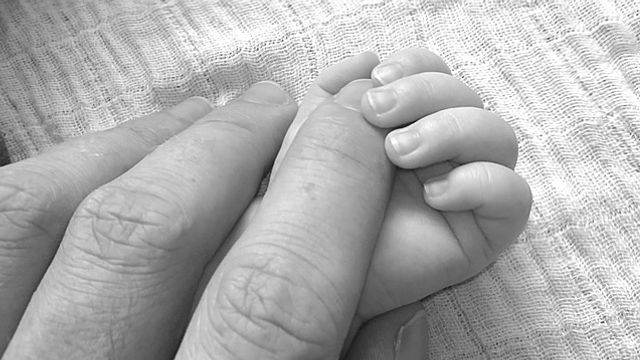 Earlier this December, we shared the beautiful continuation of the story of the Courageous Caitie family -- dad Jayjay Lucas, mom Feliz and son Ethan. Feliz was pregnant, and it turned out her due date was on the same day Caitie was diagnosed with the rare blood disease that took her away from her family. 

"March 5 was the day we hated most because it was the day the doctors in Singapore brought the news that Caitie was confirmed to have JMML. We almost turned our back on God," a post read on the Courageous Caitie Facebook page. "When we found out we were expecting, our OB checked the fetus and casually told us that the expected delivery date is March 5. We just cried. What are the chances right? Only God can replace pain with much joy."
We posted the story on Facebook, and soon moms started sharing their stories of hope in the comments section (see them here) as well. They're filled with such courage and inspiration we felt they should be shared, edited and condensed here for clarity. (If you have a story you would like to share with us, send it to us via Facebook Messages.)  

Ela F. Suico: "Kapag may nawala may kapalit"  
I also had an experience last 2014. I got pregnant on October 2013, my third pregnancy. But when I reached the eight month of my pregnancy, my ob-gyn found out my baby had no heartbeat. I really cried. I had to undergo a C-section. It was hard, and we were very sad. Together with my husband who was at Saudi at the time, I prayed and accepted what happened. Then last December 2015, we found out that I was pregnant again. Thank God He gave us another boy. Kaya if para sa atin talaga, ibibigay Niya. 
Jo Villamiel Aclan: Grateful
After six years of waiting, I gave birth to a beautiful and healthy baby girl on July 17, 2011. But we lost her last February 3, 2016. It has been a roller coaster of emotions since then. But I never questioned God. I know in His perfect time, He will bless us with another child. I will be forever grateful Lord.  
Pia Yap Maestrecampo: Trusting God's plan
My due date was December 5, but I went into preterm labor in August. I lost my baby 2 hours after my delivery. The second time I got pregnant I knew God must be the master of my life. My due date again fell on December 5. I was so scared that the same thing would happen again. But the way I see it God was rewriting the story of my pregnancy and motherhood. I gave birth to a healthy baby. God knows what is best, and only in His perfect timing will He heal our broken hearts and replace what has been lost.

Penélopé Duran Rull: The gift
After two consecutive miscarriages, I was becoming hopeless, but my husband would always reassure me that everything had its reason, and only God knows why. When I finally got pregnant, I had to give birth to her eight months into my pregnancy. She was rushed to the NICU, and it was touch and go for one and a half months because of health complications. When we brought her home, she weighed only 1.2 kg. But now, by the grace of God, she is growing to be a healthy baby. We named her Jehanna, which means "God's Gift." 

Teresa Morales-Lao: Despite the odds
They warned me that getting pregnant with APAS (Antiphospholipid antibody syndrome) was hard and that Lymphocyte Immunization Therapy or LIT was very painful. They told me about the drugs and treatment that I needed to take and undergo in case I got pregnant. I shrugged all of those warnings. After four miscarriages, I got pregnant again and had to undergo caesarian delivery without a full dose of anesthesia. Our miracle baby fought for his life in the NICU for ten days. Aside from sleepless nights, they warned me of the pain of exclusively breastfeeding during recovery. We are thankful for 2016.