This Student With Asperger's Syndrome Delivered a Powerful Graduation Speech

"I am not the best, but I am good enough."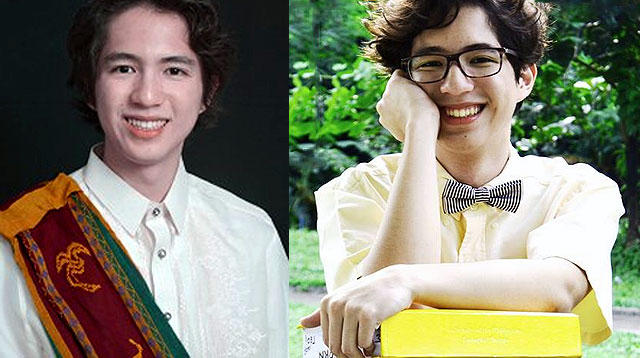 Parents often look forward to their children's graduation as the ultimate reward for their sacrifices while putting their child through school. To be able to say "Nakapagpatapos ka na, anak" is always accompanied by relief and pride. But, if we were the parents of Isaiah Paolo Atienza Lee, we would be beside ourselves with pride, yes, but also with joy and amazement after he delivered what The Philippines Star columnist and award-winning writer Butch Dalisay calls the "best student speech ever."  

Based on what he said in his graduation speech, Pao, as family and friends call him, embodies the values all parents aspire to instill in their child when they grow up. As you will read below, not only is he smart--he graduated summa cum laude with a degree in Molecular Biology--but Pao understands how humility, compassion, and resilience lead to a life of honor and excellence. The teen also has quite a sense of humor. 

Here's what we can all learn from this guy.  

Don't give up--ask for help if needed.
Pao almost got kicked out of the Univeristy of the Philippines (UP) in his first year of college. "I wasn't even bad at the class. I just had a habit of scribbling on my forearm during exams, which was—in hindsight, understandably— interpreted as cheating." 

Soon after, he was diagnosed with Asperger's syndrome, but he didn't let his condition stop him from pursuing his dream. "I didn't fail the class, I didn't get dismissed from UP, and I didn't jump off a bridge. I could have, but I didn't." He got help and persevered. 

ADVERTISEMENT - CONTINUE READING BELOW

What other parents are reading
Excellence does not equal being the best.
Society has always singled out the best students primed for success. But it's the "ordinary" people who contribute to the success of the many in their own little ways. As Pao beautifully puts it, "[We] pin all the country's hopes on them, leaving the rest of us to wonder what we're supposed to do. The truth people have difficulty wrangling with is that not only do we not need a messiah, messiahs cannot solve our problems. This country just needs honor and excellence from every single one of us, every single day. Whatever it is you do, do it well, and do it for the people."

Be different and be your own role model.
Pao encourages his fellow graduates to celebrate a person's uniqueness and individuality. "We often look to larger-than-life figures to celebrate honor and excellence, from Miss Universe to near-perfect-GWA graduates. I'm not saying it's wrong to do so, but I believe the first place to seek it is within ourselves," he said.

What other parents are reading
Treat everyone with respect.  
One of our favorite parts of his speech is when Pao talked about manners, being mindful of others, and treating people as equals, not inferiors.

"Are you just thinking of going to UP Town Center for a celebratory dinner after this is done? You might have a hard time parking because, wow, that is a lot of people. Don't hog the disabled parking spaces. You might be hungry because the ceremony was too long and parking was nigh impossible because you left the wheelchair spots alone. Be nice to your waiters. They have names. Address them by name, follow up your orders without snapping at them, and say thank you the way you would like to be thanked for doing a good job. That is honor and excellence."

Work hard--and do it well.  
Pao had this beautiful message for his fellow graduates on diligence and service. 

"Are you going to do anything at all in your life? Whatever it is, do it well, and do it for the people. Do it well if doing it well is clocking in 70 hours a week at a world-class research institution. Do it well even if doing it well is just staying awake for five more minutes to finish a chapter or a boring lecture. Do it well when it matters, and do it well even when it doesn't.

"And do it for the people. Do it for the people even if you don't like the people. Do it for the marginalized even when they don't appreciate it. Do it for the privileged even when they cause Katipunan traffic. Do it for the people whether the person in question is a drug addict in the emergency room or your waiter at UP Town Center or a stranger on the internet or even just yourself, because it's not about the gratitude, or the credit, or the reward, but about the people, and the work." 

Good relationships trump everything. 
"You might not make it to the newspaper's front page, but you can make it to your mom's proud parent Facebook post" is another favorite part of his speech. 

"The unphotogenic, non-headline-grabbing, narratively-unsupported fact is that large-scale change happens in fits and bursts and stops, and often on a scale you can't see with an electron microscope. We hold ourselves up to unreasonable standards and are subsequently disappointed most of the time, when what matters is the work we do in increments, the lab hours that we log, and the people we encounter." 

It is okay to be good enough. 
We laughed out loud when Pao talked about about his graduating class' valedictorian.  

"Our valedictorian is Mao Leung. He has a weighted average of 1.0375 and a girlfriend. I do not have a weighted average of 1.0375, and most of you won't either. I'm not going to talk about who doesn't have a girlfriend, because this is supposed to be a happy occasion. Mao Leung is a great guy, but we can't all be like him, and that's okay."

ADVERTISEMENT - CONTINUE READING BELOW
Recommended Videos
But it was how he ended his speech that got us teary-eyed. 

"I am not the best, but I am good enough, I am not the brightest, but I am a UP graduate, and I am not your valedictorian, but I am going to tell you all to go out there and show the world what we've got."

Read the full text of his speech here. 
What other parents are reading
Celebrate your pregnancy milestones!

Enter your details below and receive weekly email guides on your baby's weight and height in cute illustration of Filipino fruits. PLUS get helpful tips from experts, freebies and more!
You're almost there! Check your inbox.

We sent a verification email. Can't find it? Check your spam, junk, and promotions folder.

Trending in Summit Network