What I Am Most Grateful For in 2016

We chose the best among those who sent us messages. Here are the most inspiring of them all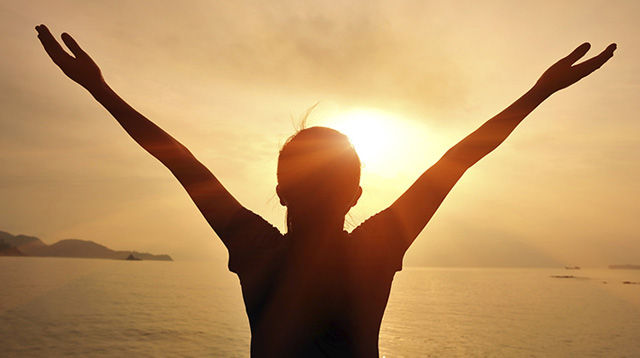 "Before this year ended, we were able to move to our new home, and, as part of giving back, we (as a family) participated in our friend's birthday/outreach program with the indigenous Aetas and their families. We hope to instill in our young girls' minds that it is in giving that we learn to appreciate and share what we have."
- Tin Parallag, 32, mom of Martina Khloe, 9, Marthena Khelsea, 6 and Marthine Khylie, 3

"It's a second-chance on love for me this year, slowly building a good relationship with my boyfriend after being a single mother for some time. Even with the differences, I'm thankful for his patience, maturity and his love for my daughter, as captured in these photos."
- Lory Espia, 34, mother of Isaiah Lorean, 8

ADVERTISEMENT - CONTINUE READING BELOW

"2016 has been really good to us. My daughter learned how to ride her bike and it's an achievement for both of us, ako bilang taga-turo at sya bilang learner."
- Louise Ann Sempio, 23, mother of Halley, 3

"It was a well-spent Saturday with my Little Doll and my hubby at Manila Ocean Park last November when we had a short vacation in Manila and a few days left for us to spend with my husband before he returns to work. Grateful to have a rare, intimate family time."
- Janyne Grace Denore, 24, mom of Kiendra Mignonette, 1

CONTINUE READING BELOW

Recommended Videos

"After a year of hard work, my son got the most number of special awards! First honor, Best in Math, and Best in English. This blessing came March of this year.  Im so proud of my son, kahit maaga ako naging nanay sobrang saya na may matalino at mabuti akong anak!"
- Marisol Gonzales, 23, mom of Arthur Daniel, 6

"I had one more semester left to finish college when I got pregnant. All thanks to Him who heard my prayers, I was able to finish college and fulfill my parents' wish even with a little munchkin who made my life more wonderful and complete."
- Louella Angelica C. Manuel, 20, mom of Aerys Dmitri, 11 months



ADVERTISEMENT - CONTINUE READING BELOW

"The most precious and special gift I ever had and was worth fighting for for almost 22 hours of pain in delivery room. A wonderful feeling blooms inside me seeing my precious little boy healthy. His cries felt  like music into my ears."
- Dina Grace Vallejo Revillas, 25, first-time mom to Dylan Anthony, 3 weeks old



"Im grateful that I have survived my first year as a breastfeeding mom. I did not experience labor pain when I gave birth because I had a scheduled CS due to complete breech presentation of the baby. Pero yung pain na nae-experience ko while breastfeeding really kills me!"
- Ann Ancheta, 30, mom of Ysabelle Luanne, 1

ADVERTISEMENT - CONTINUE READING BELOW

"What I am grateful for in 2016 in numbers: 20 years of blissful marriage, 15 years of service to help marginalized children, 3 wonderful kids, 3 great siblings, 1 kind mother, 1 loving husband, 1 happy home, and 365 days I got to wake up and enjoy life and God's unending love and blessings."
- Riel Santos-Andaluz, officer at Save The Children, mom to Chrel, Johann, and Mia


"I am so grateful to have these boys in my life, first and foremost yung baby na wala nang pag-asang mabuhay at sobrang kritikal na nung 2 months akong preggy, and I believe he's a survivor."
- Arcie Joice Cuenco, 19, mother of Arkene Shadrach, 8 months old



ADVERTISEMENT - CONTINUE READING BELOW

"We finally have a priest in our family, yahoo! After years of waiting, my cousin kuya Stephen is now officially Father Stephen! Never kasi nagkaroon ng pari sa clan namin. The whole clan had been praying for one ever since. So when he was ordained, we travelled from Bicol to Quezon City just to be with him."
- Mommy Vinness, 30, mom to Tiffany, 11, and Trife, 9



"Bago matapos ang taon na ito, nabuo kaming pamilya, umuwi galing sa U.S. ang daddy ng baby ko at nagkaayos ulit kami. This year has made me stronger and made me realize that God is always with me."
- Jay-Anne Gipit, 20, with partner Raven Go, 23, and daughter Chelsea, 1



ADVERTISEMENT - CONTINUE READING BELOW

"This was when my son was starting to learn how to crawl and sit. Our little captain has been giving us so much happiness and love. Everyday has become special to us since he came, and every month that comes is a miracle."
- Rhusselle del Rosario, 22, mom of Red Carlisle, 9 months

"Mahirap ang long-distance relationship kapag  nasa barko ang asawa at mas mahirap ang maging nanay at tatay sa bahay. Thankful ako na kahit sandaling oras lang ang bakasyon, parang ang tagal ng katumbas na panahon lalo na ang mga adventure namin."
- Princess J. Raya, 23, mom of Francess Sophiah, 1

ADVERTISEMENT - CONTINUE READING BELOW

"I am grateful for being an active member of our church community dahil ito ay nagsilbing daan para mabasbasan sa simbahan ang aming pagsasama after 9 years of being civilly married. I'm thankful for the new family I found in the Couples for Christ community who continuously helps us grow our relationship with God."
- Rosenelle G. Tajanlangit, 33, mother of Rexelle Leiann, 9, and Reanne Leuise, 3



"Inspired by the ballet recital we watched at the mall, my daughter wanted to enroll in a ballet class this year. Because of it, she gained more patience, confidence and self-discipline. She now wants to pursue a kiddie-career as a ballerina."
- Hope Javier- Joson, 32, mom of Gabbie, 6



ADVERTISEMENT - CONTINUE READING BELOW

"I'm thankful to God that as a family we were able to go on our first international trip to Hongkong Disneyland. We also were able to celebrate my son's 3rd birthday at our new condo. Unknown to him, I was the person inside the Mickey Mouse mascot costume, and I danced and endured the claustrophobic heat, all for the love and enjoyment of my son and our family. Nagulat siya when I revealed myself as the mascot."  
- Avegirl Perez-Limjap, mommy of Prince Immanuel, 3




"As a mom living in a foreign country, I am grateful for the time shared with me by friends and family whenever we come home for a short vacation; for abundance in nourishment for both the physical and the spiritual, and memories created by simple adventures and pleasures in life."
- Mommy Genevieve, mom to Maximus



ADVERTISEMENT - CONTINUE READING BELOW

"It was just a dream for me to see Mayon Volcano when I was little, and I would just see this on postcards. My husband made it all possible last October! Twenty hours on the road but my baby was such a trooper, she didn't even sleep for this trip. In our first long drive with this little munchkin, I must say we survived!"
- Claudette Carina B. Sulit, 22, mom of Carielle Mikhailla, 9 months 

"I am thankful for each milestone I celebrate with my family. For 2016, it's when my daughter got her break for a role in a primetime TV show. For my son,  who is now the captain for their school's1 basketball varsity team. Their achievement fuels me in everything I do, i am grateful that i am witnessing their success and for letting them discover who they want to be."
- Sherryl Mae Ilano, 31, mom to Elia, 6, and Ximone, 11

ADVERTISEMENT - CONTINUE READING BELOW

"Our staycation to celebrate my husband's birthday at  Sol Y Viento was a blast. The natural hot spring jacuzzi, said to be miraculous, is exactly what hubby and I needed. I'm truly thankful for this fruit of our hard work."
- Ma. Yvette Heart Calimlim, mom of Yuri Andres, 7, Diana Heart, 6 and Yvan, 4

ADVERTISEMENT - CONTINUE READING BELOW

"A good cup of coffee at a nice quiet cafe to start my day. I'm grateful for that me-time to pray, read, write, or study while enjoying  yummy coffee made with love and care."
- Karen Magan-Refamonte, 35, wife of Renante, 35, mom of Nathan Zamil, 4, and Mia Adeliz, 1



"It was a pleasant surprise to bear twins 10 years after our eldest was born. Now a single mom, I am grateful for having a supportive network of family and friends, especially my parents who help me raise my daughters. Maraming box dito hilig nila magtatago sa loob o hihiga sila. My twins and their antics remind me of how good God is to me."
- Evelyn Flores, 33, mom of twins Edrei Kaelyn & Edrea Kaelyn, 1

ADVERTISEMENT - CONTINUE READING BELOW

"I'm grateful for the experience of working with Japanese actors on a documentary shoot here in the Philippines. In my own way, I got to be an Ambassadress, showing the beauty of our countryside and earning their admiration."
- Veicha Denise Clemente, 23, mom of  Vaughn Raphael, 2

"Our salon visit last March was not for a regular haircut. We call it the "sacrifice haircut", where my girls donated their hair to the "Cuts Against Cancer" project of Papelmelroti to help make wigs for chemotherapy patients. Blessings should not end with just being grateful. My kids have learned to pay it forward."
- Iris Rebao Pulga, 36, mom to Yona, 11, and Lana, 5

ADVERTISEMENT - CONTINUE READING BELOW

"This year has been filled with challenges after I left my corporate work to be a work-at-home mom. But with these two by my side (and next year there will be three of them!), I now look forward to life's challenges as an opportunity to grow in faith and to be the bolder, braver and stronger woman that my family needs me to be."
- Michelle Deveza-Adriano, 24, mom to Gabriel Zidane, 19 months

"I am very grateful that my daughter fell in love with archery. She started the sport as a hobby and now trains to compete with other archers nationally, even winning medals this year. This sport helps to keep her time away from gadgets and TV too."
- Christine Arteta, 35, mom to Avienda, 10

ADVERTISEMENT - CONTINUE READING BELOW

"My daughter Sophie has Cockayne Syndrome, and it was a very sad moment for us to have her confined at the hospital on her birthday instead of having cake and ice cream at home. When the staff of St. Luke's Global learned that it's her 7th birthday, they gave her a balloon and everybody greeted her. I am grateful for the simple kindness of other people that made our difficult circumstance bearable."
- Vanessa Salosagcol, 30, mom to Sophie, 7, and Ellie, 4

"This year I've discovered yoga, which is my way of de-stressing. I got inspired to get into yoga by other moms who are able to multi-task. It makes me feel good and stronger after each session. Yoga relaxes me, and at the same time I get to exercise too, which is good for my body."
- Daniel Kaity Bato, 29, mom of MigMig, 6, and Miro, 2

ADVERTISEMENT - CONTINUE READING BELOW

"We are thankful for 2016 because this is the year that God answered our ultimate prayer. We have been trying to conceive since 2012, and I am currently on my 34th week of pregnancy."
- Maan Castro, 33



"What I am most  thankful for this year is that God sustained us physically, emotionally, and financially. We have been through ups and down in our relationship and there are lot of hits and misses in our careers. Had we relied on ourselves, we would definitely be lost and incomplete. Our family is still here for each other and we will end this year with a new job with better benefits and compensation. I can really say that we are blessed and highly favored. God is always there to help us and in times that wehave nowhere to go, His grace finds ways to sustain us."
- Roxane Cabile-Montierro, 33, mom to Xandrea Cayenne, 3



ADVERTISEMENT - CONTINUE READING BELOW

Celebrate your pregnancy milestones!


Enter your details below and receive weekly email guides on your baby's weight and height in cute illustration of Filipino fruits. PLUS get helpful tips from experts, freebies and more!

You're almost there! Check your inbox.


We sent a verification email. Can't find it? Check your spam, junk, and promotions folder.
Trending in Summit Network