10 Habits of Couples Who Stay Together

Is it possible to stay in love with your partner all the time?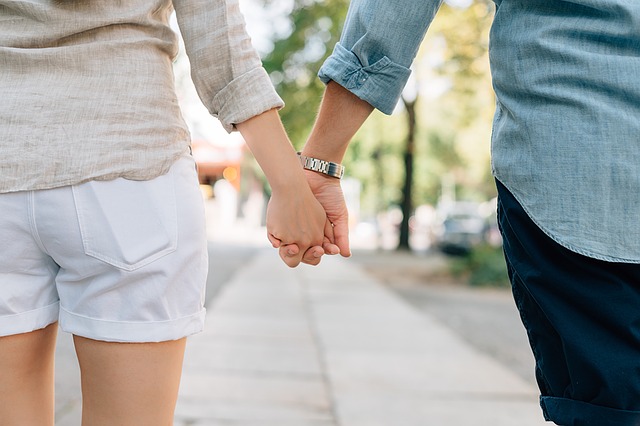 Photo from excellenceresorts.com

It's the season of love once again and there's no better way to celebrate this than to share moments with your spouse. But what if your relationship isn't as warm as it used to be?  

There comes a time in our married life when the honeymoon phase ends and we have to deal with the challenges of staying together. As you face the realities of raising a family, you will discover that it's quite tough to be "in love" all the time.  Sometimes, you'll even wonder if your spouse is still the same person you married years ago.  

Anna F. Esperanza, a Professional Career, Family and Life Pastoral Counselor at HCo Career Life Management Consulting and a Member of the American Counseling Association, cites a number of factors why married couples grow apart. One of them is living in secrecy, which happens when we "lack transparency in the relationship, withhold information, hide emotions, and cover maladaptive behaviors". According to Anna, these will eventually result in building up of emotional walls between spouses in the course of time, which becomes quite difficult to break.

What other parents are reading

According to Esperanza, who also regularly facilitates Marriage Preparation Programs for the Center for Family Ministries (CEFAM) at the Ateneo De Manila, some couples get overwhelmed with responsibilities that they forget to have fun and simply be with each other to nurture their relationship. "The lack of relational relationship may develop into feelings of abandonment and resentment among couples and sometimes leads them to seek intimacy outside of marriage," she expounds. Other factors may be linked to unmet needs, difference in values, priorities, and perspectives, as well as having unclear life and family direction. "When a couple's relationship is not anchored on a purpose, they tend to feel "lost" as to what direction they should take."

But being in a relationship for a long period of time shouldn't cause you to grow apart. But, you may ask, how is that even possible? The challenge is in finding new ways to grow together once again. It's not so much about going back to how it was before; rather, it's about moving forward, creating new memories, and building something new out of what you have both become through the years.

How do couples manage to stay together for a long time without losing the fire in them? Here are a few things they have in common:

1. They relive moments spent with each other.  
It always feels good to look back and reminisce the things you used to do as a couple before you got married -- your favorite activities, where you first met, or had your first date. Some even keep a collection of memorabilia of these moments. Memories are treasures you can keep for a lifetime most especially is these will remind you of that feeling you had when you first fell in love. Share these great memories with your family as well, as these will be your foundation.  

2. They are aware of the power of touch.
Never underestimate the power of touch -- a simple pat on the back to appreciate your partner's efforts or a hug whenever he feels stressed out and tired, will definitely take your relationship to a higher level. Being physically affectionate with your spouse strengthens emotional well-being.

ADVERTISEMENT - CONTINUE READING BELOW

What other parents are reading

3. They create new couple traditions.
Perhaps you and your partner already have your regular couple activities and routines but it is also healthy to start new ones together. Discover a new hobby or go to a place you've never been to.  Come up with a whole new "bucket list" for you and your spouse which you can look forward to trying out together.  Step out of your comfort zones. Discovering new things together can breathe new life into your marriage.

4. They are generous with compliments for their partner.
Tell your wife how beautiful she looked in that dress or affirm your husband for a job well-done at work. Words, like touch, are also important in strengthening your bond as a couple. Be sure to let your partner know how much you appreciate him and how good he makes you feel. Being open and vocal about how you feel towards your partner will constantly remind you that you have such a wonderful person in your life.  

5. They are open to each other.
Share secrets with your spouse, and be open. Make your partner feel how much you trust him by letting him in on things you wouldn't otherwise share with anyone else. Says Anna, "In most cases, couples separate not because of the "secret" itself, but the lack of trust to share it".

What other parents are reading

6. They know when it's time to put their gadgets away.
Spend uninterrupted couple time by keeping distractions like your mobile phones or laptop away. Set times when you can be a hundred percent available to your spouse, like mealtimes and the hours leading to bedtime. Communication is very important to keep a healthy relationship.   

7. They make time for couple time.
Having couple time will allow you to focus on each other, rediscover your partner in a different light, and to listen. Having this will renew your ties and rediscover your love for one another.   

8. They listen more, talk less.
By being a good listener, you will have the opportunity to build up trust and confidence in each other. Listening enables your partner to be more open and honest and at the same time, more secured in your relationship. Plus, the more your listen, the easier it will be for you to balance issues, see things from your partner's perspective, and gain positive insights about your partner.

CONTINUE READING BELOW

Recommended Videos

What other parents are reading

9. They are spontaneous.
Sometimes, long-term relationships tend to become too predictable and boring. Add a touch of excitement and fun into your marriage by doing something unexpected like surprising your spouse with a treat for no reason at all, go old-school by writing a poem or giving a handwritten note, take your partner on a romantic date without telling him all the details. Be spontaneous at times and go beyond your usual routines. Infuse your relationship with the random, unexpected surprises to keep the passion and the anticipation alive.

10. They are each other's best friend.
Friendship is a good foundation to building a long, lasting relationship. As you nourish this friendship, you will be comfortable just being yourself with one another. By treating each other as friends, you will also grow to appreciate the value of your partner in your life. And just like any friendship, there's always room for forgiveness so together you can both move forward in cultivating your love and relationship.  

In conclusion, Esperanza shares this piece of advice: "Evolve and grow with your partner. The only thing constant is change. Day-to-day, gradually, our personhood changes. Do not get stuck on what you used to be as a couple or keep on holding on to who your partner was when you first met." Let love not be just a feeling, but an everyday decision to fall in love over and over again.  

Celebrate your pregnancy milestones!


Enter your details below and receive weekly email guides on your baby's weight and height in cute illustration of Filipino fruits. PLUS get helpful tips from experts, freebies and more!

You're almost there! Check your inbox.


We sent a verification email. Can't find it? Check your spam, junk, and promotions folder.

Trending in Summit Network