5 Types of "Momsters-in-law" -- and How To Deal

Real moms-in-law weigh in on how to deal with them -- after all, they were once daughters-in-law, too!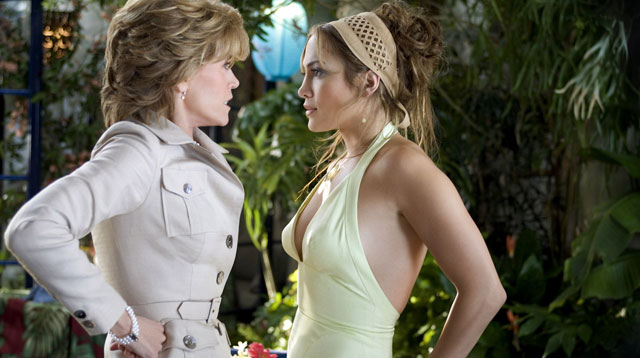 Photo from amcnetworks.es

They say that a castle has only one room for a queen, so that's why chaos ensue when you put two women under the same roof -- moreso if they are two women vying for the attention of one man. Yes, mothers-in-law (MIL) are a tricky business, because when you married your husband, he was already attached to another woman: his mom. 

If you find yourself facing-off with your "momster-in-law", don't worry -- it could only be a phase. Otherwise, heed the advice of these real-life moms-in-law whom we asked to weigh in on typical (or stereotypical) types of MILs and dish out advice on how best to handle them. After all, they were once daughters-in-law, too (like you!)! 

First, meet the panel: 

Emy Beltran, retired banker, mom to four sons, MIL to her firstborn son Miko's wife Maita Cuyegkeng-Beltran, and first time lola to Mika.
"[To my fellow mothers-in-law], never compete for your son's love and attention. You must accept and even encourage that the moment your son is married, you become dotted lines. As they say, a daughter is a daughter for life, a son you lose to a wife."

Vera Tensuan, retired entrepreneur, mom of six, and newly-minted MIL to her first DIL Marian del Rosario-Tensuan. 
"I think new brides should see their MILs as potential assets and not distractions so that they can start on a positive note."

Emily Abrera, advertising legend, MIL to TV host Suzi Entrata-Abrera, who's married to her son Paolo, also a host.
"More often than not, mothers have a special spot in their hearts for their sons, and having cared for their little boys from infancy to adulthood, they (egotistically) think that no one else can do a better job."

ADVERTISEMENT - CONTINUE READING BELOW

What other parents are reading

Here are the different types of MILs you might encounter in your lifetime:

Momster-In-Law #1: The spoiler
She spoils your husband and her apo especially when you're not around. She loves playing good cop to your bad cop.
Her signature line: "Kawawa ka naman, anak. Come to Lola."

EMY: "Just let it pass and let your children enjoy the little spoiling."
VERA: "If it cannot be ignored, discipline your child anyway and talk to your child again when Lola isn't around."
EMILY: "Talk it over with your husband and decide how to deal with it. Unless you live with your in-laws, it shouldn't be a big problem. Reducing the interface time with her is a quick way to address the situation."


Momster-In-Law #2: The mama's boy's mom
She expects you to take care of her son the same way she had because hers is the best -- and only -- way, so nothing you do measures up to her (high) standards.
Her signature line: "Alagaan at pagsilbihan mo naman ang anak ko."

EMY: "Just let it pass. Appreciate the fact that she cares for your husband, albeit too much."
VERA: "Do not live in the same house with your MIL. [MILs like this one] are made to be biased."
EMILY: "If it's just your MIL's way of continuing to assert herself, ignore it. Or tease her lightheartedly about it, and hopefully she'd get the message."


Momster-In-Law #3: The one who plays favorites (or the master manipulator)
It's no secret who her favorite in-laws and grandchildren are. Worse, she likes to compare out loud. She also knows how to throw her emotional weight around your husband just to get things her way.
Her signature line: "Buti pa si Anne ang payat. Bakit hindi ka ganun?"

CONTINUE READING BELOW

Recommended Videos

EMY: "Just smile. If you are on the losing end, tell your husband to fight for your rights."
VERA: "If the comments are valid, listen. Otherwise, just ignore her."
EMILY: "Disarm your MIL by asking her what she would do if she were in your place."

What other parents are reading

Momster-In-Law #4:  The meddler or steamroller
Her love knows no boundaries, even when it comes to your own marriage and household. She loves to barge in and give unsolicited advice, from how to clean your kitchen to where you should send the kids to school. Worse, sometimes she makes the decisions for you, even without you asking.
Her signature line: Anything that starts with "dapat"

EMY: "Play it out. She wants to have a say in your child's education? Ask her to pay for it. She wants to meddle in what or how [you] cook? Ask her to be the one to make dinner. But say it in a nice, appreciative way. Otherwise, smile and let it pass -- in one ear, out the other."
VERA: "Do not live in the same house with her."
EMILY: "Tell her in a firm but gentle tone, 'Thanks for that great suggestion, Ma. We'll consider it in our final decision.' Hopefully, your husband would be of the same mind as you."


Momster-In-Law #5:  The ice queen
She pretends you don't exist or matter. Or, in a less extreme way, you feel that she doesn't really make an effort to spend time with you or your children.
Her signature line: "Busy kasi ako e."

ADVERTISEMENT - CONTINUE READING BELOW

EMY: "Make an effort to be in good graces. Be loving and thoughtful. If, in spite of your efforts, she is still cold, live your own life and visit only when invited."
VERA: "Let her be. It's most likely not about you. It's about her."
EMILY: "Continue to be polite and treat her with respect. At least you can't be blamed for the relationship being the way it is."

* Excerpted from the article "Dealing With The Other Woman" which was originally published in the May 2015 issue of Smart Parenting Magazine. Minor edits were done by the Smartparenting.com.ph editors. 

What other parents are reading

Celebrate your pregnancy milestones!


Enter your details below and receive weekly email guides on your baby's weight and height in cute illustration of Filipino fruits. PLUS get helpful tips from experts, freebies and more!

You're almost there! Check your inbox.


We sent a verification email. Can't find it? Check your spam, junk, and promotions folder.
Trending in Summit Network