Caught: Couples' Lousy Excuses when Kids Walked in on Them Having Sex

It's hard to come up with a plausible excuse so quickly, but these are pretty good.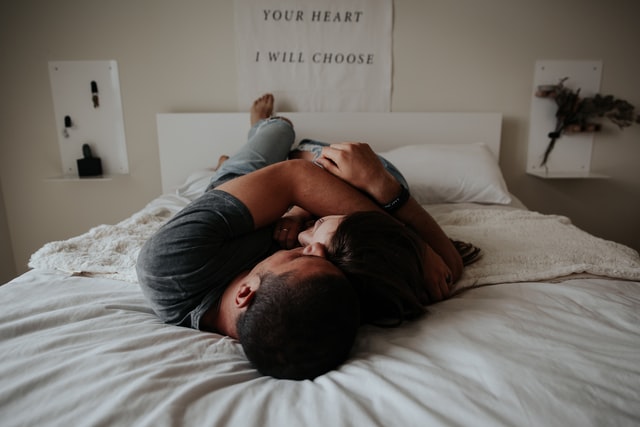 One of the challenges of having an extra pair of feet going pitter-patter around the house is when you and your spouse need some quality private time with each other. When you're a parent, it gets really awkward when your little one catches you in the act of making her another baby brother.

Here are stories from people who have had the bravery to share those harrowing experiences, and the utterly lame excuses that followed:

1. "There was an earthquake."
When my eldest son Jeb was about three years old, he would sleep next to us every night. One particular night, my husband Jom was feeling especially randy and fairly confident, as normally Jeb could sleep through a stampede of bull elephants.

We were getting hot and heavy when our son got up, half awake, and muttered, "What's that?" Jom rolled off of me quickly and lay on his back beside me. I answered, "We just had an earthquake. It's okay now, go back to sleep."

Turning to Jom, I noticed his "interest" in what we were doing had not yet… receded… so I put a pillow to cover it up, lest Jeb asks us what that was. Good thing he didn't remember anything when he woke up in the morning ... or at least that's what we think.


2. "I was stretching, hunny"
I'm a noisy person when I have an orgasm. My 7-year old son Byron knocks on the door while I'm in the middle of a Big one, and this is how the conversation went:

"Ma, is everything ok?  Are you hurt?"

"Oh, you're home from school. [Feigning nonchalance] Stretching hunny. Just stretching."

"Ohh, okay."

[Lets out a frustrated scream]


3. "There was a cockroach and we tried to kill it."
I was about 10 years old when I caught my parents having sex. I will never forget it. It was a Saturday afternoon and I had just woken up from my afternoon nap. As always, I had fallen asleep on our couch in front of the TV. I got up to get something to eat and sat at our dining table, which was close to my parents' room.

I heard what sounded like someone was in pain, and the sound was coming from my parents' room. I panicked and tried to open the door but it was locked. I then knocked profusely hoping that my parents were alright inside.

After a few seconds, my dad opened the door without his shirt and my mom trying to cover up under the bed sheets. Mom muttered something about seeing a cockroach and trying to kill it. Okay, so I didn't actually catch them but I heard it. I only understood what they were doing a few years after.


4. "We were exercising"
At the time this happened, my wife Andi and I lived in separate homes. I was working in Manila and she was living in Pagsanjan with her mother, so, you can probably guess that our reunions were quite exciting – I couldn't wait to get in the sack with my wife.  

One afternoon, I managed to come home early and we hurried over to her bedroom, popped open her DVD player, slipped in one of our favorite movies to get her in the mood and we didn't waste any time. After we were all hot and sweaty, we heard loud sobbing outside.

We grabbed some towels to cover ourselves up just in time to see Aida, my wife's sister, with my crying daughter, Kaylie in hand. She had come in and stood there with her mouth open. It was like something out of the Matrix – everything went all Bullet Time-slow.

Kaylie ran forward to hug her mommy and I rushed over to turn off the DVD at the same time, nearly dropping my towel in the process. Aida still stood there with her mouth open.  

Apparently, it was exams week and Kaylie was let home early so Aida came to pick her up. My little girl was upset that she couldn't find her mommy when she got home, that's why she was crying. When she asked why we were in towels, Andi said, "Daddy and I were just exercising."

Kaylie: "What was that movie you were watching?"

Me: "That was a horror movie."

Kaylie: "Mommy doesn't like it when I watch horror movies!  I get too scared!" 

Me: "I promise, no more horror movies."

Aida couldn't stop giggling.  


5. "Daddy's having a hard time breathing"
It was really a very embarrassing situation for me. We were still living with my parents, and we still only had our eldest at the time, who was 3 years old. It was past midnight and we assumed nobody was awake. My hubby and I were in the middle of foreplay when our eldest son came barging in the door.

It was a good thing we were covered by a comforter, or he would have seen that we were half-naked. He asked "What are you doing?" My husband was able to quickly gain his composure and said, "Mom's giving me a massage, because Daddy's having a hard time breathing."

We thought we had him fooled, but when he went back to the next room, I heard my mom ask him, "They're still up? What are they doing?" to which he replied, "Kissing". I was so pissed at my husband for forgetting to lock the door.


6. "We're making a baby"    
Our 3-year old daughter walked in on us one night, and asked, "What are you doing, Mom?" I said, "We're making a baby, sweetie." She was thoughtful for a while, but seemed to accept the explanation.

Two days later, she saw our neighbor's dogs mating, and wondered out loud. I told her that the dogs were making a puppy. Then, it was as if something sparked and she blurted out: "Oh, you mean like what you and Daddy were doing when I saw you the other night?"


The couples below couldn't find a proper excuse when they were caught in the act by their kids, but the accounts are just as funny:

7. The hot shower
My husband and I were feeling the heat one time so we went inside the bathroom and started doing the deed. A few minutes later, our 4-year old daughter knocked softly on the door. "Mama, is Papa there, too?" "Why, dear?" "Because both your slippers are here outside." Now we remember to bring my husband's slippers inside the bathroom.


8. The passionate kiss
There was one time when my husband and I were just starting to get it on. Our 1-year old son was asleep, but I guess he was a light sleeper and soon after he woke up. We didn't notice that he was staring at us as we kissed passionately! When we saw him, we stopped and tried to act as if nothing happened. That was when our baby crawled towards me and kissed me on the lips for a few seconds – while sticking his tongue out.


9. The horsey-horsey
Our son once caught us in a very compromising position, and it was too late for us to come up with an excuse, so we just stopped moving and pretended to be asleep while my husband was on top of me. Thinking we were doing pretend play, my son climbed on his father's back, and like a cowboy, started jumping up and down --  "Tigidig, tigidig, you're my horse, Daddy. Go faster!"

Celebrate your pregnancy milestones!


Enter your details below and receive weekly email guides on your baby's weight and height in cute illustration of Filipino fruits. PLUS get helpful tips from experts, freebies and more!

You're almost there! Check your inbox.


We sent a verification email. Can't find it? Check your spam, junk, and promotions folder.

Trending in Summit Network