Men, These Are The Gifts Your Wife Really Wants for Valentine's Day

No edible panties in this list — women want the real thing!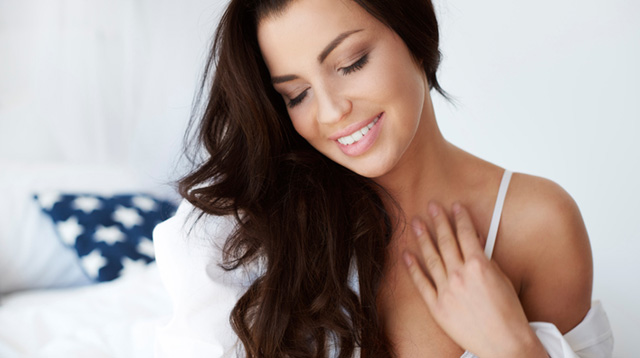 You know Valentine's Day is coming when flower shops start popping up everywhere, and there's a clamor to find the grandest gift there is available. True romance, however, puts the spotlight not at the gift but on the recipient of the present. What does he/she want (because some women dislike receiving flowers, contrary to the popular notion)?

We asked the followers of Smart Parenting's Facebook page about what they hope to get from their significant others this day of hearts, and these are their replies. We also added gift suggestions to make it easier for you!

1. Sleep / Rest

Definitely, your wife will appreciate eight hours of sleep anywhere, even just at home, but you'll surely get a lot of pogi points — and that priceless smile on her face — if you surprise her with a staycation.

Diamond Hotel
Celebrate love with a Valentine overnight stay in an executive suite inclusive of buffet breakfast for two, unlimited wifi access, and in-room body massage. Use the promo code: SUITEHEART for a great deal! 

ADVERTISEMENT - CONTINUE READING BELOW

Crimson Hotel
Check out Crimson Hotel's Valentine package which includes an overnight stay at the hotel, buffet breakfast for two persons at Café Eight, a one-hour massage for two persons, and a Valentine surprise! Click here to learn more.

What other parents are reading

2. Intimacy

Can't help much in that department, but we have a suggestion that might put you both in the mood for a steamy night ahead (if you're in a long-distance relationship, these apps can help, too):

Tom's Cruise




CONTINUE READING BELOW

Recommended Videos

Prepare for a romantic, uninterrupted night aboard Tom's Cruise, a Flybridge Cruiser yacht for two that you can rent (don't worry, it stays docked at the Punta Fuego Yacht Club). It comes equipped with amenities like a LED TV, a stereo with CD/USB, refrigerator, microwave, coffee maker. Enjoy the view over cocktails, or lie under the stars at night at the foredeck. Facilities for water sports are also available for rental. Find out more here. 

What other parents are reading

3. Date night

Next to "sleep," "date night" has the most number of votes among our Facebook followers. Well, take a hint, hubbies! Your date doesn't have to be expensive — just maybe take her out and give her your full, undivided attention. If you wanna go full-on Prince Charming, here are some ideas:

Twin Lakes at Tagaytay

ADVERTISEMENT - CONTINUE READING BELOW

Don't just drive up to Tagaytay, do something memorable! Check out the country's first ever vineyard resort township community and get physical (er, that's not what we mean). Go up real early, watch the sunrise, and then try the bike lanes! Have breakfast for two afterward at Bag of Beans Twin Lakes, and take a stroll while you savor the cool temperature (said to be the same as Baguio temperature lately). Twin Lakes is located along Tagaytay - Nasugbu Hwy, Laurel, Batangas.

St. Louis Home of Fine Ice Cream and Dessert

Who says you need to go for a full dinner course for a date? Why not have just dessert (and, ahem, save a little)? With the cozy ambiance and superb treats for the sweet tooth at St. Louis, you and the missus can have a relaxed conversation while sharing a serving of Churros or a Ferrero Waffle. Just like old times. Ang sweet! St. Louis Home of Fine Ice Cream and Dessert is located at Unit C3-104 High Street Central, Taguig.

ADVERTISEMENT - CONTINUE READING BELOW

(See more date night ideas beyond Valentine's Day here)

What other parents are reading

4. Flowers

Of course, there are those who like to be romanced the old-fashioned way. For them, a bouquet of flowers (ideally with a heartfelt note with it) is still the best expression of love. As we're aware that the price of flowers goes three or four times their regular price approaching V-day, why not go for these options instead? 

Paper flowers 
It's hard to tell the difference between these paper flowers and the real thing, but if you want something that will last, this is it! Ice poppy and Arkansas rose paper creations by Crafted Love, available at Common Room PH.

ADVERTISEMENT - CONTINUE READING BELOW

Garden DIY kits
Rather than giving flowers, why not plant the seeds and nurture them together? This kit from MNLgrowkits will help you start your own mini-garden at home. Check out their Facebook page to learn more. 

What other parents are reading

5. Me-time

ADVERTISEMENT - CONTINUE READING BELOW

Tending to the family's needs can take a toll on one's sanity. No wonder a lot of moms consider even just a few hours of alone time a reward in itself. Take it a notch higher and give her a book she can read, or chocolates she can munch on without having to hide from the kids. Of course, hubby, it's your job to watch the kids while she enjoys sweet, sweet freedom.  

The Wedding Date by Jasmine Guillory

Hot off the press, this book which rates 4 stars on Goodreads.com is a little bit erotica and a lot of romance. You can order it online.

Villa del Conte Amore box

ADVERTISEMENT - CONTINUE READING BELOW

You can never go wrong with chocolates! Find a list of Villa del Conte branches on their Facebook page.
Trending in Summit Network