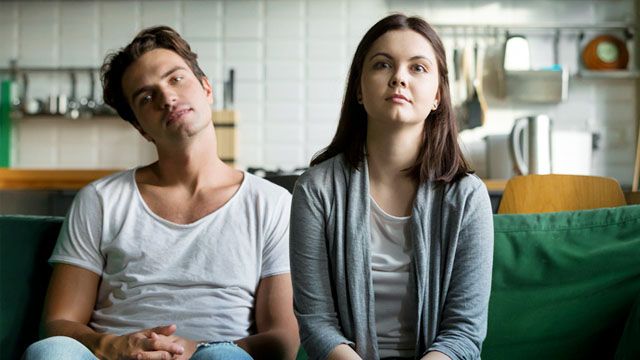 It's one of the things you dread the most. Having an argument with your husband or partner is not only exhausting and a waste of time, but many would say it's pointless, too, if he just keeps repeating the same offense. You're probably ready to throw in the towel already because you're so fed up. You're convinced your relationship is doomed. Surprisingly, it's the opposite.
Deborah Grody, a clinical psychologist, told Time having no arguments is not a sign that a relationship will last. "Relationships that can't be saved are relationships where the flame has completely gone out, or it wasn't there in the first place," she says.
In truth, some couples who seem to have found the perfect formula to a harmonious co-existence have actually become indifferent — they don't fight because they don't even care. They're the ones likely to end up divorcing, says Grody.
This is not to say that couples who have frequent fiery fights are better off — arguments are only good for any relationship if they are handled constructively. According to research, the honest conversations that ensue after an argument outweigh the short-term discomfort brought about by expressing your anger.
How to fight properly 
There is, however, a right way to fight with your partner to achieve desirable results. Keep these things in mind the next time you disagree:
Get to the source of the conflict
One will notice that there is a pattern to the arguments. In other words, you and your partner tend to fight about the same thing, and not actually resolve anything. Says associate professor Noam Ostrander, to break the cycle, the couple needs to step back and get to the root of the problem. He uses the "5:30 fight" as an example in his counseling sessions.
The "5:30 fight" is that where one partner wants to talk about how the day went, usually after work, while the other would rather stay quiet and relax first. This silence may be construed as a lack of concern, and from there, a fight can very quickly erupt.
As a compromise, he suggests, "You can say, 'What if we just pause, say hello or kiss hello, give it 15 minutes, and come back together?'"
Instead of complaining, ask
It is so easy to generalize when one is in the fit of anger. Are the words "You never..." or "You always..." sound familiar? Naturally, the receiver of this statement will feel attacked and either clam up or retaliate. 
"You're not getting what you want, because of how you're asking for it," Ostrander says.
Instead of using this tone, he recommends being more direct and asking your partner to do a particular task. "Could you take out the laundry from the machine and fold them?" certainly sounds better than "You never help with the chores."
Listen and clarify
Too often, nothing is resolved during an argument because each one is busy thinking of what to say next rather than actually listening to what is being said. If you care, just listen. Without interrupting. And if there is something you aren't clear about, clarify first before you react ("When you say ___, what does that mean?"), with a sincere intent to understand. 
Schedule a time to argue
This may seem hard to do, especially when you're caught up in the moment when the issue is at hand, but having a ceasefire will allow you both to think more clearly, figure out what it really was that ticked you off, and maybe even manage to see things from your partner's point of view. The best thing about calling a timeout is that you can really drill down on the issue without your (or his) temper aggravating it.
"Most of the time, things are said on impulse in the heat of anger," Grody says. "But the words stay with us."
Needless to say, you need to apologize when you are at fault. And remember not to worry too much when you and your partner are faced with conflict — it may just be the key to a more lasting and satisfying relationship.