Madrasta in the Making? 5 Myths You Should Stop Believing

Do you see a future with the man of your dreams -- and his kids? Read this.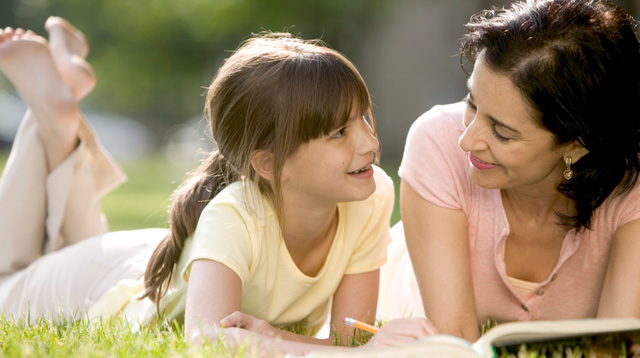 A blended family occurs when two people —- one or both of whom have kids from previous relationships -— decide to marry, forming a new family commonly referred to as a "stepfamily."

Blending families can be tricky. There's the merging of very different personalities, relationships, upbringings, and lifestyles, plus contending with certain stereotypes. Kids, in particular, may enter the situation anticipating either a Cinderella-style wicked stepmother story, or a Brady Bunch-type scenario, where everyone comes together in instant love, understanding, and harmony. Here are some beliefs and misconceptions about blended families.

FAMILY  FICTION
Myth #1: Everything will work out once the wedding is over.
Obviously, a couple goes into a blended family scenario hoping that everyone is going to get along. But don't assume that because you love your partner, your children will automatically love him or her, too -— and that because he or she loves you, your partner will automatically love them.

What other parents are reading

Establishing relationships takes time. It can take years, or in extreme cases, decades, for bonds to develop. But the transition will be easier if the relationship is approached with realistic expectations.


Myth #2: There is only one kind of family.
Adults and children alike may assume that their new stepfamily will be -— and should be -— just like a biological family. But it probably won't be, nor does it have to be.

Each family operates in its own fashion. Blended family members need to recognize that their new family will most likely be very different -— and that that difference should be acknowledged and accepted, if not immediately celebrated.


Myth #3: It's not a blended family if it's only part-time.
A child's parent remains his or her parent regardless of whether they actually live together. Likewise, a child's stepparent remains so even if the stepchild doesn't officially live in the new household.

Thus, the new husband-wife relationship has to accommodate the children as an integral part of the new family, even if they're only present on weekends or special occasions. In fact, with less time for stepparents and stepkids to bond in a part-time situation, the transition process may actually be more difficult.

ADVERTISEMENT - CONTINUE READING BELOW

What other parents are reading

Myth #4: Stepmoms or step-dads are wicked.
Blame it on the brothers Grimm, but fairy tale stereotypes can actually affect children -— and adults as well! If the new stepparent has no kids of his or her own, he or she may feel guilty about "forcing" the children to go through a difficult family transition. They may find themselves overly conscious about any possibly "wicked" behavior on their part, and may feel the need to "make it up" to the kids for marrying their mother or father.

Yet while a stepparent should be sensitive to the children's feelings, he or she should also avoid overcompensating or allowing oneself to be manipulated due to a misplaced sense of guilt. After all, you remarried not to make anyone unhappy; you and your spouse did it sincerely believing it was the best decision for everyone.


Myth #5: Adjustment is easier without the "real" parent in the picture.
Some people seem to think that kids will adjust more easily to a new stepparent if the other biological parent withdraws for a time.

What other parents are reading

However, kids will always have two biological parents. Even if one is deceased, ignoring or downplaying his or her importance in a child's life may only make that child feel less secure and more antagonistic toward a new parent. In fact, an absent parent can sometimes even hinder bonding, since children are likely to conveniently forget his or her flaws and elevate the parent to near-sainthood.


BLENDING IN
"I wasn't worried at all," says Guia Jimenez, mother of one and stepmother to two more. "My daughter and I had already made friends with the two kids, and we all got along fine. I even had an okay relationship with their mom, to the point that we could get together on birthdays and school events without any problems. I was convinced I was going to be the best stepmom ever."

"Then after the wedding...yikes!" Guia recalls. "It turned out that while Roy and I had discussed every last detail of how we were going to raise the kids, we couldn't agree on how to run a household, how to keep a budget, all the practical stuff that seemed less important. So we fought about it, which made my daughter mad, because I was short-tempered all of a sudden; and the other two felt betrayed that I stopped being the old, fun Guia."

ADVERTISEMENT - CONTINUE READING BELOW

Recommended Videos

What other parents are reading

"Guia and Roy's problems are the opposite of what most new couples experience in a blended family," says Marita Cheng, a family counselor at the Wellness Works therapy clinic in Makati. "Usually it's the children who are fighting, and the parents only come into conflict as a result. But for a couple to neglect their own personal relationship can be just as damaging to a family as it is neglecting the kids. In any two-parent household, a strong marital bond forms the basis for a stable home environment. A couple contemplating a blended family should be prepared to balance the needs of their marriage with the needs of the children, and the needs of the family as a whole."


EYES WIDE OPEN
Here's what a couple has to keep in mind before joining forces.

1. Nurture both the marriage and the children.
Most newlyweds spend their first few months together building their marital relationship. In a blended family, much of this time and effort will be spent helping the kids adjust to the new situation. Couples need to consciously devote attention to their own relationship as well. This means scheduling time to be together, apart from the children. Ultimately, this benefits the children as well, since a harmonious marriage promotes a harmonious home.

2. Agree on the bottom line before signing on the dotted line.
In most cases, both partners already have established careers, finances, lifestyle preferences, and living arrangements. They need to decide how to mesh all these before living together complicates it all. Will they share or separate their incomes? Will the family live at his place, her place, or some place new altogether? Sometimes, moving into a new home can reinforce the sense of togetherness and a new beginning; but this, like all such decisions, is one that every couple has to work out to their own satisfaction.

ADVERTISEMENT - CONTINUE READING BELOW

What other parents are reading

3. Talk to the ex.
While being best friends with your fiancé's ex may be next to impossible, it's best to discuss the impending marriage well ahead of time among the three of you. The other parent has the right to get to know the person who will be at least partially responsible for her or his children. More to the point, all three of you need to agree on mutually satisfactory rules and roles for everyone across both households, as well as confirm any changes to insurance policies, medical care, schooling, and the like.

4. Establish guidelines.
Even if you discuss family rules prior to the wedding, you cannot possibly cover every single detail. Therefore the two of you -— or, if your fiancé's ex is amenable, the three of you -- may want to resolve not to enact any new rules without agreement from all parental figures. This may seem unwieldy, but discipline and values will be communicated much more effectively if there is just one set of rules instead of three.

5. Send out feelers.
A long lead time will allow you to gradually broach the subject of marriage to your children, starting with something like, "Do you like Roy? He likes you a lot," eventually leading up to the marriage as an exciting opportunity, rather than a frightening upheaval. If the response is a loud negative, be tolerant and resist resorting to guilt, such as: "Don't you want Mommy to be happy?" You don't need your children's permission to remarry, but you do need to listen to their opinions and respect their feelings.

ADVERTISEMENT - CONTINUE READING BELOW

What other parents are reading


RESPECT, NOT RESENTMENT
"I thought that building a blended family was going to be easy since the kids and I were already friends," stepmom Guia says. "But because Roy's two kids thought of me as their barkada, they had a hard time relating to me as an authority figure. They'd say, 'Why are you doing this? I thought you were my friend!' And I was afraid to be stern with them because I didn't want to lose our friendship."

People don't always realize that the rules change when the family changes, says family counselor Cheng. "Even when they've already become comfortable with each other, as in Guia's case, they may not be comfortable dealing with each other as parent and child. So it's really a good idea to specify everybody's roles, responsibilities, and rights in the new household."

Of course, she adds, just talking about it isn't enough -- if you want the kids to respect you as an authority figure, you have to act like one, even if that means they'll resent you for a little while. "But discussing it openly will make it easier for you to stick to what's been agreed on. In the long run, a firm stance combined with open lines of communication will earn you respect instead of resentment."

Celebrate your pregnancy milestones!


Enter your details below and receive weekly email guides on your baby's weight and height in cute illustration of Filipino fruits. PLUS get helpful tips from experts, freebies and more!

You're almost there! Check your inbox.


We sent a verification email. Can't find it? Check your spam, junk, and promotions folder.

Trending in Summit Network