'Protect Your Bedroom' and 5 Other Tips to Give Your Marriage a Makeover

Don't wait for problems to arise before you give your marriage attention.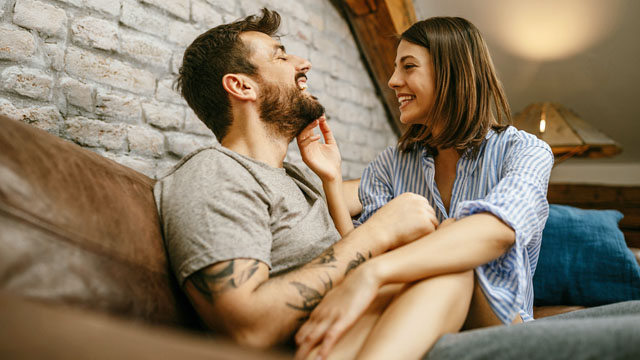 It seems to be the natural course of things: you get married and have kids. And you are so committed to giving your child the best as a parent that you forget to put your relationship with your better half as a priority. You eventually realize being a husband or wife while you're raising kids may be that much harder to do than being a parent.

"Making your kids the center of your life may seem child-friendly, but it can create long-term unhappiness for everyone in the family," says David Code, an Episcopal minister and author of To Raise Happy Kids, Put Your Marriage First, in an article on Parents.

What other parents are reading

In a talk during the Smart Parenting Convention 2019 held last June 29, 2019, inspirational speaker Joy Mendoza used her experience to highlight the need to do a regular checkup of your marriage, even as you are raising kids. 

When she gave birth to her sixth child, after which she also went through a major surgery, Joy admitted her marriage to husband Edric suffered in a way.

"I was so wrapped up in taking care of our newborn, recovering from surgery, and was also going through some form of postpartum depression, when one time my husband said to me, 'Honey, don't disappear on me.' And I knew that was my cue that we really had to keep making sure that our marriage was okay."

What other parents are reading

6 tips for a marriage makeover after kids

The Mendozas have been married for 18 years now, and it has taught them a lot about relationships. Here, they share how they preserve their marriage.

ADVERTISEMENT - CONTINUE READING BELOW

Protect your bedroom

We all probably enjoy having our kids stay in our bedroom. But Joy says it can't be like that all the time. In their home, she and Edric make their kids understand that besides being Mom and Dad, they also have their relationship as a couple to nurture.

"We make our kids understand that the best way we (Mom and Dad) can love them is by loving each other. So we tell them, twice a week, Friday and Saturday night, they can spend the night in mommy and daddy's room. But for the rest of the week, this is for mommy and daddy. That way, Edric and I also have time for ourselves."

Don't skip date nights

Says Joy, "No matter what season you are in as a couple, and no matter how many children you have, you should always set aside time for date night."

For the Mendozas, date night is when they ask each other, "How is our marriage?" "How can I improve?"

You don't need to go out and spend for date night either. "After my surgery and giving birth, we couldn't go out because I was confined, so we would go out to the balcony of our home, and we would chat there," says Joy.

Her parents, on the other hand, take early morning walks around the neighborhood instead. That gives them time to engage and really be present.

Needless to say, mobile phones and gadgets are off-limits during this time so you can give each other your undivided attention.

ADVERTISEMENT - CONTINUE READING BELOW

Recommended Videos

What other parents are reading

Do things you enjoy together

Joy said she noticed that when they were still dating, she and Edric found a lot of time to do things together. Typically, that changes after marriage: the husband starts doing his own thing, as does the wife. 

She encourages couples to find common interests within their marriages because, in their experience, "Doing a sport together (in their case, badminton) helped us to communicate better with one another, and made us learn how to get along even when we don't always like each other."

Pursue goals together

Ask yourself, "How can we be a blessing to other people as a team?" Joy says, "We started ministering to other couples, so on a weekly basis, we get together with other couples. We talk about our marriages, what are things that can be improved. Sometimes you feel like we're the only ones who have this problem."

When you share with other couples your experiences, you'll realize you all have that in common. You come to realize that your marriage is not that bad, after all, and that strengthens your relationship.

"Reaching out to other couples also gives your marriage more meaning and purpose," adds Joy.

What other parents are reading

Value intimacy

Edric has an advice for both men and women when it comes to intimacy. For the women: just do it, referring to sex.

Life happens and you'll always find a reason why you can't do it —  you're pregnant, you just gave birth, you're breastfeeding — so he says, just do it. (It's a piece of advice that he says came from his mother-in-law.)

ADVERTISEMENT - CONTINUE READING BELOW

For the men, he says this: "Remember that intimacy is not just the act itself. Intimacy in a marriage is your whole life experience. Keep romancing your wife.

"The big romantic gestures don't always have to be there. But the gestures that really show your wife, 'Honey, I will still pursue you. I will still show you that you are the most important woman in the world to me.' However that translates to you, that has to keep going," he says.

"What is important to preserve intimacy is not just the act of sex, but the love relationship."

Affirm your spouse

Edric says some of the most tender moments he and Joy have had happen during "the times that life gets tough. 

"In my moments of feeling discouraged, my wife will look me in the eye and she will be a CEO — chief encouragement officer — and say, 'Honey, thank you for working so hard for our family. I want you to know that I appreciate you. Thank you.'"

Celebrate your pregnancy milestones!


Enter your details below and receive weekly email guides on your baby's weight and height in cute illustration of Filipino fruits. PLUS get helpful tips from experts, freebies and more!

You're almost there! Check your inbox.


We sent a verification email. Can't find it? Check your spam, junk, and promotions folder.

Trending in Summit Network