'Am I Overreacting?' Mom Wonders About Comments Another Woman Left On Husband's Posts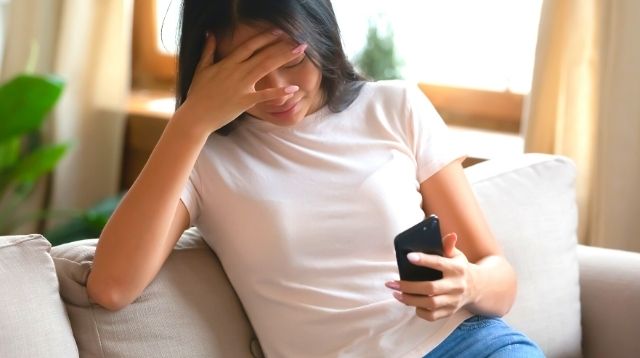 They say women have intuition, and they 'feel' it if their partners are cheating or up to something no good. It's that 'kutob' that transforms them into great detectives, or so a joke says. But when we're unsure (maybe in denial?), we turn to fellow women to validate our feelings.

Are "heart" reactions on social media cheating?

One mom anonymously vented out in a Facebook group that she thinks her husband had cheated or is still cheating on her. She isn't sure what's happening or what to do, and her husband had repeatedly denied it.

She said it started around two to three years ago when she noticed seeing a woman often leaving comments on her husband's social media. She's never met her before in their entire 12-year-long relationship. They've been married three years with one child. 

She also feels that the woman's comments were a bit off, which include "I'm proud of you," "Good luck," and "I miss you." She told her husband how uncomfortable she is with it, more so when the woman and her husband "heart" each other's comments.

Are deleted messages a sign of cheating? 

Every time she brings up the issue with her husband, he dismisses it. He also reassures her that it's nothing and that he and the woman don't even talk in private messages.

It may be out of line, but the mom looked at her husband's phone, checked his list of friends, and found conversations between him and the woman. Apart from the usual kamustahan, he's always told her that she's proud of her life achievements. 

ADVERTISEMENT - CONTINUE READING BELOW

One conversation, however, was initiated by her husband. He asked her about her whereabouts and said he was in the area. But she was sure he wasn't in the area at all. Then, there are also deleted messages. She confronted him in tears. He insisted nothing was going on. "Nothing yet," she said.

Moms react if her husband is cheating or not.

"Am I overreacting? Are my feelings valid? Is that cheating?" the mom asked. Moms in the group reacted differently. Here's what they had to say. 

It might be nothing, at least not yet.

"There might not be anything going on YET. If you aren't comfortable with what you saw or read, it means boundaries have been crossed. But you do need to reiterate to your husband what "crossing the boundary" means for you." —Mommy Louise

The husband should stop whatever it is that's going on.

"It's not a question of whether it's cheating or not. Once the wife is uncomfortable with how the husband treats another woman, that should already be the story's end. The husband should stop whatever "friendly" relationship he has with this woman and respect and prioritize his wife's feelings. If he insists despite knowing how you feel, then it's a red flag." —Mommy Sarah

I don't think he's cheating.

"It looks innocent and platonic. I guess it's a matter of how your husband's personality is. It's not out of the ordinary for me to text, but it is for my husband." —Mommy Fely

ADVERTISEMENT - CONTINUE READING BELOW

Recommended Videos

Trust your gut.

"I have a feeling the girl was a former flame, and they're catching up. Pet names will not come from someone without a deeper connection. I've been in an LDR relationship and had my share of these situations. If you dig deeper, you'll find bones. Trust your gut." —Momm Karen

"When there's smoke, there's fire. These are things that you can't just ignore. It's not healthy if you don't have clear communication with your husband and he's not accountable with you nor is he honest" —Mommy Elle

Pet names are nothing; deleted messages are a red flag.

I have a few guy friends from college na we have pet names, but we were never romantically involved. These stuck with me until now because we got used to them. If I were in your shoes, I wouldn't be concerned with the comments. But the deleted messages, that's a red flag. If he doesn't need to hide something, why delete it? — Mommy Kristine

What is cheating?

"If you can't tell your partner about it or have to hide it from them, that's already cheating." —Mommy Mary Rose

Friends do not converse like that.

If nothing sexual happened yet, this is emotional cheating. The girl is not embarrassed to make comments like "I miss you" on Facebook, which is off, especially if she knows the man to be married and has not met the wife. Some girls have the nerve to make the wife feel she is more "special." —Mommy Linda

ADVERTISEMENT - CONTINUE READING BELOW

Calm down and play the wife card.

My husband has friends who comment with heart reactions, but I don't get worried. Still, I'd trust my instinct when someone who I never knew existed suddenly keeps popping up with heart reactions. But I learned that my husband doesn't understand my perspective when I'm too emotional talking about how I feel about a certain girl. When I calmly asked about it and flat out ask for separation to go back to his bachelor ways, he took me seriously. Sometimes asserting your wife card can do wonders for your marriage. —Mommy Michelle

Confront your husband and the girl

"Tell hubby to stop flirting because you are hurting. Tell the girl that she's out of line and not proper to flirt with a married man. Put that in the comment, with a heart." —Mommy Erika

What other parents are reading

Celebrate your pregnancy milestones!


Enter your details below and receive weekly email guides on your baby's weight and height in cute illustration of Filipino fruits. PLUS get helpful tips from experts, freebies and more!

You're almost there! Check your inbox.


We sent a verification email. Can't find it? Check your spam, junk, and promotions folder.

Trending in Summit Network