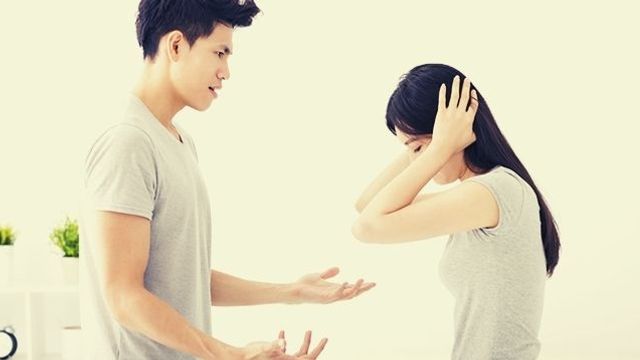 Couples fight. Arguments are inevitable in relationships, and they're actually healthy to being with. You can flesh out the issues and "talk" about them. But sometimes, it can escalate really quickly. 
If you find you and your spouse in a heated argument, there's one word you shouldn't mention at all even if you're angry: divorce. There's no divorce in the Philippines as of yet, so it goes without saying that you should not say separation or ending your marriage during a fight. 
READ MORE STORIES ABOUT MARRIAGE:
How threatening to end the marriage is a danger to your relationship.
It doesn't matter how long you were together, or if you don't have kids, stay out of that conversation. It can have a detrimental effect on your relationship.
"During an argument, emotions are running wild, and lots of things are said that are 'in the heat of the moment,' but the threat of divorce should never be said," advises psychologist and author Dr. Karen Sherman.
Mentioning divorce or separation out of anger is a disrespect to your spouse. It's one of those "below the belt" lines you should never say unless you've considered it enough without the heightened emotions. Here's why.
It makes your partner consider it.
By bringing it up, your partner might consider it as well. "If she's already thinking of it, maybe I should be preparing for it, too." If your partner hasn't thought about it before, then he will now. This only causes stress and anxiety due to the lack of security in your marriage. 
It's manipulative.
It might be just out of anger or frustration that you brought up the word separation. But in doing so, you're sending a threat that if you don't get what you want, you'll want out. You're throwing everything at stake to win the argument without anything getting resolved. 
You end up with a more significant issue.
Lack of security in your relationship can burrow deep in mind and hear. You might be shocked if your spouse decides to agree to just separate, then what? Instead of ending the issue peacefully, you end up with a bigger one that's much trickier to resolve. 
What to do instead of bringing up divorce or separation
As with any argument, it's best to stop taking and take a breather before you say anything you'd regret. It's hard to empathize with your partner if your angry, so take time out to calm down. 
It's also better to express these feelings rather than act on them harshly. Paul DePompo, PsyD, board-certified cognitive behavioral therapist and author, suggests showing vulnerability rather than being defensive. Say:  
"I am hurt because I feel like you are not really listening to what I am saying, and this keeps happening, and I am starting to feel alone."
"I am afraid that if we cannot problem-solve this, we are not going to be able to have the relationship that we both desire."
READ MORE STORIES ABOUT MARRIAGE:
At the end of the day, couples threaten divorce because their needs aren't met. Use your time out to take responsibility for your actions and what needs that you're not getting. When you're both calm and thinking straight, then you can discuss these with calm heads.