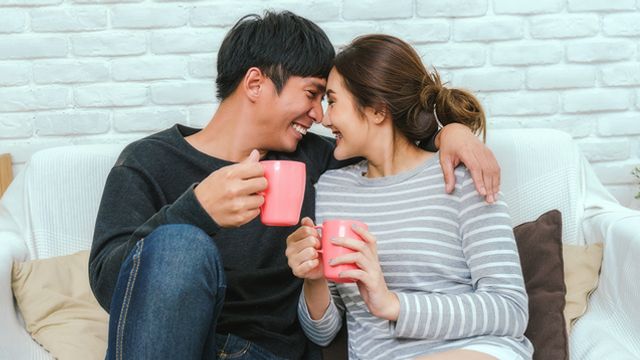 No two relationships are the same. Each couple has their own set of values and beliefs and rhythm, so to speak, that are unique to them. But happy couples can share common characteristics, as this new study called "The Happiness Index: Love and Relationships in America" illustrates. 
These 9 characteristics can be relationship goals
The research, commissioned by online dating site eHarmony, involved collecting information from over 2,000 individuals in diverse relationships. The study found that couples who are very happy and satisfied in their relationships have similar traits, can communicate openly with one another, and value sharing the same levels of dominance. These couples also tend to be very sexually active and highly aware of socio-cultural phenomena. Call them relationship goals.
1. Happy couples have similar personalities.
According to the research, a couple is more likely to be happy and satisfied in their relationship if they have similar personality traits. When it comes to resolving conflicts for instance, if one person prefers talking calmly but the other person favors screaming, the chances of them staying happy together is low, says Grant Langston, the CEO of eHarmony. Aside from personalities, similar hobbies and interests can also help make a relationship happier.
2. Happy couples are committed to the relationship.
Seventy percent of the couples stated that sharing a life together is more important than getting married. But the happiest couples generally believed that committing to one another through marriage will make their relationship happier.
3. Stable relationships love sex, but they appreciate something more.  
The couples who reported being happy in their relationships generally claimed to have sex at least weekly, or even daily, in some cases. However, Langston emphasized that most of these couples did not consider sex as the most crucial part of their relationships."We see sex as a big role to play, but most of these couples don't have this at the top," he told INSIDER. "They understand that if I don't value intelligence and emotional stability, I'm not going to have a good relationship."
4. Happy couples share similar views.
eHarmony points out, "Couples who are culturally aware together, stay together." If a couple has similar opinions in politics and social and cultural events, it can make a relationship happier and more satisfying.
Also, if both persons have the same level of educational attainment, they are more likely to be happy in their relationship, said Langston. In fact, the study states that intelligence is actually one of the attributes that can make an individual desirable.
5. Happy couples were looking for a meaningful relationship from the start.
The study says that people who actively looked for serious connections from the get-go tend to end up in happier relationships, compared to those who choose to wait for "The One" to come into their lives. Langston explained, "People who sort of bump into a relationship are less happy than people who say, 'I have to be intentional about this. I have to go out and make this happen for myself.'" The study also adds monogamous couples are happier. 
6. Satisfied couples experience equal levels of power.
Based on the findings of the study, it seems that sticking to gender roles can actually lessen the happiness in a relationship. Forty-two percent of the couples who reported being happy said that no one person has dominance over the other. This occurrence of equal levels of dominance was most evident in younger couples. In older couples, men usually took charge in making significant decisions, managing finances, and even in the bedroom.
7. Communication is vital in a happy relationship.
The couples who participated in the study actually claimed that they believed words of affirmation is the best kind of love language there is, compared to gift-giving, which was regarded as the least important. So don't forget to compliment and say "I love you" your partner every once in a while!
8. Couples who are content in their marriage discuss health issues openly.
Around four out of 10 couples said they suffered from several mental health issues, such as anxiety, insomnia, and depression. The upside was four out of five people were able to discuss their mental issues with their partners, and more than half reported their relationships helped them in dealing with those issues.
9. Happy couples are generally younger in age.
Most of the couples who participated in the study were between 25 and 44 years of age. Many belonged in the Gen Z and millennial generations. A graph on the website for the study shows that four out of 10 couples who belong to Gen Z are either perfectly or extremely happy in their relationships, compared to those belonging to earlier generations.
Do you agree with the characteristics listed in the happiness index? What would you add? Comment below!